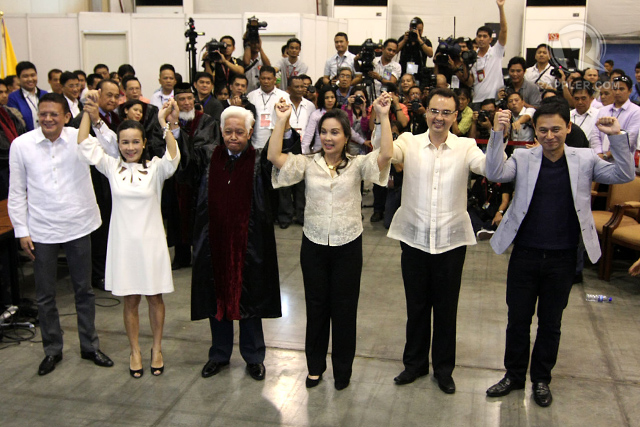 PARTIAL PROCLAMATION. The national board of canvassers proclaims 6 senators despite having canvassed only 24% of COCs. Photo by Vincent Go/Rappler
MANILA, Philippines – Why did the national board of canvassers (NBOC) decide to proclaim 6 senators despite having processed only 24% of some 300 certificates of canvass (COCs)?
Faced with this question on Thursday, May 16, poll chief Sixto Brillantes Jr responded as if on reflex. "Kasi nagmamadali ang media." (Because the media was rushing us.)
The NBOC, which is composed of the Comelec en banc, proclaimed half of the winning senators after having canvassed only 72 of 301 COCs. In a unanimous decision, the board proceeded with the proclamation despite a request from the opposition United Nationalist Alliance (UNA) to suspend it.
"Kayo ang nagmamadali," the poll chief said, addressing reporters. "Every time we do not proclaim on what we say, everybody says, 'Ops, nagkaroon ng palso, nagkakuwan. Pero hindi naman namin minadali. Sinisigurado lang namin."
(You are the ones rushing. Every time we do not proclaim on what we say, everybody says, 'Oops, there was a problem.' But we didn't really rush it. We just made sure.)
(Watch more in the video below.)
Negative perception
What about public perception? Brillantes has consistently stressed that the election process is about credibility. What if the early proclamations negatively affect the public's views?
The poll chief downplayed these fears.
"We're doing everything that is all right, legitimate, and everything. Perception of whom? The public? Who is representing the public? I have never heard any negative perception from the public. If I hear one, we will probably respond to it. Is the media saying that the public has a negative perception?" Brillantes said.
He added that 200 of the COCs – or 66.4% – came from overseas absentee voters. He said these "are very small votes."
The number of voters in the canvassed COCs so far, however, is 13.38 million. That's around 36.8% of the projected voter turnout of 36.4 million.
Brillantes said a Comelec resolution clarifies this issue. The poll body has yet to publicize this resolution through its website or through the media.
He said: "You can make your own conclusions, but the best way to do it is, look at the resolution, because it's all explained there. You are making conclusions. Have you read the resolution?" – Rappler.com