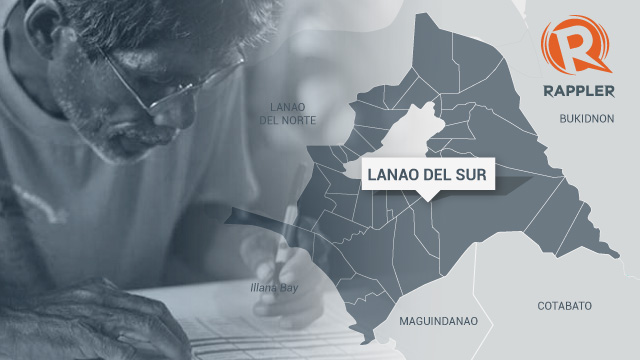 MANILA, Philippines - Senators-elect Chiz Escudero, JV Ejercito, and Gregorio "Gringo" Honasan lost in Lanao del Sur's senatorial elections.
In the province's first successful conduct of polls in the last 26 years, official results also showed that Lanao del Sur voters preferred Team PNoy senatorial candidates.
Not one of the 1,159 barangays in the Muslim province of Lanao del Sur reported a failure of elections in the 2013 mid-term polls held Monday, May 13. This is a first since 1987, according to Comelec Chair Sixto Brillantes Jr. (In Lanao del Norte, 1% of its barangays reported a failure of elections.)
The province recorded 350,268 registered voters for 2013. It has the second largest voting population in the Autonomous Region in Muslim Mindanao (ARMM), next only to Maguindanao province.
Senatorial preferences
Only 4 of the top 12 senatorial bets who won in Lanao del Sur came from the United Nationalist Alliance (UNA). Two of them -- Jack Enrile and Richard "Dick" Gordon -- landed in the bottom 2. This is similar to the voting behavior in Lanao del Norte where 4 from UNA also made it to the winning slate.
Liberal Party's (LP's) Paolo Benigno 'Bam' Aquino led 2nd-ranked senator Grace Poe by a margin of 4,795 votes. In Lanao del Norte, Poe was ahead of Aquino by a larger margin of 9,100 votes.
UNA's Juan Miguel 'Migz' Zubiri, who ranked 7th in Lanao del Norte, is 3rd in Lanao del Sur. He was a 3-term congressman in the 3rd district of Bukidnon province in Northern Mindanao.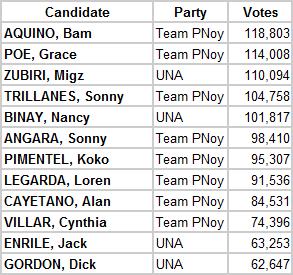 Gordon, a former senator and 2010 presidential candidate, ranked 12th in Lanao del Sur but failed to enter the top 12 in the national count. He ranked No. 13, after Senator-elect Gregorio "Grongo" Honasan. Gordon also lost in Lanao del Norte.
Three winning senatorial candidates in the national count -- Chiz Escudero, JV Ejercito, and Gringo Honasan -- lost in the Lanao del Norte count. Jack Enrile, who lost in the national count, barely made it in the Lanao provinces.
(READ: 9-3 win for team PNoy in Senate race)
Military and police efforts
A number of Close Circuit Television (CCTV) cameras were installed in major voting precincts in Lanao del Sur -- an effort unanimously approved by the province's political candidates. Some of them even donated the surveillance cameras themselves.
A statement released Saturday, May 18, by the first Infantry (Tabak) Division of the Philippine Army credited the success of Lanao del Sur's polls to the CCTV cameras.
According to the statement, the 103rd Infantry Brigade conducted a series of consultative meetings with political aspirants, tribal elders, civilian poll watchers, and other stakeholders. The initiative was done in partnership with the Comelec.
"Maranaos have always wanted clear and honest elections in their province. Their support of the idea is a clear indication of their aspirations for transparent and honest elections," division commander Brig Gen Daniel A. Lucero said in the statement.
Lucero added that the result of the elections in Lanao is something they can be proud of.
Two days before the mid-term polls, 200 policemen of ARMM were deployed to Lanao del Sur to serve as special board of election inspectors and additional security forces. This was in response to early reports of election-related violence.
(In Lanao del Norte, an election officer credited the AFP and PNP for their efforts in containing the violence in the province.)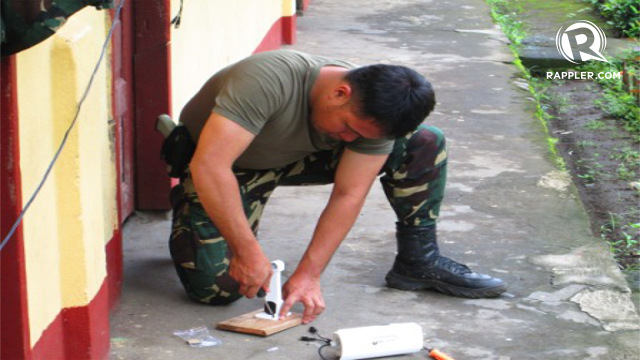 Neighboring Maguindanao
Neighboring province Maguindanao also reported peaceful elections last Monday, May 13. Esmael 'Toto' Mangudadatu won his 2nd re-election bid as governor of the province.
Provincial election supervisor Atty Nasib D. Yasin said that elections were successful in Maguindanao, save for isolated cases of tension between supporters of local candidates in certain precincts.
"That's really normal in ARMM," said Yasin. He added that they were able to proclaim the province's chief executive before midnight of Wednesday, May 15, with only one municipality unaccounted for due to a failure in transmission.
The municipality of Shariff Saydona Musthapa in the province's 2nd district was unable to transmit election results. The votes from the town will not affect the winning candidate's lead.
Maguindanao has 508 barangays, with a total of 439,455 registered voters. Past elections in the province had been marred by massive cheating and violence. - Rappler.com