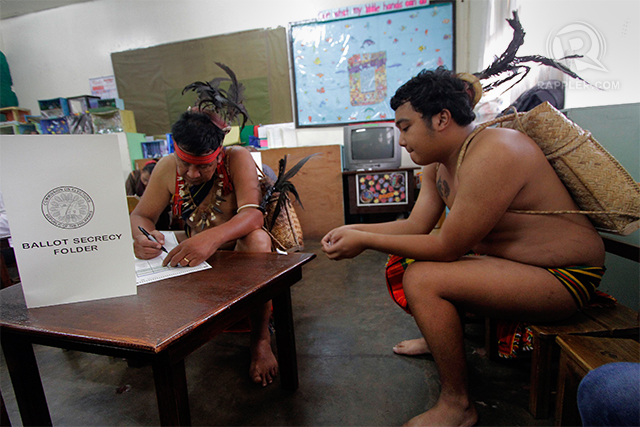 MORE EXCITING? More voters trooped to polling precincts last May 13.
MANILA, Philippines – Exceeding expectations, more voters trooped to polling precincts in this year's elections than in other midterm polls, based on official results from the Commission on Elections (Comelec).
This year's voter turnout has also surpassed that of 2010, even as the Comelec has yet to finalize this year's official tally.
The partial, official count of the Comelec, which sits as the national board of canvassers (NBOC), shows at least 39,898,992 Filipinos voted last May 13. That's 75.72% of this year's 52,695,140 registered voters.
This figure is based on all certificates of canvass (COCs) from different parts of the Philippines, and excludes COCs from overseas. The NBOC will continue to tally overseas votes later this weekend.
The last time the Philippines held midterm elections – in 2007 – the voter turnout was 73.1%. That was equivalent to 32,808,958 of 44,881,118 registered voters.
In the 2010 elections, which elected President Benigno Aquino III, 74.99% of registered voters trooped to polling precincts. Based on official data, 38,169,380 out of 50,899,154 registered voters cast their ballots that year.
Less interest
Midterm elections usually generate less interest than presidential elections.
This is because in terms of national positions, voters get to choose only 12 senators and one party-list group in midterm polls. In presidential elections, on the other hand, voters elect not only senators and a party-list group, but also a president and a vice president.
As with all midterm elections, election analysts considered this year's polls a referendum on the Chief Executive. President Benigno Aquino III's ticket, Team PNoy, has led the official count so far, with a 9-3 lead over the opposition United Nationalist Alliance.
The highest turnout for midterm elections, so far, was in 2001 at 86%. It was considered a referendum on the presidency of Gloria Macapagal-Arroyo, who was catapulted to power through the second People Power Revolution. She replaced ousted president Joseph Estrada who was later convicted of plunder.
Data on this year's voter turnout is still expected to grow, with the NBOC finalizing its tallies this weekend. – Rappler.com