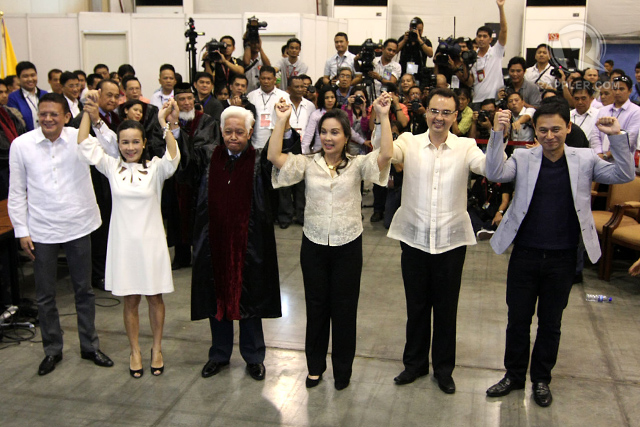 PARTIAL PROCLAMATION. The national board of canvassers proclaims 6 senators despite having canvassed only 24% of COCs. Photo by Vincent Go/Rappler
MANILA, Philippines – Responding to tirades by a former chief justice, poll chief Sixto Brillantes Jr on Monday, May 20, defended the poll body's decision to use faxed tallies, called grouped canvass reports, in proclaiming the winning senators.
Retired Chief Justice Artemio Panganiban on Sunday, May 19, said it was illegal to proclaim winning senators based on grouped canvass reports. He said the law requires certificates of canvass (COCs) for proclamation.
The national board of canvassers (NBOC) proclaimed the first set of winning senators Thursday, May 16, after having canvassed the votes of only 24% of COCs. It did the proclamation based on the tallied COCs and the grouped canvass reports, which it asked local canvassers to fax to the NBOC if it failed to electronically transmit COCs as of Wednesday, May 15.
Brillantes explained the NBOC used the grouped canvass reports only as "guide" – even as the board based the first proclamations on these tallies.
He explained the NBOC had the right to proclaim candidates if the untallied votes "cannot adversely affect anymore the results." "You always proclaim on the basis of projections," Brillantes told reporters.
OK to show, but...
The poll chief added the Comelec can show the grouped canvass reports to interested groups. It will do this as a post-proclamation activity.
Unlike in the case of COCs, the NBOC didn't read the grouped canvass reports aloud during the canvassing in PICC, Pasay City. On the other hand, the NBOC read and showed, through two big monitors, all the COCs in the presence of political parties. (Watch more in the video below.)
"Bakit namin babasahin? Hindi naman namin ginagamit for canvassing yon. Guide nga lang 'yon," Brillantes said. (Why will we read it aloud? We didn't use it in canvassing. That was only a guide.)
In a resolution promulgated a day earlier, the board explained its use of these reports only on Friday, a day after the board proclaimed the first set of winning senators. (Read the full resolution below.)
Comelec's Basis for Early Proclamations
'First time to hear'
Panganiban on Sunday, May 19, wrote a stinging editorial against the Comelec over the use of the grouped canvass reports.
"In my long years as a lawyer, this is my first time to hear of these electoral instruments," Panganiban wrote in the Philippine Daily Inquirer. He explained the law requires only official COCs as bases for proclaiming senators.
Panganiban called the proclamation of the first 9 senators "premature and illegal."
"If the Comelec wants to change its rules of proclamation even at the risk of offending jurisprudence, it is required by law to first publish its new rules and wait for the mandatory lapse of seven days after publication before it can use the new rules," he wrote.
He also questioned the Comelec's "indecent haste," and said the poll body shouldn't repeat this in the presidential elections in 2016. "Otherwise, they could destabilize and bring unintended consequences on our democracy."
Critics led by the United Nationalist Alliance (UNA) had protested the early proclamations, describing these as premature. Brillantes, however, said the Comelec needed to do this to build confidence in the automated system. – Rappler.com