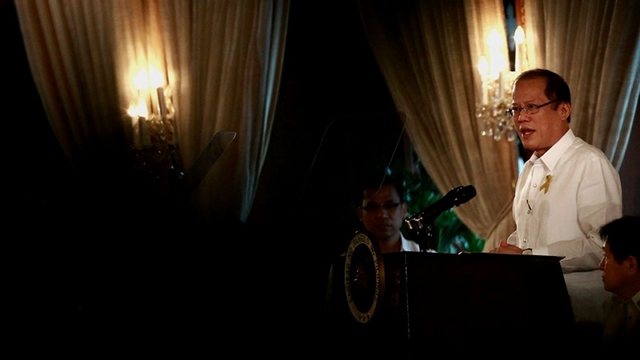 JUSTIFY IT. President Benigno Aquino III wants a 'very good reason' for postponing the barangay polls. File photo by Jay Morales/Malacanang Photo Bureau
MANILA, Philippines – Reacting to a proposal by the poll chief to postpone this year's barangay elections to 2014, President Benigno Aquino III said on Tuesday, May 21, that the Commission on Elections (Comelec) should give him "very good reason" to support the idea.
Otherwise, Aquino told reporters, he maintains that the Comelec should push through with the barangay polls in October. He said the poll body should do everything it can to achieve this.
"Unless I see very good reasons for a postponement, I think I'll stick with my previous stand," Aquino said.
"We need to secure the mandate of the people periodically," said the President, who expressed concern that if the administration allows one postponement, "there might be a lot of postponements that may happen."
The poll body can only propose election postponements, and the President can only push for such moves, but it is Congress that makes these possible.
Comelec chair Sixto Brillantes Jr on Monday, May 20, suggested moving the barangay elections to October 2014 or January 2015. He said this will allow the Comelec to prepare for the next elections, even as he described the 2013 midterm elections as a "success."
The poll chief said the Comelec will endorse bills seeking to postpone the barangay elections.
Postponing the barangay polls would need an amendment to Republic Act No. 9164. The law requires the holding of barangay and Sangguniang Kabataan (SK) polls every 3 years, particularly on the last Monday of October.
At least two senators have filed bills to reschedule the barangay elections. Sen Ramon "Bong" Revilla Jr has filed Senate Bill No. 3242 to synchronize the barangay and SK polls with the May 2016 national and local elections. Sen Ferdinand "Bongbong" Marcos Jr, for his part, has proposed postponing the barangay elections to October 2015.
Aquino himself wants to hold barangay elections alongside presidential polls. – Paterno Esmaquel II/Rappler.com