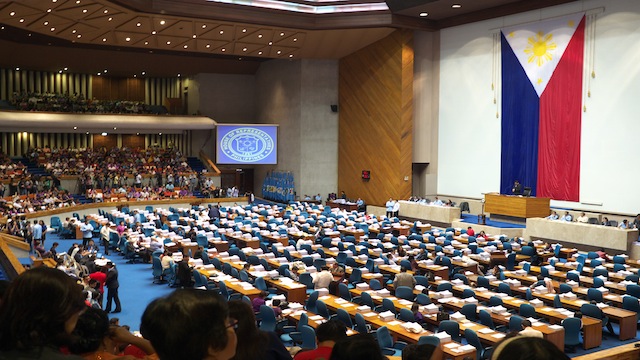 MANILA, Philippines - At least 109 members of the ruling Liberal Party (LP) won seats in the House of Representatives. Party stalwart Budget Secretary Florencio "Butch" Abad said their numbers could grow as he expects some "independent" candidates to join them.
Here's the list of elected members of the House of Representatives in the 16th Congress compiled by Carmela Fonbuena and the Rappler research team.
The list does not include winners in the party-list race since the Commission on Elections has not proclaimed any.
Abra
Maria Jocelyn Bernos - LP
Agusan del Norte
Lawrence Fortun - LP
Erlpe John Amante - Kusog Agusanon
Agusan del Sur
Maria Valentina Plaza - NUP
Evelyn Plaza-Mellana - NUP
Aklan
Teodorico Haresco, Jr. - Independent
Albay
Edcel Lagman - LP
Al Francis Bichara - NP
Fernando Gonzales - LP
Antipolo City
Roberto Puno - NUP
Romeo Acop - LP
Antique
Paolo Everardo Javier - LP
Apayao
Eleanor Bulut-Begtang - NPC
Aurora
Bellaflor Angara-Castillo - LDP
Bacolod City
Evelio Leonardia - NPC
Baguio City
Nicasio Aliping, Jr. - Independent
Basilan
Hadjiman "Hattaman Jim" Salliman - LP
Bataan
Herminia Roman - LP
Enrique "Tet" Garcia, Jr. - NUP
Batanes
Henedina Abad - LP
Batangas
Elenita Milagros "Eileen" Ermita-Buhain - Lakas
Raneo Abu - NP
Nelson Collantes - LP
Mark Llandro Mendoza - NPC
Benguet
Ronald Cosalan - LP
Biliran
Rogelio Espina - LP
Bohol
Rene Relampagos - LP
Aristotle Aumentado - NPC (replaced father, Erico Aumentado, who died Dec 25, 2012)
Arthur Yap - NPC
Bukidnon
Maria Lourdes Acosta - LP
Florencio "Doc Boy" Flores, Jr. - NP
Jose Maria Zubiri III - Bukidnon Paglaum
Rogelio Neil Roque - NPC
Bulacan
Ma. Victoria Sy-Alvarado - NUP
Gavini "Apol" Pancho - NUP
Joselito Andrew "Jonjon" Mendoza - LP
Linabelle Ruth Villarica - LP
Cagayan
Sally Ponce Enrile - NPC
Baby Aline Vargas-Alfonso - NUP
Randolph Ting - NUP
Cagayan de Oro City
Rolando "Klarex" Uy - LP
Rufus Rodriguez - CDP
Caloocan City
Enrico Echiverri - LP
Edgar Erice - LP
Camarines Norte
Catherine Barcelona-Reyes - NUP
Elmer Panotes - Lakas
Camarines Sur
Rolando Andaya, Jr. - Lakas
Diosdado Ignacio "Dato" Arroyo - Lakas
Maria Leonor "Leni" Robredo - LP
Felix William "Wimpy" Fuentebella - NPC
Salvio Fortuno - LP
Camiguin
Xavier Jesus Romualdo - NPC (replaced father, Pedro Romualdo, who died Apr 24, 2013)
Capiz
Antonio del Rosario - LP
Fredenil Castro - NUP
Catanduanes
Cesar Sarmiento - LP
Cavite
Francis Gerald Abaya - LP
Lani Mercado-Revilla - Lakas
Alex Advincula - LP
Elpidio Barzaga, Jr. - NUP
Roy Loyola - LP
Luis "Jon-Jon" Ferrer IV - NUP
Abraham "Bambol" Tolentino - LP
Cebu
Gerald Anthony "Samsam" Gullas, Jr. - NP
Wilfredo Caminero - LP
Gwendolyn Garcia - UNA
Benhur Salimbangon - NUP
Joseph Feliz Mari "Ace" Durano - LP
Gabriel Luis Quisumbing - LP
Cebu City
Raul del Mar - LP
Rodrigo Abellanosa - LP
Compostela Valley
Maricar Zamora - LP
Rommel Amatong - LP
Davao City
Karlo Alexei Nograles - NUP
Mylene Garcia - LP
Isidro Ungab - LP
Davao del Norte
Antonio Rafael del Rosario - LP
Antonio Lagdameo, Jr. - NUP
Davao del Sur
Mercedes Cagas - NP
Franklin Bautista - LP
Davao Oriental
Nelson Dayanghirang - NP
Thelma Almario - Lakas
Dinagat Islands
Arlene "Kaka" Bag-ao - LP
Eastern Samar
Ben Evardone - LP
Guimaras
Joaquin Carlos Rahman Nava - LP
Ifugao
Teodoro Baguilat, Jr. - LP
Iligan City
Vicente Belmonte, Jr. - LP
Ilocos Norte
Rodolfo Fariñas - NP
Imelda Marcos - KBL
Ilocos Sur
Ronald Singson - NP
Eric Singson - LP
Iloilo
Oscar Garin, Jr. - LP
Arcadio Gorriceta - LP
Arthur Defensor, Jr. - LP
Hernan Biron, Jr. - UNA
Neil Tupas, Jr. - LP
Iloilo City
Jerry Treñas - LP
Isabela
Rodolfo "Rodito" Albano III - NPC
Ana Cristina Go - NP
Napoleon Dy - NPC
Giorgidi Aggabao - NPC
Kalinga
Manuel Agyao - LP
La Union
Victor Francisco Ortega - Lakas
Eufranio Eriguel - NPC
Laguna
Danilo Ramon Fernandez - LP
Joaquin Chipeco, Jr. - LP
Sol Aragones - UNA
Benjamin Agarao, Jr. - LP
Lanao del Norte
Imelda Dimaporo - NPC
Abdullah Dimaporo - NPC
Lanao del Sur
Ansaruddin Adiong - LP
Pangalian Balindong - LP
Lapu-Lapu City
Aileen Radaza - Lakas
Las Piñas City
Mark Villar - NP
Leyte
Ferdinand Martin Romualdez - Lakas
Sergio Antonio Apostol - LP
Andres Salvacion, Jr. - LP
Lucy Torres-Gomez - LP
Jose Carlos "Boying" Cari - LP
Maguindanao
Zajid Mangudadatu - LP
Bai Sandra Sema - LP
Makati City
Monique Lagdameo - UNA
Mar-Len Abigail Binay - UNA
Malabon City
Josephine Lacson-Noel - NPC
Mandaluyong City
Neptali Gonzales II - LP
Manila
Benjamin Asilo - LP
Carlo Lopez - LP
Maria Zenaida Angping - NPC
Trisha Bonoan-David - NUP
Amado Bagatsing - Kabaka
Rosenda Ann Ocampo - LP
Marikina City
Marcelino Teodoro - LP
Romero Federico "Miro" Quimbo - LP
Marinduque
Regina Reyes - LP
Masbate
Maria Vida Bravo - NUP
Elisa Kho - Lakas
Scott Davies Lanete - NPC
Misamis Occidental
Jorge Almonte - LP
Henry Oaminal - NP
Misamis Oriental
Peter Unabia - LP
Juliette Uy - Independent
Mountain Province
Maximo Dalog - LP
Muntinlupa City
Rodolfo Biazon - LP
Navotas City
Toby Tiangco - UNA
Negros Occidental
Jules Ledesma IV - NPC
Leo Rafael Cueva - NUP
Alfredo Abelardo "Albee" Benitez - LP
Jeffrey Ferrer - UNEGA
Alejandro Mirasol - LP
Mercedes Alvarez - NPC
Negros Oriental
Jerome Paras - NPC
George Arnaiz - NPC
Pryde Henry Teves - NPC
North Cotabato
Jesus Sacdalan - LP
Nancy Catamco - LP
Jose "Pingping" Tejada - Independent
Northern Samar
Harlin Abayon - NP
Emil Ong - NUP
Nueva Ecija
Estrellita Suansing - Unang Sigaw
Joseph Gilbert Violago - LP
Czarina "Cherry" Umali - LP
Magnolia Antonino - NUP
Nueva Vizcaya
Carlos Padilla - NP
Occidental Mindoro
Josephine Sato - LP
Oriental Mindoro
Paulino Salvador Leachon - LP
Reynaldo Umali - LP
Palawan
Franz Joseph George Alvarez - NUP
Frederick Abueg - PPP
Douglas Hagedorn - NPC
Pampanga
Joseller "Yeng" Guiao - Kambilan
Gloria Macapagal-Arroyo - Lakas
Oscar Rodriguez - LP
Juan Pablo Bondoc - NP
Pangasinan
Jesus Celeste - NPC
Leopoldo Bataoil - NPC
Rose Marie "Baby" Arenas - LP
Maria Georgina de Venecia - NPC
Carmen "Kimi" Cojuangco - NPC
Marlyn Primicias-Agabas - NPC
Parañaque City
Eric Olivarez - LP
Gustavo Tambunting - UNA
Pasay City
Imelda Calixto-Rubiano - LP
Pasig City
Roman Romulo - LP
Quezon
Wilfrido Marc Enverga - NPC
Vicente Alcala - LP
Aleta Suarez - Lakas
Angelina "Helen" Tan - NPC
Quezon City
Francisco "Boy" Calalay, Jr. - LP
Winston Castelo - LP
Jorge John "Bolet" Banal - LP
Feliciano Belmonte, Jr. - LP
Alfredo Paolo Vargas III - LP
Jose Christopher "Kit" Belmonte - LP
Quirino
Dakila Carlo Cua - LP
Rizal
Joel Roy Duavit - NPC
Isidro Rodriguez, Jr - NPC
Romblon
Eleandro Jesus Madrona - NP
San Jose del Monte City
Arthur Robes - LP
San Juan City
Ronaldo Zamora - Partido Magdiwang
Sarangani
Manny Pacquiao - UNA/PCM
Siquijor
Marie Anne Pernes - LP (replaced husband, Jay Pernes, who died May 12, 2013)
Sorsogon
Evelina Escudero - NPC
Deogracias Ramos, Jr. - LP
South Cotabato
Ferdinand Hernandez - NPC
South Cotabato and General Santos City
Pedro Acharon, Jr. - NPC
Southern Leyte
Damian Mercado - NUP
Sultan Kudarat
Raden Sakaluran - Independent
Arnulfo Go - NUP
Sulu
Tupay Loong - NUP
Maryam Arbison - LP
Surigao del Norte
Francisco Matugas - LP
Guillermo Romarate - LP
Surigao del Sur
Philip Pichay - Lakas
Florencio Garay - LP
Taguig City
Lino Cayetano - NP
Arnel Cerafica - LP
Tarlac
Enrique Cojuangco - NPC
Susan Yap-Sulit - NPC
Noel Villanueva - NP
Tawi-Tawi
Ruby Sahali - LP
Western Samar

Mel Senen Sarmiento - LP
Milagrosa Tan - NPC
Valenzuela City
Sherwin Gatchalian - NPC
Magtanggol Gunigundo I - Lakas
Zambales
Jeffrey Khonghun - NPC
Cheryl Deloso-Montalla - LP
Zamboanga City
Celso Lobregat - LDP
Lilia Nuño - Independent
Zamboanga del Norte
Seth Frederick "Bullet" Jalosjos - NP
Rosendo Labadlabad - LP
Isagani Amatong - LP
Zamboanga del Sur
Victor Yu - NPC
Aurora Cerriles - NPC
Zamboanga Sibugay
Belma Cabilao - NP
Ann Hofer - LP
- Rappler.com