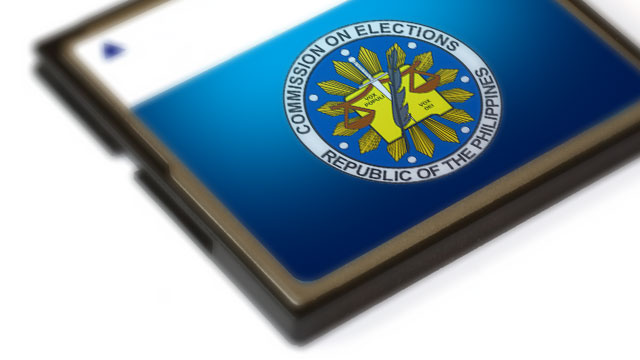 MANILA, Philippines – The compact flash (CF) cards used in the May polls may have been deliberately corrupted precisely to delay the transmission of results and open the window to manipulate the data, according to the Commission on Elections (Comelec).
Comelec chairman Sixto Brillantes Jr. told reporters on Tuesday, May 21, that they found some CF cards that were damaged, and they are not sure if they are "naturally corrupt or deliberately corrupted."
He said that they have not yet received an official report about this, but they are looking into the following possibilities:
The CF cards may have been already defective when supplied by Smartmatic International Corp.
The cards may have been deliberately destroyed by some individuals to corrupt the data they contain.
Brillantes said that the CF cards were likely targetted by individuals who wanted to manipulate the results of the recently-concluded elections.
The CF cards contain the encrypted election results that were transmitted to the Comelec servers. Brillantes said the damaged CF cards may have been a reason for the delays in the transmission of poll results.
When the PCOS machine is unable to transmit results, election inspectors have the option to take the CF card out and bring it to the municipal canvassing center where it can be read.
"If I don't like the results of the (vote counts) by PCOS machines, I will just destroy the CF cards so that the results will not be transmitted," he cited the possible motive of operators.
How could have the CF cards been destroyed? "Sinasawsaw sa tubig, nilulublub sa tinta, scratches, hindi ko alam (dunked into water or ink, scratched, I really don't know)," Brillantes said.
Repeat of 2010?
According to Brillantes, such form of cheating was hardly done during the country's first automated polls in 2010.
"Maybe because they did not understand the significance of CF cards. But now everybody is talking about them. So they already (know) that CF cards can be tampered, can be hijacked," he added.
In the 2010 elections, though, the CF cards were marred with intrigue. For one, Comelec recalled these cards days before the elections, as configuration errors in the flash cards caused tabulation errors in the mock polls.
Back then, there were allegations that CF cards were programmed by insiders to spew out pre-determined results regardless of what the ballots reflected.
Smartmatic admitted they made an error in the configuration of the cards.
Defective CF cards were also cited in some election protests, like in the recount of votes in the mayoralty race in Pasay City.
Brillantes warned that those who will be found to be behind the damage or manipulation of the CF cards this year will be liable for election offense.
"If you destroyed the CF cards, that is actually destroying an election paraphernalia. It is very significant and important. I think it will fall under election offense. Defintely. It's like destroying election documents," he said. - Rappler.com


CF card image via Shutterstock