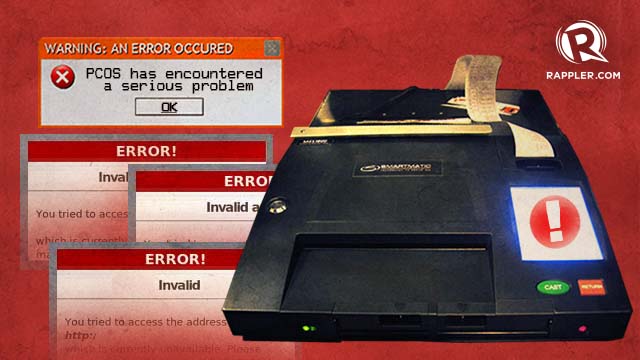 MANILA, Philippines – Blame it on "heavy traffic," poll chief Sixto Brillantes Jr said Thursday, May 23, addressing concerns over the slow transmission of election results to the Transparency Server, which is used by media and watchdogs.
In an interview with reporters, Brillantes said around 18,000 ballot-counting machines, or almost a fourth of the total, had difficulty transmitting election results straight to the Transparency Server. The poll chief, however, said the problem was not directly with the precinct count optical scan (PCOS) machines.
The main problem was with congestion, Brillantes explained. The Transparency Server, after all, had to receive election results directly from 78,000 PCOS machines throughout the country.
The Transparency Server allowed media and watchdogs, including Rappler, to conduct an unofficial count while the official results underwent a separate, "ladderized" process. (Read: Official vs unofficial count: Which is which?)
The servers of municipal boards of canvassers (MBOC), which was used for the official tally, received much less data. Each MBOC server acquired data from the corresponding town or city, then passed on the data to the provincial server, then to the national server for senatorial and party-list votes.
"So it is not the PCOS that's defective. It is the heavy traffic, the transmission problem," Brillantes explained. (Watch more in the video below.)
Clearing CF cards
Brillantes also denied that defective compact flash (CF) cards posed a major problem. He told reporters on Tuesday, May 21, that the Commission on Elections (Comelec) found some CF cards damaged – and remained unsure if the cards are "naturally corrupt or deliberately corrupted."
The poll chief, however, declined to detail the other problems experienced by 18,000 PCOS machines in transmitting election results to the Transparency Server, as well as the Comelec central server.
Brillantes said it was a mix of problems. For one, he noted 25% of the Philippines had no cellphone signal. The Comelec primarily relied on cellphone signals to transmit election results, with satellites as back-up.
He said the Comelec will release a report on this next week.
The Rappler Mirror Server, which gets its data from the Transparency Server, has received only 76% of election returns as of Thursday.
The Parish Pastoral Council for Responsible Voting (PPCRV), which uses the Transparency Server, said it was blind to 8% of election data in 2010, when the Philippines held its first automated elections. This means the PPCRV directly received 16% more election returns back then. – Rappler.com