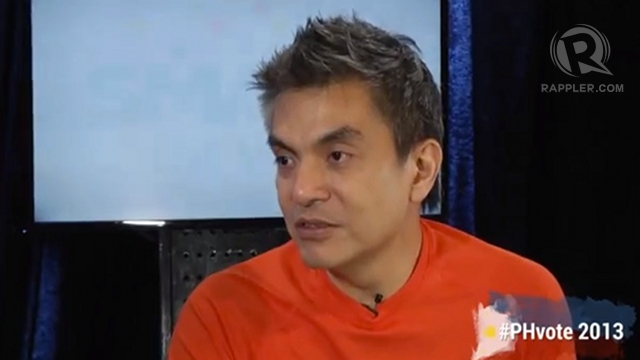 NO RIGHT. UNA campaign manager Toby Tiangco says Sen Franklin Drilon has no right to tell him and UNA to concede. File photo
MANILA, Philippines – "You don't have the right to tell us what to do even if you think you will be the next Senate President."
United Nationalist Alliance (UNA) campaign manager Navotas Rep Tobias "Toby" Tiangco fired back at Sen Franklin Drilon for calling on the opposition to concede the elections.
In a phone interview on Thursday, May 23, Tiangco responded to Drilon's suggestion that UNA issue a formal statement conceding to the administration slate Team PNoy. Only 3 UNA bets won the senatorial polls while 9 Team PNoy candidates made it.
"Even if he feels he's going to be the next Senate President, he doesn't have the right to tell UNA or me what to do," Tiangco told Rappler.
He stressed, "We are not conceding. There is no need to concede."
Drilon, Team PNoy's campaign manager, made the statement in a press briefing Thursday morning. He said UNA should concede "as responsible citizens" so the two groups "can work toward a common agenda for the good of the people."
The senator rejected reports about a seeming pattern of a 60-30-10 win for Team PNoy bets. IT experts, netizens and mathematicians have posted about the supposed pattern online. Yet Drilon said the accusations were "useless" as surveys consistently predicted a 9-3 victory for Team PNoy.
Tiangco said he was surprised by Drilon's statement, calling it a sign that the Liberal Party (LP) stalwart is panicking.
"I don't know why he's so scared. These are individuals, third-party NGOs who are speaking up so why does he want to prevent them from speaking up? Is he hiding anything? Why don't they want these third party groups who are not connected to us to speak up?"
He added, "If he is confident that they are not hiding anything, he should say, 'Bring out all the evidence so Comelec can investigate and we can prove we won in a clean, honest election.' Lalo akong nagdududa (The more I am doubting) because of his statement."
Tiangco asked why UNA should concede.
"I don't understand all this fuss about conceding. What if you concede then you win?"
He said that the UNA statement congratulating the winners of the polls was not a concession.
In the statement issued Wednesday, the alliance said, "The conduct of the midterm election showed that we remain shackled by traditional politics, that the practices of the past are still very much a part of our system. We reserve the right to expose these practices at the proper time."
'Comelec should answer'
Tiangco also clarified that it was not UNA that brought up the supposed pattern in the election results. He said he also just found out about it from social media, e-mails and text messages.
UNA's secretary-general said he is just listening to the non-partisan individual and groups because he is not an expert on IT and statistics.
"What I am saying is since it's an election and we want credible elections, we are willing to listen to those who have so-called evidence and if there is evidence to prove their complaint, we will support."
Asked if the coalition will take action on the supposed pattern, he said, "It depends on the evidence that will be shown. If it's concrete, it's also my duty to our candidates who have also worked hard."
To put the issue to rest, Tiangco said the Commission on Elections should investigate. Comelec Chairman Sixto Brillantes Jr has said that the poll body's IT department is studying the matter.
Tiangco said, "Comelec should check if the claims on blogs and the Internet that it was really 60-30-10 in the election returns are true. Comelec should answer if it is true or not. Comelec can say it's not true."
He added that the issue was worth looking into because if proven true, it was indicative of poll fraud.
"How can you get a consistent 60-30-10? That is questionable. I don't think it's possible that will happen in the entire Philippines."
Senator-elect JV Ejercito of UNA backed Tiangco's stand.
"There is a report from IT experts so there should be an investigation if it is true or not. We have to make sure the next election will not be tainted," he told Rappler.
On UNA conceding, Ejercito said, "Why will we concede? This is the right of the people, and I don't think it will harm anybody if we look into it because this is one of the most sacred rights of the Filipino people."
SP? 'We only have telephone number'
Tiangco blasted Drilon, who is reportedly the administration coalition's choice to replace Senate President Juan Ponce Enrile of UNA.
Drilon said he and the Nacionalista Party's Sen Manny Villar already agreed on a common candidate.
Thirteen votes are needed to be Senate President. Administration-allied senators are confident Drilon has the numbers, with Team PNoy senators-elect and incumbent senators supporting him.
Tiangco said though that UNA is still backing Enrile to head the chamber.
Senators expected to choose Enrile are Senate Majority Leader Vicente "Tito" Sotto III, Sen Jinggoy Estrada, Sen Gregorio Honasan II, Ejercito, and Nancy Binay.
Asked if UNA has the numbers for Enrile to retain his post, Tiangco said in jest, "Numbers? Telephone number meron. Numbers 'di ko alam." (We have a telephone number. Numbers, I don't know.) – Rappler.com