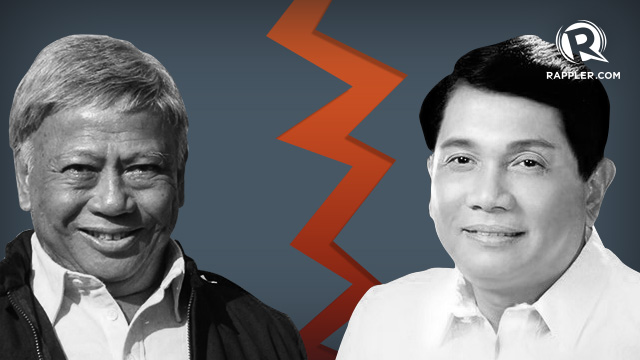 BATAAN, Philippines – The Payumos who ran in the recently concluded elections all lost, and the clan's head – former Subic Bay Metropolitan Authority chairman Felicito Payumo – is filing a protest, at least over the results of the congressional race in the first district, where he lost.
In a statement, Payumo said the results of the election was "impossible," specially since his family lost in their hometown of Dinalupihan.
Payumo ran for congressman in the first district but lost to Herminia Roman of the Liberal Party (LP). Roman garnered 87,535 votes, while Payumo got 60,084 votes.
Payumo, who ran under the Nationalist People's Coalition (NPC), said that he would be filing an electoral protest "based on the outcome of the recently concluded congressional elections in the First District of Bataan. I understand several other local candidates in the province are also filing their own protests."
He said "the election results showed a consistent votes share pattern of 55%-45% in 3 municipalities and 60%-40% in 3 other municipalities in favor of my opponent, Herminia Roman."
Payumo said, "We find this statistically improbable, if not impossible!"
For the governorship of Bataan, his nephew Joel Payumo (NPC) lost to Abet Garcia (NUP). Garcia obtained 239,978 votes against Joel's 77,424 and independent candidate Patrick Santos' 3,092.
In the Payumos' hometown of Dinalupihan, another nephew, Jojo Payumo, lost in the mayoral race to Gila Garcia, ending decades of Payumo rule in the municipality.
'Performance over hollow promises'
In a statement sent to Rappler, Bataan Governor Tet Garcia – who has just been elected congressman of the 2nd district by a landslide of 120,825 votes over former Gov. Ding Roman and two others – said "the Garcias welcome the filing of any protest which can only validate the resounding expression of the people's will last May 13."
He said: "The Payumos can't seem to accept defeat when this is not the first time that they've lost in the elections. Tong Payumo himself was roundly thrashed in his own hometown in the 2007 elections."
Garcia added: "What probably stunned them this time was the way the electorate handed down their rejection in a most decisive way. It was a simple case of Bataenos opting for solid, tangible performance over hollow promises."
But Payumo insisted that the results were improbable because the whole LP slate of Jojo Payumo in Dinalupihan – from mayor, vice mayor, to councilors – lost. "Such complete shutout, whether of the incumbent administration ticket or opposition, has never happened before."
Payumo said: "Finally, I could not imagine I would lose in my hometown, Dinalupihan, by more than 10,000 votes, contributing a full third of my vote deficit to my opponent. This was the fatal mistake that gave away the operation – using a bludgeon that would cut across the district according to a pre-determined vote share ratio and without regard to the political terrain." – Rappler.com