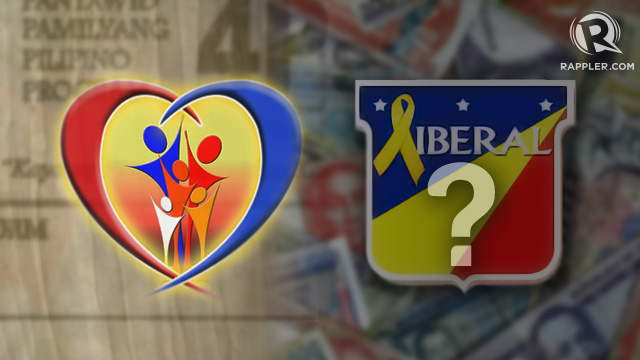 MANILA, Philippines - President Aquino's party is being accused of using the flagship poverty alleviation program of the government during the campaign period.
Voltaire Tupaz reports.
Did President Aquino's own party use the government's flagship poverty alleviation program to buy votes?
The victorious candidate in Southern Leyte claims the Liberal Party did.

DAMIAN MERCADO, SOUTHERN LEYTE CONGRESSMAN-ELECT: Ayon, nagpaano sila ng mga, ano, application: "Mag-apply ka, member kang 4Ps." Tapos yung isang page, ano, andoon na 'yung candidate ng Liberal Party, mga kandidato nila. Oo, ginamit nila ang 4Ps.
(They distributed applications: "Apply for and be a member of 4Ps (Pantawid Pamilyang Pilipino Program)." And then the other page contained the names of Liberal Party candidates. Yes, they used 4Ps.)
In turn, Liberal Party candidates are accusing the Mercados of vote buying. (READ: 'Pahalipay': Vote buying in Southern Leyte)
But LP also admits it conducted a survey to help recruit 4Ps beneficiaries 10 days before the May elections.

MARISA LERIAS, LOSING LP CONGRESSINAL CANDIDATE: "The 4 Ps, we didn't use. But what we did, we worked closely with the National Anti-Poverty Commission (JUMPCUT) I have copies of the forms but they were blank form(s) because we did say that we're going to help with the survey. And the survey was going to determine whether or not you're qualified."
Experts earlier warned, 4Ps can be used in the 2013 mid-term elections like what happened in South American countries which implemented similar cash transfer measures.
An official from the Inter-American Development Bank says the cash transfer programs are prone to government manipulation
SANTIAGO LEVY, VP INTER-AMERICAN DEVELOPMENT BANK: "Governments are tempted to manipulate and governments are sometimes prone to a similar kind of behavior and the only counterweight that you can have is again, hopefully a strong legislature, a strong press, and lots of information."
Reports that Liberal Party bets are using 4Ps for partisan politics anger Social Welfare Secretary Dinky Soliman.
Her agency spent 10.5 million pesos for a campaign encouraging the public to report misuse of the 4Ps during elections.
DINKY SOLIMAN, DSWD SECRETARY: Maliwanag yung bawal ang epal campaign (It's clear that the "epal campaign" is prohibited). The bawal ang epal campaign's stressed that the Pantawid Pamilya and all other programs are not to be used for campaigning, and if there were - whether they won or not - we would like to know the details so we can raise this formally to the Liberal Party We have raised formally to the DILG at least two cases.

4Ps provides cash grants for education and health costs to more than 3 million poor beneficiaries.
DSWD suspended the distribution of cash due to an election ban.
The question now is whether the program's promise of benefits became a politician's promise.
Will the DSWD secretary, a close ally of the President, go after the President's party?
Voltaire Tupaz, Rappler, Manila.
[WATCH FULL NEWSCAST: Rappler Newscast | May 24, 2013] - Rappler.com