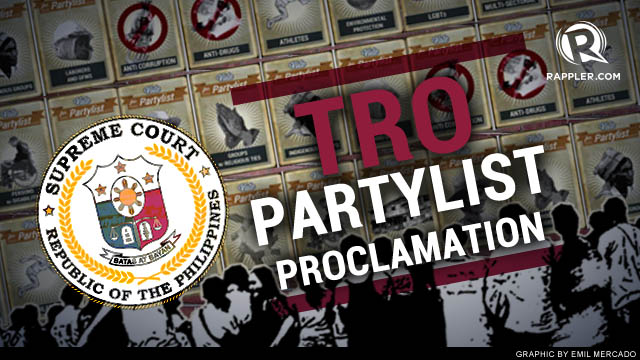 MANILA, Philippines (2nd UPDATE) - The Supreme Court (SC) on Wednesday, May 29, halted the Commission on Elections (Comelec) from proclaming the remaining winning party-list groups following the petition of a senior citizens' group.
The SC issued the temporary restraining order (TRO) following the petition of the Coalition of Association of Senior Citizens in the Philippines (Senior Citizens) party list.
"A Temporary Restraining Order is issued, effectively immediately and continuing until further orders from this Court, ordering You, respondent Comelec, your agents, representatives, or persons acting in your place or stead, to cease and desist from further proclaiming winners from among the party-list candidates," the SC resolution read.
Chief Justice Ma. Lourdes Sereno exercised her power as chief justice to issue the TRO upon the recommendation of the magistrate assigned to pen the decision on the case. This was because the SC was in recess, and they cannot hold an en banc session to decide on the case.
The SC also ordered the Comelec to comment on the petition within 10 days.
Comelec Chair Sixto Brillantes Jr said the TRO won't affect the party-list groups that were previously proclaimed.
"Malaki ang diperensya. TRO means, "Stop, you cannot proclaim." If we have already proclaimed, the TRO will have no effect anymore. SQA means you go back to the original status, so may epekto. If the original status is not yet proclaimed, eh 'di balik lahat," Brillantes said.
Five seats remain unfilled in the party-list election.
Senior Citizens is among the 12 groups earlier disqualified by the Comelec on May 6, 2013, a month after the SC issued a six-point guideline redefining party-list eligibility.
Senior Citizens – No. 129 on the ballot – has so far received 671,916 votes, according to the latest party-list national canvass report released Monday, May 20. It ranked 10th over all. - Rappler.com