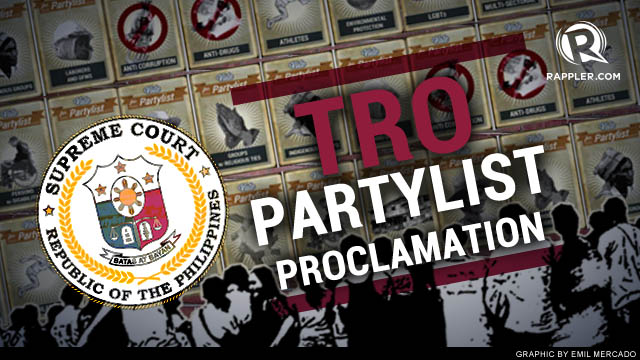 MANILA, Philippines – If there's anything good about the Supreme Court (SC) reprieve issued Wednesday, May 29, it is this: the order cements the positions of the already proclaimed party-list winners.
Commission on Elections (Comelec) chair Sixto Brillantes Jr said this in an interview with reporters Wednesday, after the the SC issued a TRO on more party-list proclamations.
"They already validated the 53," Brillantes said.
Brillantes was referring to the 53 party-list seats that the Comelec filled up on Tuesday, May 28. The Comelec left 5 of the 58 allocated party-list seats vacant, making room for uncanvassed votes as well as a reprieve from the SC.
Brillantes pointed out that the TRO prohibited "further" proclamations, which means it will not affect the party-list winners that the Comelec already proclaimed.
In the TRO, the SC acknowledged that the Comelec "has already proclaimed 38 groups entitled to 53 seats" from among party-list candidates.
The high court, however, said: "Should respondent Comelec continue proclaiming winners from among the remaining party-list candidates, grave prejudice could result, not only to the petitioner but to other party-list candidates as well."
'Highly ridiculous'
The effect of a TRO is different from that of a status quo ante (SQA) order, Brillantes said. An SQA would have required the Comelec to observe the status quo of the winners before proclamations, which means to consider them not proclaimed.
On Tuesday, Brillantes said an SQA may dislodge party-list winners from their seats.
The SC issued a TRO after the party-list group Senior Citizens, which the Comelec disqualified, appealed their case before the SC. Speaking to Rappler, veteran election lawyer Romulo Macalintal described an SC ruling against the Comelec as "highly ridiculous," given that the SC authorized the Comelec to screen party-list groups using its new rules.
Brillantes said the Comelec will file a comment on Senior Citizens' case within 10 days, as required by the SC. – Rappler.com