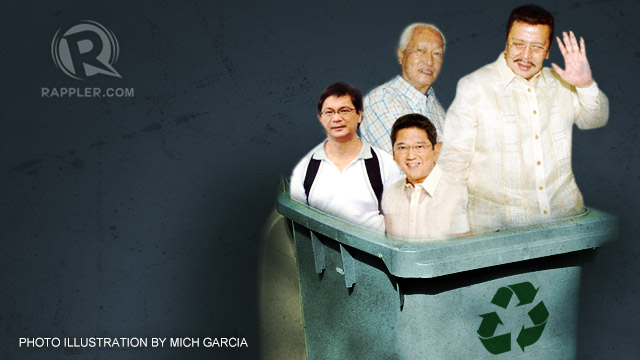 MANILA, Philippines – What do Manila's Alfredo Lim and Muntinlupa's Aldrin San Pedro have in common?
In the last elections, they were the only ones who lost among the big majority of Metro Manila mayors who sought re-election. And those who dislodged them are not neophytes either.
Specifically, 11 of 17 mayors in the National Capital Region (NCR) in the next 3 years are re-elected ones. The rest are former mayors who have re-taken City Hall, or relatives of local chief executives who are reaching their term limits on June 30.
This is hardly surprising, as Rappler reported during the campaign the absence of fresh faces among candidates for major posts in the NCR.
Thirteen mayors sought re-election on May 13. Eleven of them won:
Herbert Bautista of Quezon City
Benjamin Abalos Jr of Mandaluyong City
Guia Gomez of San Juan City
Del de Guzman of Marikina City
John Reynald Tiangco of Navotas City
Jejomar Erwin Binay Jr. of Makati City
Maria Laarni Cayetano of Taguig City
Jaime Medina of Pateros
Antonino Calixto of Pasay City
Vergel Aguilar of Las Piñas City
Antolin Oreta III of Malabon City (who ran unopposed)
In Manila, re-electionist Lim was dislodged by former President Joseph Estrada, who, many years ago, was mayor of San Juan. Estrada got 343,993 votes while Lim received 308,544 votes.
In Muntinlupa, San Pedro, with 83,337 votes, lost to former Mayor Jaime Fresnedi, who garnered 88,071 votes.
Four re-electionists pulled away from the race with huge leads over their rivals:
In Makati City: Binay had 224,740 votes vs Rene Bondal's 27,505 votes
In Pasay City: Calixto had 119,177 votes vs Jorge del Rosario's 28,951 votes
In Quezon City: Bautista had 558,276 votes vs Johnny Chang's 54,312 votes
In San Juan City: Gomez had 33,994 votes vs. Glenn Angeles' 7,247 votes
The closest fight, on the other hand, was witnessed in Pateros, where Medina won another term with 12,886 votes, against Ike Ponce who got 12,284 votes – a lead of just 602 votes.
In two cities, relatives of outgoing mayors led the count: Valenzuela City's Rexlon Gatchalian, brother of Mayor Sherwin Gatchalian, and Pasig City's Maribel Eusebio, wife of Mayor Robert Eusebio.
Sherwin Gatchalian ran for congressman and won, while Robert Eusebio is taking a break from politics.
Florencio Bernabe Jr of Parañaque City and Enrico Echiverri of Kalookan City fielded their sons to replace them, but both lost. Bernabe is taking a break from politics as well, while Echiverri ran for congress and won.
In the other cities, two former mayors – Macario Asistio Jr of Kalookan and Wenceslao Trinidad of Pasay – attempted to reclaim their former positions, but both failed.
In Kalookan and Parañaque, on the other hand, outgoing congressmen won the mayoral races. Rep Oca Malapitan is the new mayor of Kalookan, while Rep Edwin Olivarez is the new mayor of Parañaque. – Rappler.com