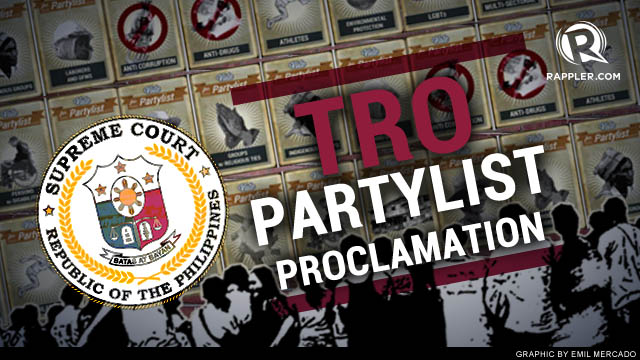 MANILA, Philippines – Did the Supreme Court (SC) overstep its boundaries when it stopped the Commission on Elections (Comelec) from proclaiming party-list winners?
SC Associate Justice Teresita Leonardo-De Castro on Wednesday, May 29, said Chief Justice Maria Lourdes Sereno could have imposed an "overbroad restriction" on the Comelec by stopping the proclamations.
De Castro said she only recommended a temporary restraining order (TRO) on the disqualification of the party-list group Senior Citizens. She specified that the TRO should only cover Senior Citizens, not the other party-list groups that the Comelec disqualified and appealed before the SC.
What Sereno ended up doing was to stop "further proclamations" by issuing a TRO last Wednesday. She said proclaiming the remaining party-list winners could result in "grave prejudice" to Senior Citizens and other party-list candidates.
"Such blanket injunction might be deemed as an overbroad restriction on the constitutional authority of the Comelec to proclaim winners in the party-list elections, beyond what is necessary in the present case," De Castro wrote in her two-page letter.
She said the TRO "may adversely affect third parties not impleaded in the present case in violation of their right to due process."
Up to 11 disqualified party-list groups trooped to the SC, and the most prominent is Senior Citizens. It got 677,642 votes – the 10th most number of votes that a party-list group received
'Ball in SC's hands'
For De Castro, Sereno made a valid point when she said proclamations could affect party-list candidates aside from the petitioner. Comelec chair Sixto Brillantes Jr had said SC orders on the proclamations could dislodge party-list winners.
De Castro, however, called this situation "extraneous and merely anticipatory."
She explained, "The court is mandated to grant relief only to parties involved in actual controversies who file the proper action against us."
In a letter responding to De Castro, which was obtained by the Philippine Daily Inquirer, Sereno said she wanted to prevent "irreparable injury" if "no vacancy is left for the Senior Citizens Party."
Speaking to reporters, Brillantes said the poll body is taking a neutral stand on the justices' clashing statements. "We should not interfere with the inner workings of the highest court of this land," Brillantes said Friday, May 31.
For now, he said, his appeal is for the SC to resolve the cases filed by disqualified party-list groups by June 30. That's when newly elected legistors will assume office.
"The ball is already in the hands of the Supreme Court," he explained.
In earlier interviews, Brillantes had assailed the high court for practically "running elections" through its series of TROs. – Rappler.com