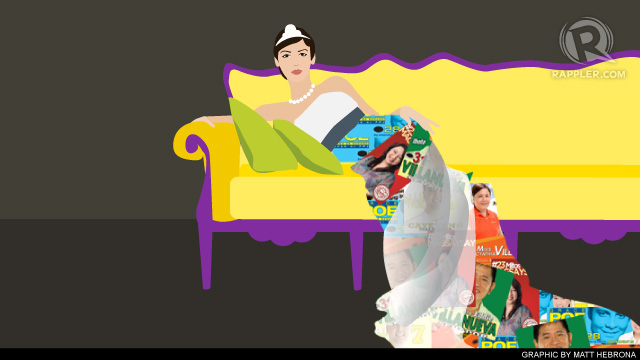 ABRA, Philippines – Candidates here have left the streets littered with election paraphernalia, and the women of a village decided to do something about this blot on the landscape.
The Kalipunan ng Liping Pilipina (Kalipi) of Mudiit in Dolores town held a garbage collection contest last week. The winner became the Reyna Elena in their santacruzan, a traditional religious parade of beauties.
Naisa Kristel Talledo, a registered nurse, paraded along the Abra-Kalinga National Road as the May Queen after selling the most number of election debris. She was preceded by the sagalas who all participated in the trash collection contest.
The "Basurera Queen" is a waste management program of Kalipi not only to collect the destroyed campaign posters, tarpaulins, other trash, but also to provide money for the women.
Mudiit was divided into 4 constituencies, each choosing a candidate and collecting trash to sell and gain points for the muse.
Junk collectors were on hand at the municipal plaza to weigh the trash and declare the winner.
Mudiit Councilor Nenita Briosos said her villagemates loved the concept. Almost all their women joined in clearing posting areas and collecting the tarpaulin and other election trash.
"Since Kalipi was organized, women have become busy and more responsible mothers and housewives," she said. – Rappler.com