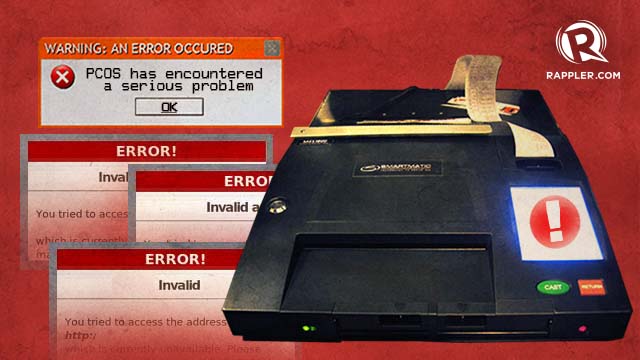 MANILA, Philippines - Poll watchdog Kontra Daya on Wednesday, June 5, said the Commission on Elections (Comelec) should stop paying Smartmatic because of the "massive failure" of its ballot-counting machines.
"From what we saw last May, we don't think it is right for taxpayers' money to be paid Smartmatic given its dismal performance. Smartmatic should even be fined by Comelec and asked to return previous payments," said Kontra Daya convenor Gani Tapang in a statement.
The group cited problems such as the failure of around 18,000 precinct count optical scan (PCOS) machines to transmit election results, and problems involving compact flash cards.
Comelec chair Sixto Brillantes Jr, for his part, said the Comelec has withheld around P270 million from Smartmatic because of pending "accountabilities." This is around 15% of the P1.8 billion that the Comelec is supposed to pay Smartmatic for buying its PCOS machines.
"We cannot release it until everything is fully settled," Brillantes said.
'Outsiders

He also blasted Kontra Daya for raising a howl over the supposedly "massive" failure.
"Paano nila nakita ang problema eh nasa labas sila? Ano naman ang nakikita nila? Sila nga ang sinasabi kong taong labas eh, na ang ingay, na ang dami nilang problema, pero hindi naman nila alam ang nangyayari dito sa loob? Bakit naman kami susunod sa kanila?" Brillantes said in an interview with reporters.
(How did they see the problem when they're outside? What do they see? They're the ones whom I call outsiders, who make noise and point out a lot of problems, but don't really know what's happening inside. Why should we follow them?)
He challenged claims of critics about the PCOS machines. "Tell us what is wrong with the PCOS – not doubts. Give us specifics," Brillantes said.
In the next few days, the Comelec is expected to release reports on the midterm elections. – Rappler.com