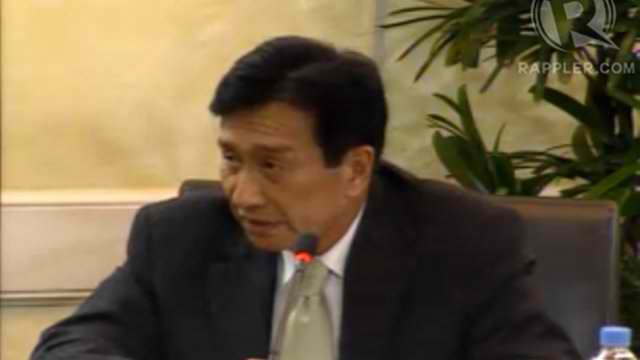 HE INHIBITED. Justice Presbitero Velasco Jr denies influencing the Supreme Court decision upholding the disqualification of his son's congressional rival. File photo
MANILA, Philippines – The office of Supreme Court Justice Pesbitero Velasco Jr denied on Friday, July 12, that he influenced the tribunal's decision on a case that disqualified his son's opponent in the congressional race in Marinduque in May.
The statement came a day after Regina Ongsiako Reyes held a press conference, where she accused Velasco of using "his unelected position" to benefit his son, Lord Allan Jay Q. Velasco, the congressman she challenged in the polls.
The young Velasco was not a party to the case, however. Lord Allan was the incumbent running for re-election, whom Reyes was challenging.
But it was a certain Joseph Socorro B. Tan who questioned Reyes' qualifications before the Commission on Elections (Comelec) during the campaign. Reyes is a US citizen, the complainant said, presenting as evidence a blog about it.
The Comelec decided to disqualify Reyes. The case was elevated to the Supreme Court, where majority of the justices voted to uphold her disqualification – after election results showed that Reyes defeated Velasco by a lead of about 4,000 votes.
Justice Velasco, "did not participate… as he actually inhibited from the case," the statement from his office said.
"The allegation that he 'wielded his influence' in said case is baseless and malicious. Being a lawyer and an officer of the court, Atty. Reyes should have been more circumspect in her statements," it added.
Reyes, according to her lawyer Harry Roque, is going to appeal the SC decision.
Justice Velasco previously filed libel charges against Rappler's editor-at-large Marites Dañguilan Vitug over her 2010 story that alleged he used his position to campaign for his son and ensure his victory in the congressional race that year.
It was the first time in court's history for a sitting justice to file a criminal case against anybody. It prompted media groups in October 2012 to move for his inhibition from the deliberations on the cybercrime law, when they were pushing for the removal of the provisions on libel. He didn't join the deliberations. – Rappler.com