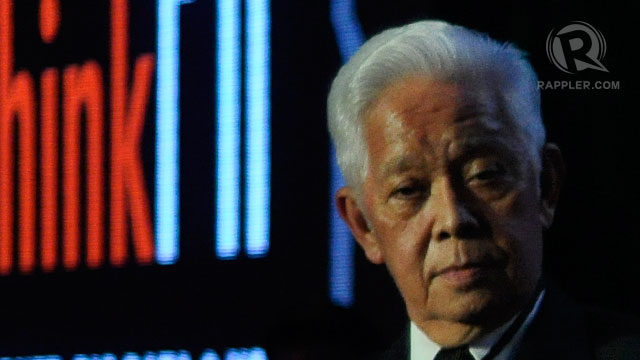 HOPEFUL. Comelec Chairman Sixto Brillantes, Jr at the #ThinkPH summit on Friday, August 23. Photo by Leanne Jazul
MANILA, Philippines - The Commission on Elections (Comelec) urged Congress to perform a post-mortem of the 2013 national and local elections within the next 6 months, as mandated by law.
"The problem with [the 2013 elections] is that there is no post-mortem for the 2010 elections," said Comelec chairman Sixto Brillantes Jr during the #ThinkPH summit organized by Rappler and Google on Friday, August 23.
"Under the law, it is mandatory that the Joint Congressional Oversight Committee (JCOC) is supposed to come out and review everything that happened in the 2010 elections in preparation for the next one."
"What happened is, when I came into the Comelec in January 2011, the mandatory JCOC meetings were never held. So I was trying to ask that the JCOC be convened to assist Comelec in trying to have a post-mortem... so that we can rectify the errors, as there were, in fact, so many," added Brillantes.
He also said that the Comelec will submit to Congress its own full post-mortem report within the next two weeks.
Section 33 of Republic Act 9369 — or amendments to RA 8436, which set an automated election system (AES) in the country — created a JCOC to monitor and evaluate the implementation of the AES.
The current AES involves the use of precinct count optical scanner (PCOS) machines.
The JCOC is composed of 7 members each from the Senate and House of Representatives, 4 of whom shall be from the majority bloc and 3 from the minority bloc.
It should conduct a mandatory review of the AES every 12 months from the date of the last regular national or local elections.
In addition, Brillantes said that the Comelec should soon decide whether or not to reuse the PCOS machines for the 2016 presidential polls. By then Brillantes will no longer be Comelec chair as his term ends in 2015. - Rappler.com