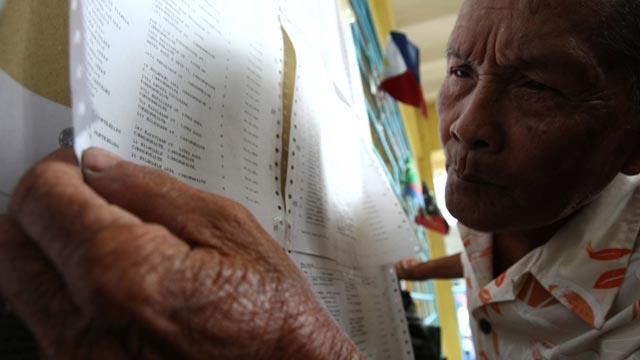 ACCESSIBILITY. Select PWDs and senior citizens can go to select SM malls to cast their vote for the barangay elections. Photo by EPA/Val Handumon
MANILA, Philippines – Persons with disabilities (PWDs) and senior citizens may go to select SM malls in the country to cast their votes during barangay elections on Monday, October 28.
The Commission on Elections (Comelec) issued Resolution 9797, which identified 4 SM malls as accessible polling centers. These malls are:
SM City Manila (for PWDs and senior citizens in Brgy. 659, Manila)
SM City Lipa (for PWDs and senior citizens in Brgy. Sabang, Lipa City, Batangas)
SM City Cebu (for PWDs and senior citizens in Brgy. Mabolo, Cebu City)
SM City General Santos (for PWDs and senior citizens in Brgy. Lagao, General Santos City, South Cotabato)
Voting hours in the malls will be from 7 am to 1 pm.
Comelec said it will appoint one Special Board of Election Tellers (SBET) for every batch of 30 PWDs and senior citizens who signified their intent to vote in the malls.
This serves as prelude for the full implementation of RA 10633 or the law that authorizes Comelec to establish accessible voting centers exclusively for PWDs and senior citizens.
The poll body said however that only PWDs and senior citizens residing in the barangays where the malls are may avail of the right and opportunity to vote therein.
SM management said in a press release that "the introduction of the accessible voting places in this year's barangay elections will likewise be a prelude for its full implementation in the 2016 national elections."
Read the Comelec resolution below:
– Rappler.com