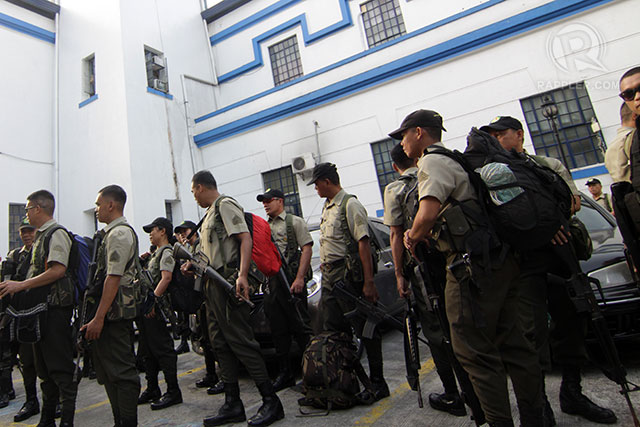 SUPPORT. The CMO Battalion from Philippine Army flock the headquarters of Manila Police District to get their school assignment and to support police personnels for the Barangay elections. Photo by Rappler/Jose Del
MANILA, Philippines – Some 6,216 barangays have been identified by the Philippine National Police (PNP) as priority areas in relation to the barangay elections Monday, October 28.
The identified areas constitute 14.7% of the 42,028 barangays nationwide, the PNP said in an advisory Sunday, October 27. It did not name the barangays.
A Philippine News Agency report said many of these barangays are located in the Autonomous Region in Muslim Mindanao (ARMM). Some 490 barangays in ARMM were found to have intense political rivalry and cases of election-related violence.
In Lanao del Sur, 313 barangays were tagged as "areas of immediate concern." Basilan has 57 areas of immediate concern, Maguindanao has 55, Sulu has 43 and Tawi-Tawi has 15.
The police revealed that 64 cases of election-related violence have been recorded nationwide since the barangay election period began on September 28.
In these cases, 22 were killed, 27 were wounded, 7 were unharmed, and 8 remain missing.
Also, 34 cases were found to be politically motivated; of the number, 30 involved shooting incidents.
Meanwhile, 649 individuals have been arrested due to bans implemented in relation to the barangay polls.
As of 6 pm of Sunday, 61 individuals have been arrested for violating the liquor ban:
33 in the National Capital Region
26 in CALABARZON
2 in Central Luzon
As of 3 pm, 588 individuals have been arrested for violating the gun ban:
546 are civilians
7 are from PNP
5 are from AFP
6 are government officials
21 are security guards
3 are from Cafgu
The election gun ban runs from September 28 to November 12, while the liquor ban is in effect from October 27 to 28 only. (READ: Barangay elections: Know what's banned, and more)
The Commission on Elections is coordinating with the PNP and the Armed Forces of the Philippines (AFP) for secure and peaceful barangay elections. About P100 million was allocated for security operations: P60 million for PNP and P40 million for AFP.
A total of 809,136 candidates are running for barangay posts Monday – 94,124 for barangay captain and 715,012 for kagawad (councilor).
A total of 54,051,626 registered voters are expected to participate in the polls. (READ: Barangay in numbers) – Rappler.com