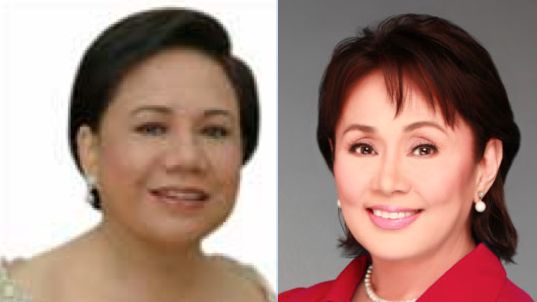 NEW BETS? Former Las Piñas Rep Cynthia Villar and Vilma Santos Recto make it to Pulse Asia's list of so-called magic 13 senatorial candidates.
MANILA, Philippines – New list, new faces.
Former Las Piñas Rep Cynthia Villar and actress-turned-Batangas Gov Vilma Santos-Recto are among new names who made it to a survey's so-called magic 13 for the 2013 senatorial polls.
In a May 20 to 26 Ulat ng Bayan survey, Pulse Asia added the names of Villar and Santos-Recto in its questionnaire for the 2013 elections.
Villar ranked 11-21 with a voter preference of 25.1 while Santos-Recto ranked 13-21 with a voter preference of 23.
Mrs Villar has declared her senatorial bid while Santos-Recto has not announced her plans for 2013. Villar is the wife of Sen Manuel "Manny" Villar Jr, who ends his Senate term next year. The Villars belong to the Nacionalista Party (NP).
Santos-Recto is married to Sen Ralph Recto. She is entitled to seek another 3-year term in 2013. The Rectos are members of President Aquino's Liberal Party (LP).
Pulse Asia ran a new list of potential senatorial candidates after dropping some of the names it used in its February 26 to March 9 survey.
Those Pulse Asia dropped include former Vice President Noli de Castro, his fellow broadcaster Ted Failon, Justice Secretary Leila de Lima, and TV host Kris Aquino.
In an interview with Rappler, Pulse Asia President Ronald Holmes explained that the pollster decided to drop the names of those who have not expressed interest in the polls.
Holmes also said that because the May list is new, it is not comparable to the previous one.
Pulse Asia asked respondents, "If the 2013 elections were held today, who in this list would you vote for senator? Choose only 12 names."
Twelve senatorial seats are usually up for grabs in mid-term races, but another seat is vacant - the one previously occupied by President Benigno Aquino III, a senator until 2010. Congress, however, will have the ultimate say on whether there would be 12 or 13 contested seats in 2013.
Chiz bounces back
Sen Francis Escudero regained his lead over Sen Loren Legarda. Escudero had dropped to number two in the March survey.
In May, he bounced back with the highest voter preference at 65.1 compared to Legarda's 63.6. Yet they both had a rank of 1-2.
Rounding up the top 5 are Senators Alan Peter Cayetano, Cagayan Rep Juan Ponce "Jackie" Enrile, and Transportation Secretary Mar Roxas.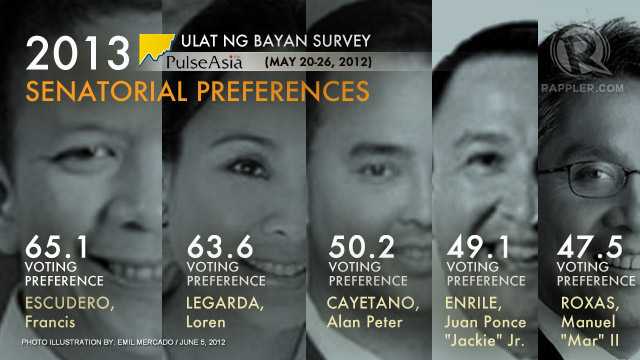 Here is the rest of Pulse Asia's survey: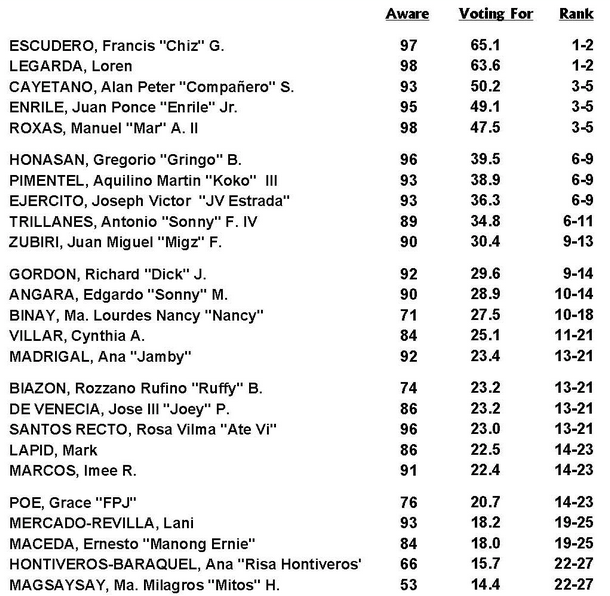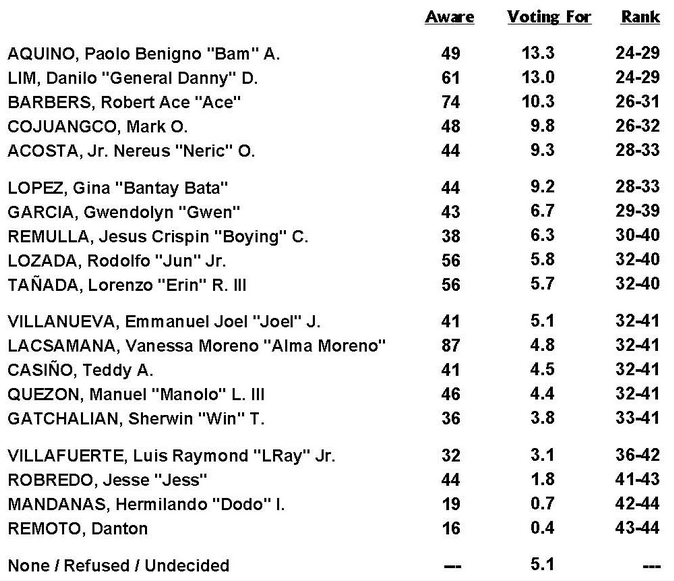 Holmes said that because a news website preempted Pulse Asia's announcement, the pollster will no longer issue a media release explaining its latest findings. – Rappler.com
Click on the links below for related stories.