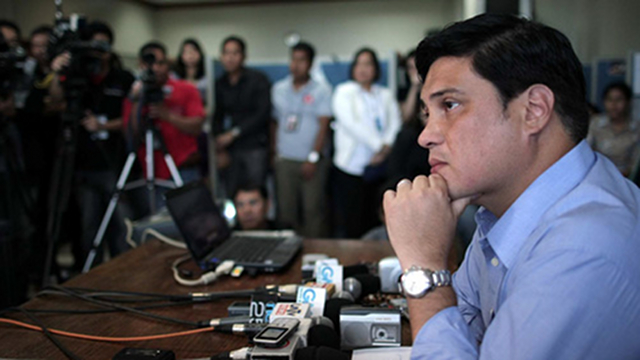 OFFICIAL CANDIDATE. Despite Sen Pimentel's objection, resigned Sen Juan Miguel Zubiri is now an official senatorial bet of the United Nationalist Alliance. File photo from Senate website.
[UPDATED] MANILA, Philippines – Objection or no objection, resigned Sen Juan Miguel "Migz" Zubiri is an official candidate of the United Nationalist Alliance (UNA).
The coalition made the announcement on Monday, June 11, in a press conference after a meeting of its top leaders. The meeting and the media briefing were held in Vice President Jejomar Binay's office at the Coconut Palace. (Read: Pimentel mulls next move, says he was first in UNA)
UNA spokesman JV Bautista said they will respect the decision of Sen Aquilino "Koko" Pimentel III on whether or not he would heed the coalition's decision.
Deputy spokesman and former Rep Rodolfo Plaza said Pimentel should remember he is a signatory to the covenant of unity and is bound by it. Watch an excerpt from the press conference here:
Pimentel was the first name on the list of UNA's senatorial slate, and it will be up to him to accept the nomination or not. Also named as UNA official senatorial bets for 2013 are Zambales Rep Milagros "Mitos" Magsaysay and Cebu Gov Gwen Garcia.
UNA is an alliance between Binay's Partido Demokratiko Pilipino-Lakas ng Bayan (PDP-Laban) and former President Joseph Estrada's Pwersa ng Masang Pilipino (PMP) for the 2013 midterm elections.
Plaza said PDP-Laban "will have to respect the nomination" of Zubiri as one party cannot dictate over another. Estrada's PMP had decided to accept and nominate Zubiri to UNA. According to Bautista, within the coalition, the "same mutual respect" must be accorded to other parties, otherwise, "the alliance will not stand."
Zubiri, Magsaysay and Garcia's entry into UNA comes after they took their oath as members of the coalition partners last month.
Estrada welcomed Zubiri into PMP on May 3 while Magsaysay and Garcia joined PDP-Laban on May 25.
Zubiri, Magsaysay, and Garcia have been associated with former President Gloria Macapagal-Arroyo.
Zubiri and Magsaysay used to be members of her Lakas-Kampi party. Garcia was her local ally in Cebu.
Pimentel overruled
The UNA executive committee composed of Binay, Estrada and Senate President Juan Ponce Enrile decided to field Zubiri despite the strong objection from Pimentel.
Last week, Pimentel released to the media his May 21 letter to Estrada detailing the grounds for his objection to Zubiri.
Pimentel warned that he would leave UNA if it insists on including Zubiri in the senatorial slate.
"I realize that I need UNA's help in order to win as senator in 2013. But if UNA requires me to run with an election cheat before help is extended to me, then I am prepared to lose, for as long as I remain true to what I passionately believe in," wrote Pimentel who is running for re-election in 2013," Pimentel wrote Estrada.
Yet Estrada and UNA have said it is Pimentel who will have to forgive and adjust to the entry of Zubiri.
During the press conference, Bautista said, "If the decision of Senator Koko Pimentel is to leave, what can we do? What can the party and the alliance do? He added that they are being "very careful" with the handling of the two potential senatorial re-electionists.
Pimentel's objection is rooted in his electoral protest against Zubiri over the 2007 senatorial polls.
The PDP-Laban president was only able to assume his Senate seat in August 2011 when the Senate Electoral Tribunal declared him the winner of the protest. Zubiri resigned days before this.
UNA's 8 candidates
The announcement expands the list of UNA's official senatorial candidates from 5 to 8.
UNA announced its first 5 senatorial bets in May:
Sen. Aquilino "Koko" Pimentel III, PDP-Laban president
Joey de Venecia, PDP-Laban executive vice president
Cagayan Rep Juan Ponce "Jackie" Enrile Jr, Nationalist People's Coalition (NPC) and son of the Senate President
San Juan Rep Joseph Victor "JV" Ejercito, PMP and Estrada's son
Sen Gregorio Honasan II
There have been reports, however, that Pimentel might now run under President Benigno Aquino III's Liberal Party (LP).
LP leaders have said Pimentel is "more than welcome" to join them.
(For background on UNA, read our special reports: Binay and the politics of firsts and UNA vs LP: What's the difference?) – Rappler.com