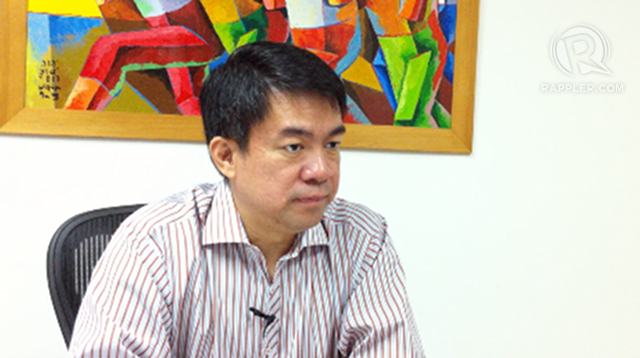 FORGIVING, NOT REWARDING. Sen Koko Pimentel says he already forgave Zubiri but he can't reward him by accepting him into UNA. He said, "Nauna ako sa UNA kaysa sa kanya." File photo by Ayee Macaraig
MANILA, Philippines (UPDATED) – No text, no phone calls, not a word.
Vice President Jejomar Binay's United Nationalist Alliance (UNA) got only deafening silence from Sen Aquilino "Koko" Pimentel III on the eve of, and after, a meeting of the coalition on Monday, June 11.
During that meeting, his bitter rival, resigned Sen Miguel Zubiri was accepted in the coalition and nominated as among its senatorial candidates. (Read: It's final: Migz running under UNA)
Pimentel was also invited to the meeting, but he skipped the gathering. He later told ANC, the ABS-CBN News Channel, that he inhibited himself from the meeting because he did not want to use it as an avenue to lobby against Zubiri.
Binay, Estrada, and Senate President Juan Ponce Enrile led the meeting along with Sen Gregorio Honasan II and the UNA secretariat.
Initially, even reporters could not reach the senator to get his reaction. Yet his office later issued a brief statement saying he will meet with family, friends and supporters to decide on his next move.
"Sen Pimentel will call for a meeting … because Senator Koko Pimentel has stated that in conscience he cannot run with Migz Zubiri in the same slate."
In the ANC interview, Pimentel said it will take him one to two weeks to come up with a final decision. He said he has already forgiven Zubiri but does not see the need to "reward" him by running alongside him.
"Lakas was his original party. Why all of a sudden join UNA kung saan ako nauna? ... Mas nauna ako sa UNA kaysa sa kanya. (I was first in UNA. I was in UNA even before he was.) My objection is based on principle and I don't think principle can be changed that easily."
UNA is an alliance between Binay's Partido Demokratiko Pilipino-Lakas ng Bayan (PDP-Laban) and former President Joseph Estrada's Pwersa ng Masang Pilipino (PMP) for the 2013 midterm elections.
Pimentel is president of PDP-Laban. His objection to Zubiri is rooted in an electoral protest over the 2007 elections. He stated this in a letter to Estrada released last week.
Pimentel commented on the statement of Liberal Party (LP) leaders that he is "more than welcome" to join them
"PDP-Laban, once upon a time, worked with the LP way back in 1992 when we fielded the Salonga-Pimentel president and vice president ticket so I know a lot of LP members and they are my friends but anyway, that should not be a factor when I meet my leaders, I will just look at the situation, he said.
Pimentel added, "The situation is that PDP-Laban is one of two parties in a coalition agreement and our coalition partner has nominated someone whom I cannot run with as senator."
Erap waiting for Koko
During the UNA meeting, it was Estrada who endorsed Zubiri as a senatorial candidate. Zubiri joined Estrada's party last May.
In a press conference held after the meeting at the Coconut Palace, UNA spokesperson JV Bautista said he invited Pimentel to meet with Estrada last Friday, June 8, in Estrada's residence in Polk Street, San Juan, but the senator declined.
Bautista said Pimentel instead wanted to schedule a one-on-one meeting with Estrada.
"President Erap until now is waiting for the scheduled one-on-one merienda that Sen Pimentel intimated that he will schedule in the next few days," said Bautista. "There is no giving up on anyone."
Binay's chief of staff, Undersecretary Benjamin Martinez, and PDP-Laban secretary-general Jose "Peping" Cojuangco Jr have been tasked to brief Pimentel on the decision reached at the UNA meeting.
'What can we do?'
During the press conference, Bautista, UNA deputy secretary-general and Binay daughter Nancy Binay-Angeles and UNA deputy spokesperson Rodolfo "Ompong" Plaza repeatedly said that the alliance will still try to reach out to Pimentel.
"We're giving him time and space to decide," said Binay-Angeles. "[My sense is that] he's not closing his door."
Bautista agreed. "We will proactively seek him. Please don't have the impression that doors are closed….but at the same time, the decision of UNA is not to make any decisions for Sen Pimentel. The final decision will be his."
Bautista explained that UNA tried to exhaust all means to appease Pimentel, even offering to split the senatorial slate into two so that he and Zubiri will not campaign together.
"He rejected it. He said he could not be in the same slate," said Bautista.
While UNA leaders called on Pimentel to stay instead of running under the LP, they admit that it is all up to him.
Bautista said, "If the decision of Sen Koko is to leave, what can we do? What can the party do? What can the alliance do?"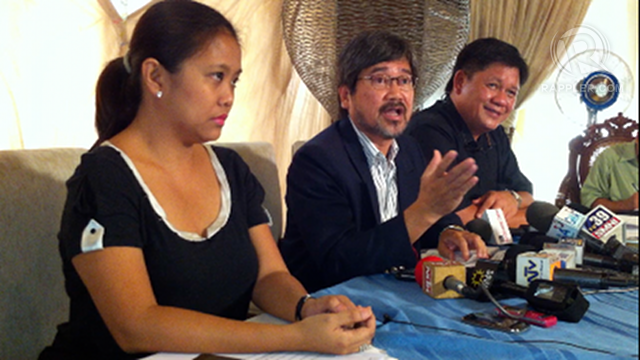 YOUR MOVE. UNA spokesperson JV Bautista (center) says the final decision on staying with the coalition or leaving it for LP will be up to Sen Koko Pimentel.
Newcomer vs party president
Asked why UNA was choosing a newcomer to PMP over the president of the PDP-Laban, Bautista said it was no longer about the parties but the alliance.
"It was stated in the meeting a while ago that one party cannot dictate over the other. One of the leaders said that. I will not name [him] anymore. He was very firm about that, that when one party makes a decision, that decision must also be accepted by the other party."
Plaza also said that Pimentel is bound by the so-called covenant of unity between PDP-Laban and PMP stating that any candidate nominated by either party will automatically be qualified for the post.
'Find it in your heart to accept'
While the decision was not to Pimentel's liking, Zubiri welcomed it as a sign of trust and confidence.
In a statement, the resigned senator thanked the UNA leadership and said he will join them in the fight against "poverty, injustice and environmental degradation."
"I will also continue to reach out to Sen Koko Pimentel to have a united stand on issues concerning Visayas and Mindanao. We need to add more voices in the Senate representing our region."
Zubiri added, "I am hoping that Sen Koko will see it in his heart to accept the decision of UNA so that we may close this particular chapter of our lives."
(For background on UNA, read our special reports: Binay and the politics of firsts and UNA vs LP: What's the difference?) – Rappler.com