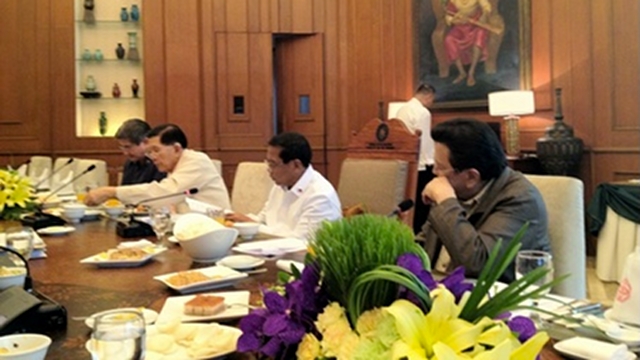 BATCH THREE. UNA is likely to announce its 3rd and possibly final batch of senatorial candidates this week. File photo of UNA execom meeting by Binay spokesperson Joey Salgado
MANILA, Philippines – Administration coalition or not, Vice President Jejomar Binay's United Nationalist Alliance (UNA) is set to finalize its 2013 senatorial slate soon.
And while it has initially ruled out sharing senatorial bets with the administration, UNA concedes having common candidates may be inevitable.
The Binay-led alliance will convene a national executive committee meeting on Thursday, July 19, with the completion of the Senate lineup on the agenda. The meeting will be held at Binay's office in the Coconut Palace in Pasay.
Binay sits on the executive committee along with former President Joseph Estrada and Senate President Juan Ponce Enrile.
UNA is a coalition between Binay's Partido Demokratiko Pilipino-Lakas ng Bayan (PDP-Laban), and the Pwersa ng Masang Pilipino (PMP) of Estrada and Enrile.
"We would most likely announce perhaps the last batch of official candidates [who] will be included in the UNA senatorial slate," UNA spokesperson JV Bautista told Rappler.
UNA has 4 slots left to fill after announcing 8 official candidates in past months. (Read: It's final: Migz running under UNA)
Bautista said Sen Loren Legarda of the Nationalist People's Coalition (NPC) will likely be on the list. "She is almost sure to be announced."
Senator Francis "Chiz" Escudero's status, though, is not as certain.
"He is being invited to join the slate," said Bautista. "I think negotiations are still ongoing because we have to still consider whether or not he can make certain commitments to the alliance."
Aside from Legarda and Escudero, UNA is also eyeing other possible senatorial bets including former Senators Richard Gordon, Ernesto Maceda and Jamby Madrigal, Bayan Muna Rep Teddy Casiño, and Valenzuela City Mayor Sherwin Gatchalian of NPC.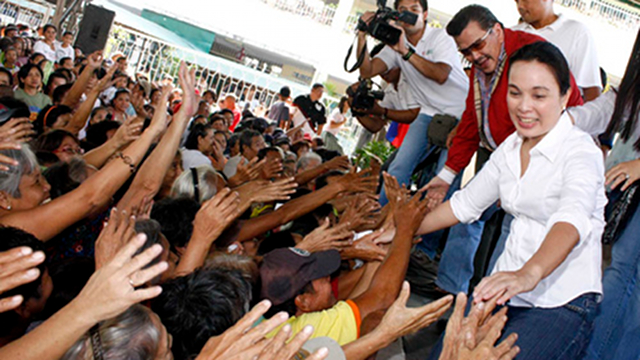 LOREN TEMPLATE. UNA says it will allow common candidates only if they follow the commitment of Sen Loren Legarda to campaign exclusively with UNA. File photo from Senate website
Common bets and the Loren template
UNA was ahead in preparing for the midterm polls but the ruling Liberal Party (LP) is catching up, forming a coalition with the Nacionalista Party (NP) of Sen Manny Villar and the NPC of businessman Eduardo "Danding" Cojuangco.
With the 3-party administration-led coalition firming up, UNA concedes having common candidates may be inevitable.
There's a catch.
Bautista said candidates will have to follow Legarda's commitment to campaign only with UNA even if the administration coalition announces her as an official candidate.
"For as long as our candidate will not join the campaign of the other alliance, then he or she will remain with UNA or will formally be announced as a candidate of UNA. That is right now the prevailing policy," said Bautista.
Asked how this will work, Bautista said UNA candidates will have to "be more passive" in the LP-NP-NPC group like refusing to join its sorties.
"If their names or pictures are used by the other political party in their campaign, as long as the candidate under UNA will be passive about it then it will probably be okay," he said.
"The better rule would be for them not to climb on the same stage as the other political alliance or party."
'Surprised but not at all envious'
Last week, Estrada criticized LP for "pirating" UNA's candidates. The Binay-Estrada alliance was initially in talks with individual NP and NPC candidates to run under the UNA banner.
NP leaders, however, said that UNA's "purist" stand of limiting the alliance to PMP and PDP-Laban turned them off.
Bautista admitted that the alliance surprised UNA.
"Yes, [we were] a little bit surprised. We did not expect the Nacionalistas to relinquish [their] traditional and historical role as the adversary party of the Liberals …. These are really, really strange bedfellows."
The UNA spokesperson said that in 2010, LP and NP fought it out with the Liberals branding the Villar candidacy "Villaroyo" and the NP leaking a fake psychiatric report on then Senator Benigno Aquino III.
Bautista stressed that the LP-NP-NPC coalition will create a "very dangerous situation" in choosing local candidates, ultimately benefitting UNA.
If the administration coalition will choose only one bet to field in the local level, Bautista said this will "dislodge" the candidates of the two other parties and they might end up joining UNA.
Another scenario is for the LP-NP-NPC to declare so-called free zones, where there will be no official local candidate and the bets of the 3 parties will have to slug it out against each other.
"If that becomes the case, then who do you think will support their candidates in the senatorial [level]?"
"This particular situation is going to cause them a lot of headaches and problems when it comes to decision-making in the selection of their local candidates so we are not at all envious with the kind of coalition that they are putting together."
(For more on UNA, read our special reports: Binay and the politics of firsts and UNA vs LP: What's the difference?) – Rappler.com
More in Rappler's Elections 2013 Coverage: