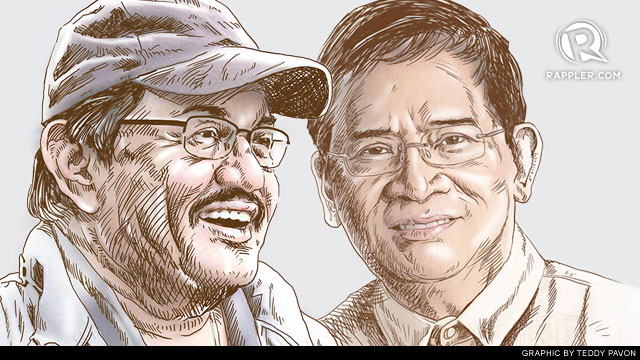 MANILA, Philippines – It used to be a simple coincidence: good friends Puerto Princesa Mayor Edward Hagedorn and preacher Bro. Eddie Villanueva of the Jesus is Lord Movement are both nicknamed "Ed."
Now that both are running for senator -- Hagedorn as an independent, and Villanueva under the banner of the Bangon Pilipinas Movement -- that shared nickname has become a witty promotional line.
In his tweet on Sunday, May 5, Hagedorn endorsed both their candidacies by playing on the saying, "Two heads are better than one." He said:
Unknown to many, the friendship of Hagedorn and Villanueva started when Ma. Elena, Hagedorn's wife who's now running for mayor of Puerto Princesa, fell ill. During those tough times, it was Villanueva who prayed over Ma. Elena until she recovered.
In separate interviews with Rappler's Aries Rufo, Hagedorn and Villanueva said they are campaigning for each other. "We have an unwritten covenant," Villanueva said.
Read: Eddie Villanueva: Third time lucky?
Read: Hagedorn: Out to prove surveys wrong
On May 8, he tweeted another endorsement:
One of his followers asked him why he was doing this, and even warned him that endorsing Villanueva could hurt Hagedorn's own bid for a Senate seat.
Hagedorn politely replied that he is not one who leaves a friend behind.
Despite their tight schedule, Villanueva and Hagedorn hosted each other's sorties -- when Villanueva campaigned in Hagedorn's Palawan, and when Hagedorn campaigned in Villanueva's home province of Bulacan.
Again, the two Ed's campaigning together:
– Rappler.com