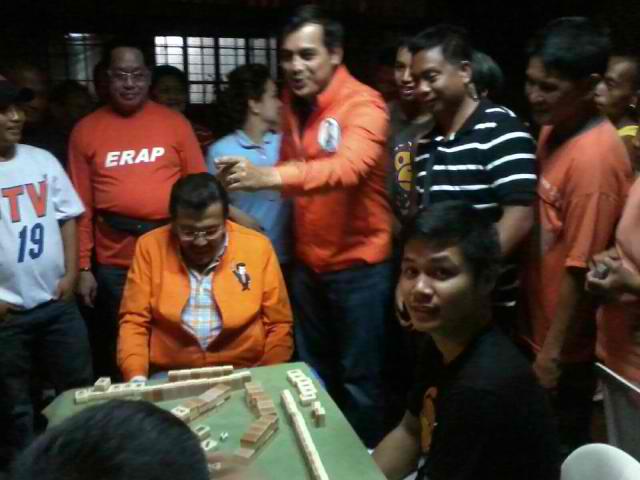 'WHAT GAMBLING?' Re-electionist Vice Mayor Isko Moreno denies that former President Joseph Estrada was gambling during a visit to the wake of fire victims in Manila. Image from 'What happens' Facebook page
MANILA, Philippines - Supporters of re-electionist Manila Mayor Alfredo Lim are spreading a photo of former President Joseph Estrada playing mahjong. Estrada and running mate Isko Moreno were both wearing their campaign uniforms when the shot was taken.
One supporter posted the photo on Lim's Facebook page, and urged the public to "check this out and share." Facebook page "What Happens" also posted the photo with text "Huli Sugal (Gambling caught in the act)."
Reached for comment, Moreno clarified that the photo was taken when they visited last night the kin of two boys killed in a fire in Blumentritt last Thursday.
"Napaka-cheap naman nila. Wala na ba silang maisip na gimik? Pati pantulong, nakiramay sa pamilya ng mga bata (They are so cheap. Haven't they thought of new gimmicks? They should spare aid given to the family of the kids killed in the fire)," Estrada's running mate, Vice Mayor Isko Moreno said.
"Pinapakita lang ni Erap na abot-na-abot siya ng masa (Erap was merely showing the masses could approach him for help)," he added.
Moreno said Estrada played but there was no money involved. He added that the former President donated P1,000 as "abuloy (alms)" to the family of the victims.
"I don't think there's anything wrong with that," he said.
In 2001, Estrada faced charges of plunder for allegedly receiving P500 million from gambling lords and skimming Ilocos Sur's share of tobacco excise taxes. He was convicted of plunder in 2007 but was quickly given executive clemency by former President Gloria Macapagal-Arroyo. - Rappler.com
Visit #PHvote, Rappler's coverage of the 2013 Philippine elections. Get to know the candidates through our comprehensive profile pages.