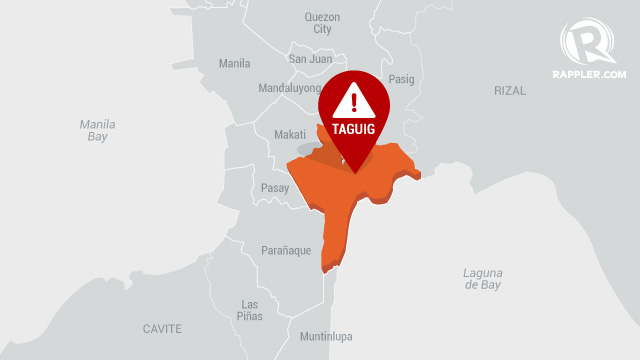 MANILA, Philippines (UPDATE) - The camp of a Taguig mayoral bet wants the Commission on Elections (Comelec) to classify her city as an area of immediate concern following reports of violence, poll chief Sixto Brillantes Jr said Monday, May 6.
Brillantes said Rica Tinga – a candidate for Taguig mayor, whose family he used to lawyer for – made this request after an allegedly violent dispersal over the weekend. Reports said city hall staff forcibly dispersed the Tinga camp while conducting a house-to-house campaign in Barangay Tuktukan, Taguig last Saturday, May 4.
"I am trying to make some arrangements, but I have to determine the facts," Brillantes told reporters.
Should the request be granted, the Philippine National Police (PNP) should assign more security forces to the city, Brillantes said. He said he would contact PNP chief Alan Purisima to discuss the issue.
If the request is granted, Taguig will be the first city in Metro Manila to be declared an "area of immediate concern."
He added he has received a request to replace Taguig's chief of police. "We are also seriously considering this," the poll chief said.
The Cayetano camp, however, alleged that classifying Taguig as an area of immediate concern will allow the Tinga camp to cheat in elections, according to Brillantes. Brillantes, the Tinga family's long-time election lawyer, denied this claim.
He dismissed allegations by the Cayetano camp that Taguig was being named an area of immediate concern to place it under full Comelec control and allow the Tinga camp to cheat in the elections.
"Ayoko nang sumali sa Taguig hanggang pupuwede," Brillantes said. (I don't want to get involved in Taguig, as much as possible.)
Cayetano, wife of Senator Alan Peter Cayetano, defeated former Justice Dante Tinga in the 2010 elections. She broke the Tingas' political control over Taguig. Rica's brother, Freddie Tinga, was mayor for 3 terms from 2001-2010.
Tinga also accused Cayetano of using goons to beat up party mate Ricardo Gomez, a bet for councilor under her slate.
On the other hand, Brillantes said they have not received any request to declare Manila as an area of immediate concern following the commotion at the rally of mayoral bet Joseph Estrada in Sampaloc, Manila. - Rappler.com