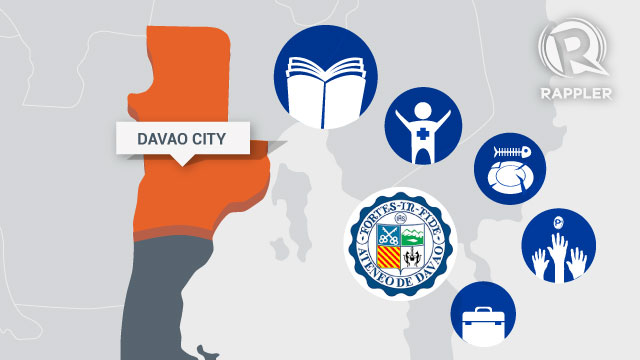 TOP PRIORITIES. Ateneo de Davao University survey reveals issue areas that Davaoeños want candidates to focus on after elections. Graphics by Matt Hebrona.
DAVAO CITY, Philippines – Ateneo de Davao University conducted a city-wide survey to get a picture of how Davaoeños would vote in the midterm elections.
The second was the Davao City-wide survey held from April 8 to 24, 2013.
Results revealed that most Davaoeños will vote for national legislators who would prioritize education reform (37.4), health (30.9), food allocation (24.8), poverty alleviation (24.6) and job creation (19.1).
The survey revealed that the Davaoeños want the national budget to be allocated for the following issues: education reform (34.3), health (32.7), food allocation (24.3), poverty alleviation (22.6) and housing (19.3).
Senatorial race
The survey showed the (city) Davaoeños' top 12 preferences for the senatorial race. Below is the survey result:
ESCUDERO, Chiz (55.6)
LEGARDA, Loren (51.8)
ZUBIRI, Migz (49.7)
EJERCITO-ESTRADA, JV (49.7)
POE, Grace (47.9)
CAYETANO, Allan Peter (46.0)
VILLAR, Cynthia (45.5)
PIMENTEL, Koko (43.8)
ENRILE, Juan Ponce Jr. (43.3)
ANGARA, Edgardo Jr. (43.1)
BINAY, Nancy (42.9)
AQUINO, Bam (42.5)
Other candidates who did not make it to the top 12 but garnered a lot of votes were Ramon Magsaysay Jr. (39.6), Antonio Trillanes IV (38.4), Gringo Honasan (37.9), and Risa Hontiveros (33.6).
Local level
The city-wide survey also showed their preferred candidates for the local races.
According to the polls, Davaoeños want the next mayor and vice mayor to focus on peace and order problems (35.8), unemployment (32.2), and rising criminality and problems on illegal drugs (29.4).
The next batch of local legislators is also expected to focus on basic and tertiary education (52), health bills (37), and food security (27.6).
Rodrigo Duterte of Hugpong sa Tawong Lungsod (HTL) is the lone mayoral candidate of Davao City. The survey revealed that 87.2% will vote for him while 1.8% will not vote and 4.9% were undecided. Duterte is the incumbent vice-mayor of Davao.
Paolo Duterte is also the lone candidate for the vice mayoral race. He is the son of the mayoral candidate Duterte and currently the president of HTL. The polls predicted that 79.4% of Davaoeños would vote for the junior Duterte while 4.9% would not vote for him and 9.5% were undecided.
In the congressional race, Karlo Nograles of the National Unity Party garnered the highest votes with 48.7% in District 1. For District 2, Mylene Garcia of the Liberal Party gained the highest with 54.6%. Meanwhile, lone congressional candidate Isidro Ungab of District 3 got 82.9% yes votes.
Duterte country
In a live interview with Rappler, Ateneo de Davao Research Council chairperson Lourdesita Chan maintained that the city remains "Duterte country" since most residents are expected to vote for the unopposed Dutertes. [Read: Davao City: Duterte country and missing names]
Rodrigo Duterte served as mayor from 2001 to 2010 and served as vice mayor to his daughter, incumbent mayor Sara Duterte.
Chan noted that Davaoeños like the type of governance of the Dutertes and that they have a track record of successful projects.
Davao city has 967,944 registered voters in 182 barangays. There are 271 voting centers in the city.
The survey has a +/-2.6 margin of error and a 95% confidence level.-Rappler.com