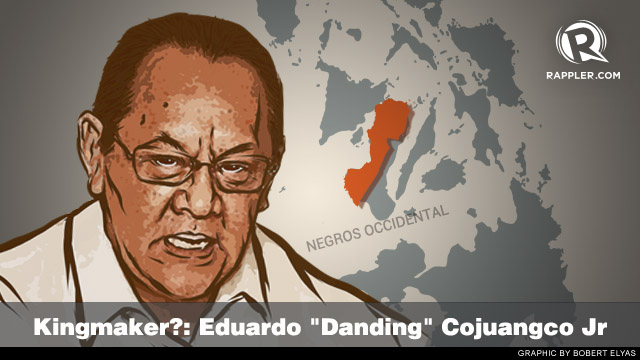 BACOLOD CITY, Philippines – The influence of business tycoon and President Aquino's uncle Eduardo "Danding" Cojuangco is not rubbing off on his gubernatorial bet and incumbent Vice Gov Genaro Alvarez Jr, as shown in the partial and official tally of the Provincial Board of Canvassers of Negros Occidental.
Alvarez of Cojuangco's Nationalist People's Coalition (NPC) is trailing re-electionist Gov Alfredo Marañon of the United Negros Alliance (UNEGA) by over 132,000.

As of Wednesday morning, May 15, only 23 towns and cities of Negros Occidental have submitted election results in their areas.
Marañon, who was ousted as NPC provincial chair when he defied Cojuangco in seeking for reelection, has won in 3 towns and a city, whose mayors went out to support Alvarez.
Silay City Mayor Jose Montelibano and Rep Alejandro Mirasol of the Liberal Party (LP) went out for Marañon in the gubernatorial race, contrary to the wishes of LP-Negros Occidental chair
Rep Alfredo Benitez, who expressed support for the Alvarez-Lacson tandem.
As of 10:26 am on May 15, the Commission on Elections (Comelec) has recorded 419,911 votes for Marañon, leading Alvarez' 289,237 votes.

In the 4th district of Negros Occidental -- considered as Cojuangco's bailiwick -- re-electionist Rep Jeffrey Ferrer of UNEGA defeated Cojuangco's bet, former Board Member Ike Barredo. Ferrer is the husband of La Carlota City Mayor Juliet Ferrer, granddaughter of Marcos crony Roberto Salas Benedicto.
Three of Marañon's mayoral bets in the 4th district (La Carlota City, San Enrique and Pontevedra) also won.
On the other hand, Marañon's running m
ate, Board Member Melvin Ibanez, is lagging by 22,246 votes behind Cojuangco's vice gubernatorial bet, former San Carlos City Mayor Eugenio Jose Lacson.
In the mayoral races, most of the 17 incumbents seeking for reelection and went out for Alvarez, won. Only two of them failed to make it.
Other NPC bets, who enjoyed a wide margin against their opponents, were congressional bets Rep Julio Ledesma IV in the 1st district and
Rep Mercedes Alvarez in the 6th
district.
The Comelec proclaimed NPC's Evelio Leonardia Tuesday night, May 14, as the new congressman of Bacolod's lone district.
Marañon has offered reconciliation with Alvarez, his running mate in the 2010 gubernatorial elections.
"The election is over. Let's forget the heartaches and pains of the election," said Marañon.
Marañon reminded Alvarez that in politics
, there are no permanent friends or enemies. "Maybe in the next election, we may be together again," he said. --
Rappler.com