4

Duterte faces Asia's Goliath: What PH stands to gain or lose in China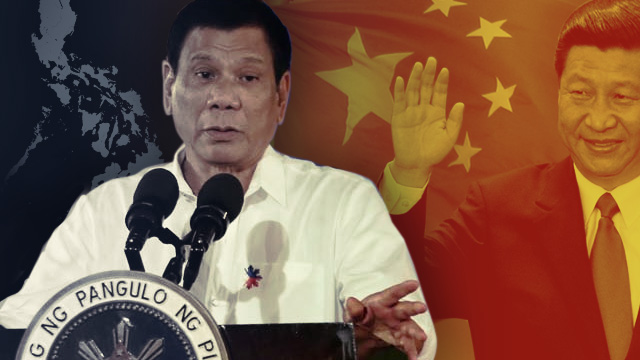 MANILA, Philippines – A lot is at stake – for the Philippines, for the region – in the upcoming 4-day visit of Philippine President Rodrigo Duterte to the world's fastest rising economic and military power, China.
Duterte, Southeast Asia's newest, and perhaps most controversial leader in recent times, carries the weight of an international court's ruling that nullified China's claims in the West Philippine Sea (South China Sea).
But he also brings the promise of a shift in Philippine-Sino relations, signalling that the relationship need not be defined by the fiery maritime dispute alone but by common interests in boosting trade, investments, and cultural exchange.
At the same time, Duterte faces the challenge of balancing his economic pragmatism with sentiments of Filipinos back home. If he returns from Beijing with nothing, if he is perceived to have "sold out" on the West Philippine Sea, he will have failed in the eyes of many.
What's at stake for the Philippines in Duterte's visit to China, which begins Tuesday, October 18? What gains or losses can we expect from his trip? And will Duterte ever make good on his promise to jetski to Scarborough Shoal to defend Philippine sovereign rights?
---
Expectation One: Concession from China to let PH fishermen in Scarborough Shoal
Chinese Ambassador to the Philippines Zhao Jinhua doesn't expect the West Philippine Sea ruling to be discussed during Duterte's trip, even if Duterte is set to hold bilateral talks with Chinese President Xi Jinping. (READ: Duterte's China visit: Not the time to discuss sea dispute, says Yasay)
Duterte himself has said he will not yet "raise hell" over the ruling but that "there will come a time" to discuss it, at which point he will keep negotiations "within the 4 corners" of the decision. But he has never said when that proper time will be.
It's unlikely any decision will be reached on who owns different parts of the West Philippine Sea since China, which is claiming around 90% of the sea as its exclusive economic zone, loudly rejects the ruling and will not enter negotiations that are based on the ruling.
But concessions on fishing rights for Filipino fishermen could be achieved during Duterte's visit, said Lucio Pitlo III, a professor of Chinese studies at the Ateneo Ricardo Leong Center for Chinese Studies.
"If we will be able to reach a provisional agreement that will allow Filipino fishermen to access it and both sides can actually manage it in terms of sustainable catch, preserving the marine environment for posterity, I think that will be something," Pitlo told Rappler.

Is there a chance China will give in despite its rabid rejection of the ruling? Pitlo thinks there is.
The Chinese government, with the help of its state-controlled media, could portray the move as "goodwill of the Chinese people to the Filipino people" in order to appease its citizens and not be seen as backing down on its claims of "indisputable sovereignty" in the West Philippine Sea.
Such an agreement would still be a prize for Duterte to bring home. Though Filipinos may not like the language of charity from China, "as long as our fishermen get to fish there freely, who cares?" asked Pitlo.
Besides, the arbitral award's provision states that Panatag Shoal (Scarborough Shoal) is a "traditional fishing ground for Filipino, Chinese, and Vietnamese." Such a provision allows for joint cooperation in the area.
"For the Philippine side, you can say this is in implementing one of the provisions of the award," said Pitlo.
In fact, there could be more sharing of resources in the West Philippine Sea (WPS) if pursued by both the Duterte administration and the Chinese government.
As early as his presidential campaign, Duterte has said he is open to joint exploration for oil reserves in the WPS, which is said to hold oil reserves of 7 billion barrels and an estimated 900 trillion cubic feet of natural gas.
China has gotten on board similar ventures in the past. Under the Arroyo administration, for example, China, together with the Philippines and Vietnam, agreed to conduct joint exploration through their national oil corporations.
Its openness to share resources with other claimants is even expressed in China's diplomatic speak. Chinese officials have consistently declared in public statements that the South China Sea "is big enough to be shared."
China's official position that the West Philippine Sea is exclusively theirs has not stopped Brunei and Malaysia companies, aside from Chinese ones, from investing in offshore oil and gas exploration in the disputed sea.
Cost of alienating US
But what could make it hard for Duterte to achieve concessions on the West Philippine Sea from China is his recent antagonization of traditional Philippine allies like the United States, and to a lesser extent, the European Union.
By alienating the US, Duterte is betting on China's beneficence "without the insurance provided by the diversified, multi-lateral support of historical and traditional friends and allies," writes Dr Jay Batongbacal, Director of the UP Institute for Maritime Affairs and Law of the Sea, in a Thought Leaders piece on Rappler.
The arbitration award, together with a network of allies including superpower US, are negotiating chips Duterte could use as leverage when face-to-face with China.
This is because the presence of US troops in the West Philippine Sea can still act as a deterrent against Chinese dominance.
But with Duterte's incendiary statements against US President Barack Obama, calls to end US-Philippines war games, and even a threat to review a military agreement inked in the previous administration, China will perceive the relationship between the two countries to have soured. (READ: #AnimatED: Bananas, rehab centers for Scarborough?)
This could convince China to "demand the maximum" from the Philippines when Duterte tries to discuss the West Philippine Sea.
For instance, said Pitlo, China can agree to increase its investments in the Philippines but will declare that more of its ships will be patrolling the West Philippine Sea.
A good relationship between US and the Philippines could "temper" China but a less than solid relationship between the two could convince China it is about to be given the West Philippine Sea on a silver platter.
"It would mean Beijing might feel it doesn't have to worry about provoking US intervention if it moves against the Filipino marines on the Sierra Madre or constructs a military base at Scarborough Shoal," said Gregory Poling, director of the Asia Maritime Transparency Initiative.
---
Expectation Two: China's help with infrastructure projects
Ever the pragmatist, Duterte knows there is more to be gained from a relationship with China than agreements on the West Philippine Sea.
During speeches, Duterte likes to tell his audience that he himself has Chinese blood. His grandfather on the father's side was a Lam, a man in fact who loved to smoke opium.
In this way, Duterte reminds Filipinos of their millennium-old shared history with China. That history likely began with trade.
Long before Spanish or American colonial rule, residents of the Philippine islands had traded with the Chinese. It was this relationship that eventually allowed the Manila-Acapulco Galleon Trade to prosper as Chinese goods like porcelain, silk, ivory, and spices reached the Americas and Spain via Manila.
This trade route became part of the maritime Silk Road and made Manila a hub of trade in Southeast Asia.
President Xi Jinping wants to revive this ancient Silk Road through China's Belt and Road Initiative (BRI), a "trade and infrastructure network that includes the Silk Road Economic Belt and the 21st Century Maritime Silk Road to connect Asia, Europe and Africa."
The BRI is seen as the centerpiece of China's "economic diplomacy" and based on his recent statements, Duterte seems ready to bite.
Launched in 2013, the BRI aims to create a central economic and logistics highway of the world, primarily by building infrastructure in countries in order to lower the cost of transporting goods and people.

The BRI is implemented through the Asian Infrastructure Investment Bank (AIIB), China's version of World Bank or Asian Development Bank. The AIIB, based in Beijing, provides funding for infrastructure projects like railways, ports, roads, and telecommunication projects for member countries in Asia-Pacific.
The Philippines was the last to sign on to the bank in December 2015. Then President Benigno Aquino III was hesitant to jump on board due to concern about the maritime dispute and corruption-tainted deals with China under the Arroyo administration.
There are other reasons to be suspicious of the bank. Most of its capital comes from the Chinese government and it is seen largely as China's way of expanding its economic and political clout as it jockeys for power with the US.
But judging from Duterte's statements, we can expect greater involvement of the Philippines in the BRI, an involvement that could mean accepting Chinese assistance in infrastructure projects.
Duterte has already announced an offer from China to build a high-speed train between Manila and Clark, Pampanga.
As a presidential candidate, he has said he was open to joint oil exploration with China in the West Philippine Sea as long as they gave the Philippines royalties and built 3 trainlines.
"Just build me a train around Mindanao, a railway, and a railway from Manila to Bicol and Manila to Batangas, to the tip, I'd be happy," Duterte had said back in April.
For his China visit, Duterte specifically requested to visit a Beijing traffic control center, perhaps similar to Davao City's central communications center. It's obvious he has transportation infrastructure in mind.
---
Expectation Three: Rejuvenated trade and investment between PH and China
Aside from the BRI, Duterte is rearing to strengthen bilateral economic ties with China. Opening China's 1.4 billion market to Filipino investors is definitely a huge opportunity for Philippine exports.
Days before Duterte's state visit, China has already sent positive signals with its lifting of a ban on Philippine bananas.
It's telling that Duterte heads to Beijing with a large business delegation, which according to some members, number in the hundreds.
Department of Foreign Affairs spokesman Charles Jose emphasized there would be "a lot" of memoranda of agreement, memoranda of understanding, and business contracts to be signed during the trip.
There is definitely room for improvement in Philippine-Sino trade and investments. Former Philippine envoy to the US Jose Cuisia Jr notes a glaring imbalance.
"We have more investments in China than China has in the Philippines. Isn't that ridiculous? Whereas...our other ASEAN neighbors, they have huge investments [from China]," he told Rappler.
In 2015, China, now the world's biggest investor, invested $1.328 billion in Indonesia, $323 million in Vietnam, and $206 million in Myanmar. How much Chinese investments went to the Philippines? Only $24 million.

The Philippines is also not attracting as many Chinese tourists as its Southeast Asian neighbors, a lost opportunity given that China has been the world's largest outbound tourist market for the last 3 years.
In 2014, China's yearly outbound tourists reached 100 million, almost the size of the entire Philippine population.
Of this, Thailand gets the biggest chunk, attracting 7 to 8 million tourists a year. Japan gets 4 to 5 million despite its dispute with China over the Senkaku (Daioyu) Islands.
Vietnam, a country with a longer history of conflict with China than the Philippines, captures 1.5 to 2 million of Chinese tourists.
In comparison, recent tourist arrivals from China to the Philippines number less than 500,000.
Indonesia, Vietnam, and Japan continue to do business with China despite their disputes with the Asian giant.
"What does this suggest? You can have disputes but there's actually a way to manage it so that it won't affect the economic fundamentals," said Pitlo.
Days before Duterte's Beijing trip, Chinese Ambassador Zhao Jinhua announced an interesting development in this direction. He said China is set to lift its travel warning against the Philippines and aims to double Chinese tourist arrivals in the country by end of 2017.
Though stronger economic ties with China may bring a wealth of opportunities, Pitlo warned against an economic freefall into China's embrace.
After all, no one knows what China's "end game" is in launching the BRI and wooing the Philippines with economic benefits.
Could accepting more economic benefits from China just give China another form of leverage over the Philippines?
Pitlo thinks there is that risk. But that danger can be mitigated by strengthening economic ties with other countries so as not to be too dependent on China.
"China, at some time in the future, may actually realize the potential of using [it's economic leverage] against us. But as long as we can diversify our investment and trade partners, there is hope," said Pitlo.
---
Duterte has his work cut out for him in his visit to China. Can he appease the Asian giant but also win a victory, small or big, for Filipinos back home?
Will his type of diplomacy be a game-changer in the West Philippine Sea dispute or will he end up just a pawn? His visit to China heralds his first major test as the country's chief diplomat. – Rappler.com