1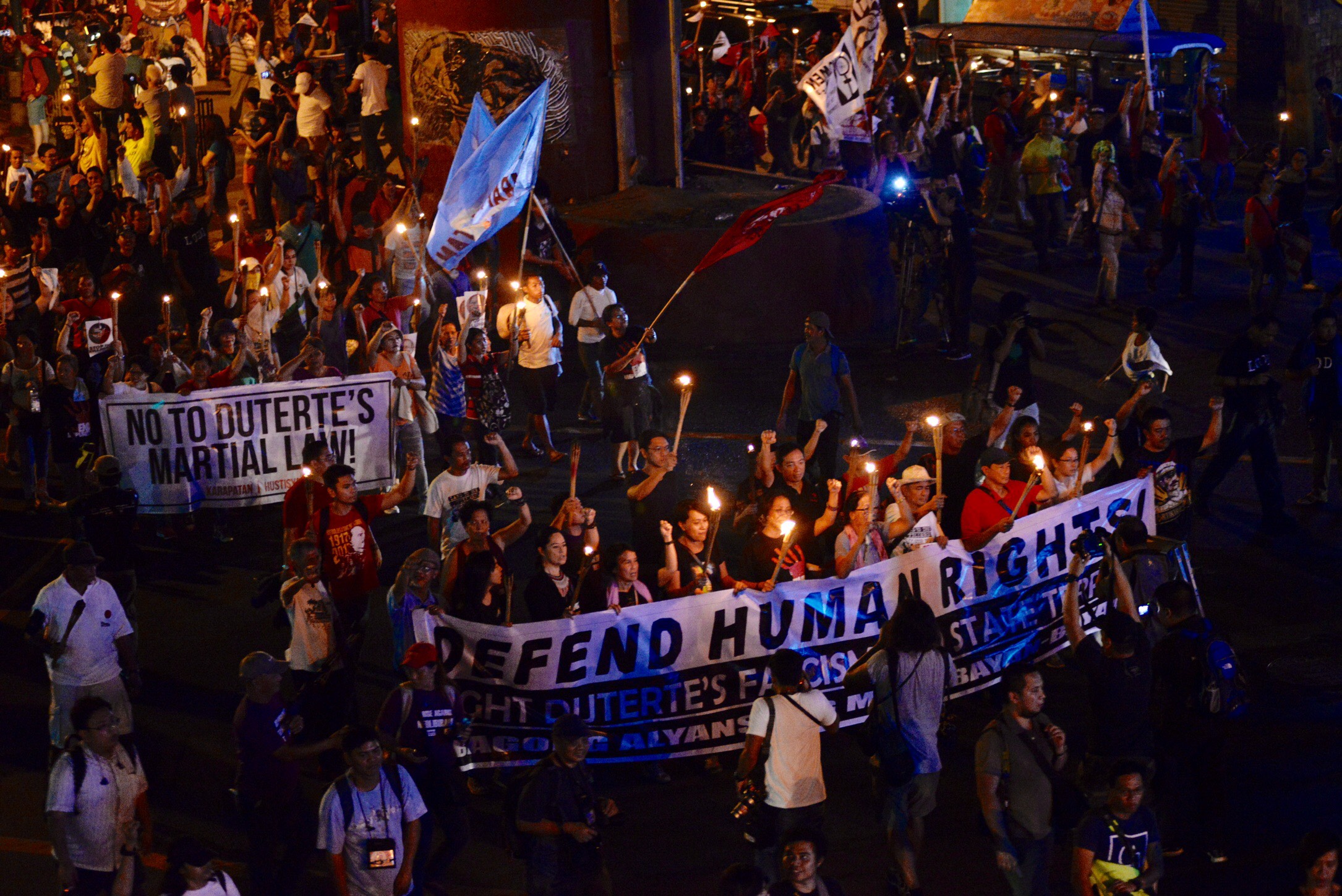 Human rights: How to deal with Duterte, the biggest challenge?
desktop
Advocates are constantly challenged by President Rodrigo Duterte's 'intentional distortion' of human rights since 2016. What are lessons learned?
---
MANILA, Philippines – Human rights groups increased their social media presence in the past 3 years, with many using Facebook to push their advocacies.
But a look at the comments section of their pages still shows a disconnect between the intended goal of their messaging and the sentiments of the public.
The Commission on Human Rights (CHR), which has more than 73,000 social media followers, is still the target of negative comments. In a March 14 post where it discussed the role of the commission and its difference from the mandate of law enforcement units such as the police, many still missed the point.
"Puro kayo ganyan, sa dami ng rape sa bansa parang wala ata kayong natulungan? Pero sa rape joke ni Digong napaka-ingay niyo?" a certain Carlo Adamero Toling raged. (You keep on saying that, but given the number of rape victims in the country I don't think you've helped anyone? But you're so noisy when it comes to Digong's rape jokes?)
"Dapat siguro buwagin na lang kayo CHR tutal sapat ang ilang oposisyon para maging balanse ang sistema ng bansa, dagdag pagulo lang kayo at gastos sa gobyerno (Maybe you should just be abolished, CHR, because there's enough from the opposition to balance government systems, you're just added nuisance and expense to government)," another commenter said.
The negative sentiments are not new, nor have they come out of nowhere. The contempt and misunderstanding reflect the sentiments of President Rodrigo Duterte, who has never really hidden his disdain for human rights since he came into power in 2016.
In the first 3 years of Duterte, the human rights community definitely took a beating from him. Its good intentions were labeled as a hindrance to a "crime-free" Philippines, its advocates were harassed, threatened, and in many cases, even killed.
These incidents are in addition to the thousands of deaths in the anti-illegal drug campaign, highlighting the "culture of impunity" in the country, according to Cristina Palabay of Karapatan.
But have the last 3 years been really that bad for the human rights movement?
Not when one remembers how the spate of killings has led to the creation of new groups and coalitions that managed to bring together the old and the young.
One of these coalitions is the In Defense of Human Rights and Dignity (iDEFEND) movement composed of more than 70 organizations – bigger than any in the past. Another is MAKATAO, a group created by legislators to tap the "multi-faceted role of legislators" because "legislation is still indispensable for the triple objectives of respecting, protecting, and fulfilling human rights," according to Albay 1st District Representative Edcel Lagman, the group's lead convenor.
New energy
Human rights veterans are now seeing the participation of a new batch of advocates who are mostly students and young adults.
"A lot of progressive organizations and human rights groups are experiencing some sort of revitalization with the steady recruitment of younger activists and progressives into the movement," said Bryan Gonzales, a 23-year-old policy advocacy officer of the Families of Victims of Involuntary Disappearances (FIND) and MAKATAO coordinator.
Younger advocates are becoming more involved in community work: Documenting human rights violations and conducting education discussions, among others, and also tapping a generation of digital natives for advocacy work.
After all, the young can count on the movement's rich past.
The history of the human rights movement here is intertwined with the country's, the Philippines being one of the signatories of the Universal Declaration of Human Rights in 1948. Then-president Elpidio Quirino even proclaimed December 10 as Human Rights Day.
The number of human rights organizations in the Philippines is hard to estimate, advocates told Rappler. But majority of the existing groups, if not all, were formed at the height of the abuses under the dictatorial rule of the late president Ferdinand Marcos from 1972 to 1986.
Despite such history, why is the human rights community facing difficulties under the current administration?
Go universal, beyond 'ideological'
Many blame Duterte's "intentional distortion" of concepts and principles for the situation, tagging him as the "biggest challenge to human rights" since Martial Law.
"Tinerrorize niya, iniba niya ang tunay na konsepto ng karapatang pantao, dinemonize niya ang mga advocates and defenders, sinasabi na hindi kami tumutulong resolbahin ang droga at kriminalidad, kalaban ng development," Rose Trajano, secretary-general of Philippine Alliance of Human Rights Advocates (PAHRA), said.
(He terrorized us, changed the true concept of human rights, demonized advocates and defenders, told the public that since we're not helping solve drugs and criminality, we're against development.)
Founded in 1986, PAHRA has become one of the leading voices in the human rights movement in the country. It was once the sole civil society representative in the Presidential Human Rights Committee in past administrations.
While Duterte is largely to blame for the current situation, groups admit shortcomings in terms of how they push their advocacy.
For Carlos Conde of Human Rights Watch's Asia Division, the discourse and perspective of the community should be expanded to also extend beyond political rights, and to include economic and social rights.
"We need a human rights community in the Philippines that is less political but more cognizant of its mandate for universal human rights," Conde said.
"There really is a need for the human rights actors in the Philippines to reach across aisles and meet together, sit down, and really craft the direction of the human rights movement in the country," he said, adding that the movement under the current regime "will not make any significant step forward without addressing the issue."
Ideological differences may prove to be a challenge. While it is understandably difficult to bridge the gap in the ideological divide, Conde said it needs to be done.
ADVOCACIES. Groups push for human rights-based governance. Photos by Jodesz Gavilan/Rappler
Ensuring this type of promotion of human rights will help the public understand that rights apply to all – regardless of one's political color or alignment. For example, human rights as enshrined in the 1987 Philippine Constitution help ordinary people to live freely. (READ: Hate human rights? They protect freedoms you enjoy)
"I think the issues that affect people with their economic and socio-cultural rights are really very important to have resonance in the communities," Palabay said.
"Doing so will help dispel the notion that this is not an issue of whether you're DDS (Diehard Duterte Supporter) or dilawan (Yellow), this is an issue that involves our everyday lives," she said.
The understanding of many Filipinos of the concept of human rights is evident in their regard for CHR, for example. Many hit the commission for allegedly acting only on cases involving alleged drug suspects, even tagging them as "protectors of criminals."
While several human rights groups, including the CHR, were established in the country primarily as a response to the atrocities under Marcos, CHR Commissioner Karen Gomez-Dumpit said there must be an evolution from the initial goals that can be sustained.
"I think what is probably most effective is to be able to feel our human rights in our communities every day," she said. "That's one challenge that we must be able to overcome, that we must be able to translate, so that every Filipino knows that these are human rights."
"The messaging, the real message of human rights has to be ingrained in ordinary Filipinos so that they will appreciate that others' human rights are as important as theirs regardless of any ground," Gomez-Dumpit added.
Grounded in the community
The past 3 years under Duterte gave another valuable lesson not just to the human rights community but to all movements with causes in the Philippines: Grassroots work still matters in the long run.
Going to communities, reaching out to ordinary Filipinos about the issues that matter, and helping them process and understand the implications of certain controversies and concepts are still a full-proof way to advocate for human rights, among others.
Trajano of PAHRA admitted that they grappled with this for years even before the Duterte administration. She said that they've focused a lot of their engagements with national agencies because they wanted them to be open to discussions.
"Pero hindi pala kami nagfocus doon sa common tao para maintindihan nila ano iyong karapatan nila at i-demand nila sa government," she said. "Iyon pala yung nakalimutan, iyon pala iyong na-miss out namin."
(We didn't focus too much on the common people so they can understand what their rights are and what they should demand from the government. That's what we forgot, what we missed out on.)
In the coming years, Trajano said they will further utilize and start partnerships with local groups in their advocacies, particularly local government units.
Working directly with communities on the ground is also a way to counter the false narrative peddled by those against human rights groups. Doing face-to-face discussions, especially on topics that are critical, greatly help the messaging of advocacies.
"How do you claim the real narrative of human rights?" she asked. "So we review, we revise our education manual, and we explain directly to the people, make them understand in simpler terms that everything that's happening to their lives is related to human rights."
Palabay also cited the importance of having advocacies grounded in communities, but added that there should be more avenues of protests that Filipinos can use to air their grievances or promote discourse on human rights, including in schools and churches.
"The importance of getting together, there's still a lot to be done," she said. "Hindi lang iyong mga human rights advocacy groups, iyong academe, but also iyong iba pang mga sectors para matuklasan iyong experiences of those concerned."
(Not just the human rights advocacy groups, the academe, but also different sectors so we can discover the experiences of those concerned.)
FROM CLASSROOMS TO STREETS. Human rights groups conduct workshops and demonstrations on human rights-based government. Photo from Philippine Alliance of Human Rights Advocates Facebook Page
What does it take?
Advocates realize the need to do more work on the ground, and they are counting on the young to push this. One inspiration is Hong Kong, where young activists led massive protests that forced the government to suspend an unpopular extradition bill.
But what should a leader possess, especially at these trying times?
"It takes a certain level of commitment to persevere in such conditions," iDEFEND's Ellecer Carlos said. "The characteristics [include] being principled on the fundamentals of human rights, the unwillingness to compromise on their core values against overwhelming odds, courage, and persistence."
They have their work cut out for them.
The President himself is facing a possible investigation by the International Criminal Court – a body which the country has ceased to be a member of – while various organizations have called for justice and independent probe into the huge number of killings. (READ: Duterte throws out decade-long fight for the International Criminal Court)
The calls, however, have fallen on deaf ears, with many officials defending the government's ability to investigate the deaths despite official data showing otherwise. (READ: Duterte gov't allows 'drug war' deaths to go unsolved)
The composition of the Senate, seen as the last bastion of independence in the government, can prove to be a hindrance in holding those responsible accountable. The number of opposition senators, those who are vocal enough to question the repressive policies of the leadership, has been reduced.
With many new senators-elect aligned with Duterte, groups fear that proposed bills deemed against human rights, including the death penalty and the lowering of the minimum age of criminal liability, will be fast-tracked.
Conde said he is not "very hopeful" about the upcoming Senate, especially in the aspect of investigations into human rights violations, including the violent war on drugs.
"This Senate would become a tool in covering up the violations of the past 3 years, that's my fear," he said. "I have no optimism whatsoever now that it will do things independently or even perform its functions in a way that will support or uphold human rights in the country."
Former police chief Ronald dela Rosa, the one who led the first few years of Duterte's bloody campaign on illegal drugs, has been elected to Senate. Senator Leila de Lima, the President's staunchest critic, is still in jail.
The problems are "enormous and unprecedented," Carlos emphasized.
"Now that the independence of all branches of government has been compromised, it is up to human rights defenders and civil society to serve as the critical opposition which will resist the meltdown of democratic institutions, defend human rights and oppose dictatorship," he said.
The next years will be difficult as problems may worsen while accountability and justice feel so out of reach, according to groups. But staying the course, they said, is vital. – Rappler.com
Top photo by Maria Tan/Rappler