4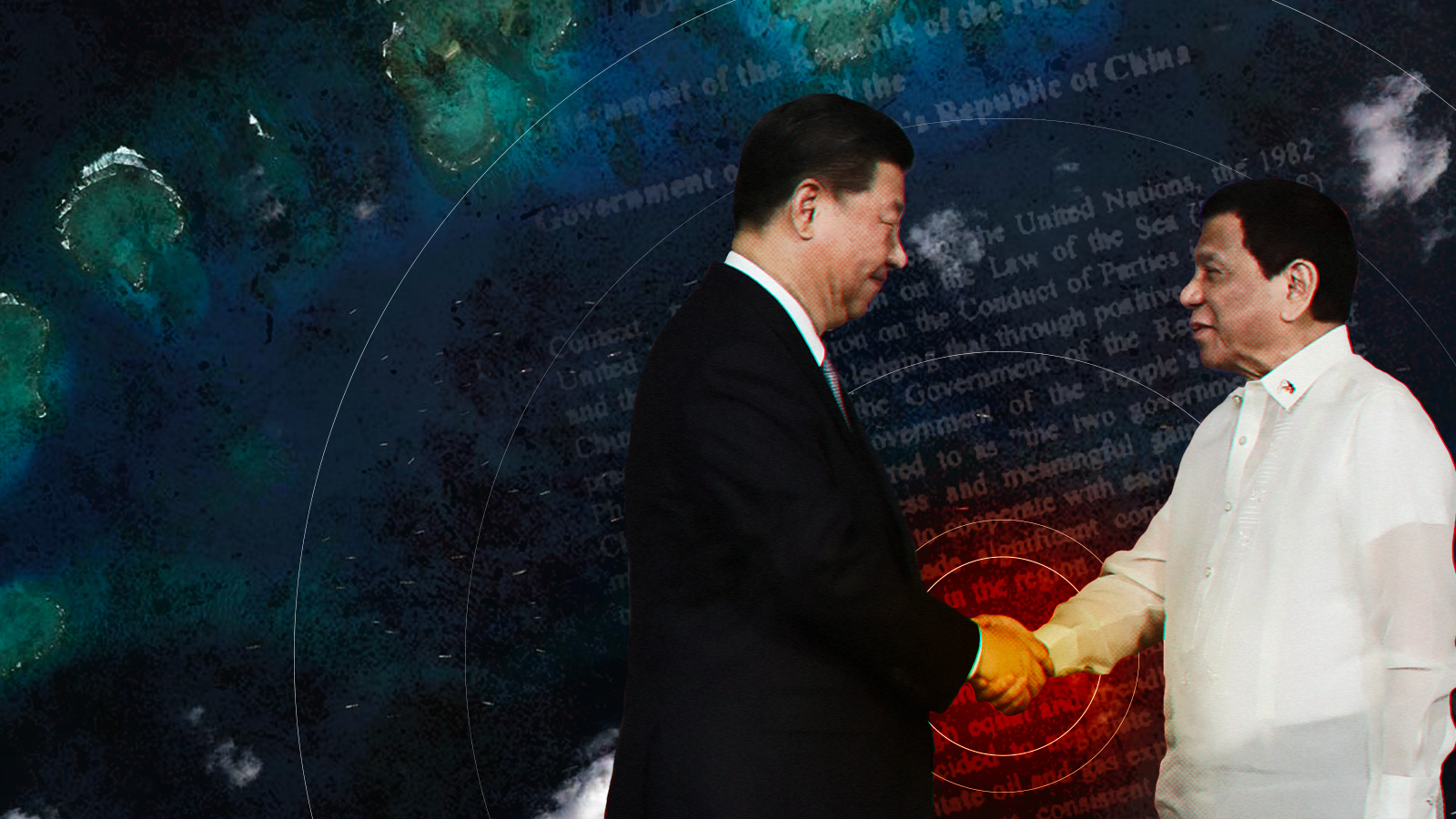 When Duterte meets with Xi: What West PH Sea deals were reached in past talks?
desktop
Here's a compilation of key agreements on the West Philippine Sea reached during bilateral meetings between President Rodrigo Duterte and Chinese President Xi Jinping
---
AT A GLANCE
Filipino access to Panatag Shoal's outer area, continued supply missions to Ayungin Shoal without Chinese interference, and China's quiet acquiescence to Pag-asa Island refurbishments were all reached during Duterte-Xi meetings
Despite such arrangements, China continues to push the envelope with its behavior in the West Philippine Sea
Duterte mentioned the Hague ruling to Xi before, to no avail
Xi supposedly threatened Duterte with "war" but sources privy to the meeting say the word he used translates more closely to "trouble"
---
MANILA, Philippines – It is, perhaps, not a little ironic that Philippine President Rodrigo Duterte and Chinese President Xi Jinping will be holding their August 29 bilateral meeting at the Diaoyutai State Guesthouse, a lush lakeside resort.
When Duterte raises the 2016 Hague ruling and Filipino fishing rights in the West Philippine Sea, he will be doing so in what was once a favorite fishing spot of Chinese emperors.
The Diaoyutai State Guesthouse, now used to host visiting foreign dignitaries, was once a royal fishing pavilion.
Duterte's avowed plan to mention the Hague ruling before Xi is a big deal for Filipinos because, thus far, Duterte had placed the ruling in the back burner, despite it being an astounding victory against China's claim to the West Philippine Sea.
The ruling affirmed Philippine rights over the area and slammed China's reclamation activities and aggression towards Filipino fishermen.
But because Duterte wanted to get on Beijing's good side, he said he would assert the ruling another time. That time has come, said Malacañang.
Duterte built hype around his plan. He had his spokesman announce it. He himself mentioned it thrice in public speeches, making it sound as if raising the landmark ruling was the main purpose of his China trip.
Chinese officials have tried to convince their Filipino counterparts to avoid discussion on the ruling but were told no one can change Duterte's mind.
The impact of merely mentioning the ruling is questionable, as maritime law experts have said. China may just ignore it. What might make more of a difference in the South China Sea situation and Philippine-China relations are the possible talks on joint oil and gas exploration that are likely to happen during the visit.
The West Philippine Sea had been dealt with in previous Duterte-Xi bilateral meetings.
In the most critical ones, the two reached various "consensus" or a modus vivendi on key West Philippine Sea features, like Panatag Shoal (Scarborough Shoal), Pag-asa Island (Thitu Island), and Ayungin Shoal (Second Thomas Shoal), not captured in formal agreements announced to the public.
Some of these were discussed by Philippine Ambassador to China Chito Sta Romana in an interview with reporters last April 24.
A diplomatic source privy to such deals said they are more like "provisional arrangements of a practical nature" – temporary arrangements not necessarily formalized in communiques or revealed to the public officially, but are recorded in transcripts of high-level meetings.
"Provisional agreements of a practical nature" are recognized in the United Nations Convention on the Law of the Sea (UNCLOS).
Article 74 of UNCLOS says states may enter into such deals "in a spirit of understanding and cooperation" during a "transitional period" before a final agreement is reached. These arrangements "shall be without prejudice to the final delimitation."
Rappler compiles the most important compromises reached between Xi and Duterte on the West Philippine Sea, based on the President's public statements confirmed by two sources or information from diplomatic sources aware of the discussions during these meetings.
October 2016 Duterte state visit to China
Agreement on access to Panatag Shoal, no reclamation on Panatag Shoal, no blocking of supplies to Ayungin Shoal, "fishing deal"
As Duterte prepared to embark on his first visit to China as president, he faced mounting pressure to secure Filipino fishermen's access to Panatag Shoal, a triangle-shaped rock in the West Philippine Sea that yields plenty of fish.
At the time, there had been reports of Chinese Coast Guard blocking Filipino fishermen from the area. Duterte promised to "demand" access from China.
After the visit, Duterte refused to say what exactly transpired during his meeting with Xi but teased of upcoming "developments." Days after, his spokesmen and security officials announced that Filipino fishermen were no longer being intercepted by Chinese Coast Guard, touting this as an accomplishment of Duterte's trip.
Today, Duterte talks freely about how he secured a commitment from Xi to let Filipino fishermen fish in the shoal freely. Chinese Ambassador Zhao Jianhua has also said China has given such access to Filipinos "out of good will." Sources privy to the meeting confirmed such an arrangement.


The consensus reached by both leaders was for both sides to allow their fishermen to fish outside the shoal's lagoon but not inside the lagoon, where fish lay their eggs. Both countries promised to treat the lagoon as a marine reserve area.
This is not at odds with the Hague ruling which declared Panatag Shoal as a common fishing ground for both Chinese and Filipino fishermen. But the Philippine Constitution considers Panatag as part of the country's EEZ since it lies within 200 nautical miles from the Philippine coastline.
Despite this 2016 agreement, Filipino fishermen still reported harassment incidents, including the taking of their catch by the Chinese Coast Guard. Rather than condemn this as a violation of his deal with Xi, Duterte wrote it off as a practice of "barter trade" and not outright seizure.
It was also during the October 2016 bilateral meeting when China promised not to do any reclamation in Panatag. But does China urgently need to reclaim Panatag when it continues to fortify its existing artificial islands in the West Philippine Sea?
Another major arrangement reached was a commitment from China not to block the Philippine military's delivery of food and humanitarian supplies to the BRP Sierra Madre, a World War II warship stranded in Ayungin Shoal. The rusting vessel is the Philippines' only outpost in the remote area and is a lonely home to a tiny unit of marines.

Any interdiction of supplies would be a major issue. It was cause for worry then for Philippine officials when a Chinese Navy chopper harassed a Philippine Navy rubber boat en route to Ayungin Shoal for a resupply mission in May 2018.
More recently, the Philippine military reported the presence of a Chinese Coast Guard ship near Ayungin Shoal for 3 weeks starting August 1. The ship did not interfere with BRP Sierra Madre operations but appeared to be monitoring its activities.
China, however, draws the line when it comes to delivery of construction supplies to Ayungin Shoal. Fearing Philippine construction of a lighthouse or similar structure, Chinese officials have said they will react to the sending of these types of materials.
The "fishing deal" which Duterte has recently been mentioning – and which has prompted an uproar in the aftermath of the ramming of Filipino boat Gem-Ver by a Chinese vessel – was also discussed during the 2016 meeting.
That arrangement pertained specifically to waters in the Philippine EEZ and the waters beyond it but which are part of the Kalayaan Island Group (KIG) that China claims jurisdiction over. Both sides promised not to drive out or arrest the other's fishermen from these waters.
May 2017 bilateral meeting on the sidelines of Belt and Road Forum
Duterte brings up oil, Xi mentions "trouble"
It was during this May 2017 meeting when Duterte told Xi of his intention to exploit oil and gas resources in the West Philippine Sea. In a press conference, Duterte claimed Xi's response was to threaten him with "war."
"Mr Xi Jinping, I would insist that, that is ours and I will drill oil there," Duterte claims he told Xi.
Xi supposedly replied: "We would want to maintain the present warm relationship. But if you force the issue, we will go to war."
In reality, Xi never mentioned the word "war," according to sources privy to the meeting. The word he did use translates more closely to "trouble." Diplomats Rappler spoke with said a Chinese leader would never mention such a provocative term as "war" in a bilateral meeting.
Duterte would later on use this incident to claim he can't assert the Hague ruling, as critics have called on him to do, because it would goad China into a war that the Philippines would surely lose.
Lawmakers and maritime law experts have sought to punch holes in this doomsday scenario and dismissed it as just another attempt by Duterte to justify his shelving of the Hague ruling.
April 2019 bilateral meeting on the sidelines of the Belt and Road Forum
Duterte "reminds" Xi of the Hague ruling, brings up "swarming" of Chinese ships around Pag-asa Island
This Xi-Duterte meeting was yet another meeting shaped by a recent West Philippine Sea flashpoint. Right before it took place, the military reported the "swarming" of Chinese vessels around Pag-asa Island, the largest Philippine-occupied island in the Kalayaan Island Group and home to roughly 100 civilians.
Duterte publicly admitted discussing the "swarming" report. His tactic was to assure China that he would never allow US troops to set foot on the island and so China had no need to surround the island.
"So why are you surrounding my island with so many ships? You're wasting your gasoline," Duterte claims he told Xi.
A source privy to the discussions of that meeting confirmed Duterte made these remarks. What's more, the Chinese were not prepared for them.


The President did something else offscript: he mentioned the Hague ruling. He said he was merely "reminding" Xi of the ruling but that he would raise it formally another time.
Panelo confirmed this to reporters in Beijing on Wednesday, August 28.
"In April, he raised it impliedly, as if laying the predicate. Maybe he really intended, even back then, to bring it up," said Panelo.
A source said this was not in the agreed-upon talking points. Surprised Chinese staff scrambled to piece together a response for Xi during his turn to speak.
In these bilateral meetings, one leader gives his remarks first without any interjection from the other leader. The other leader instead responds to issues raised during his turn on the microphone.
Duterte always speaks in English while Xi speaks in Chinese which is then translated into English by an interpreter. Even in restricted meetings, Duterte and Xi always bring along translators. Unlike Duterte, however, Xi always reads his remarks and never goes offscript.
Chinese Foreign Minister Wang Yi managed to hand Xi the quickly-written response to Duterte's extemporaneous inputs on time. The response was to reiterate China's position: that it does not recognize the Hague ruling.
Which begs the question – will Xi simply react the same way when Duterte again brings up the Hague ruling on August 29? How will Duterte make this next meeting more fruitful than the last?
It was also during bilateral talks when Duterte and Xi agreed on another Pag-asa Island policy. It was explained to Philippine officials that China is "opposed in principle" to the Philippines improving facilities and building lighthouses on features already occupied by the Philippines, but that it would not block the supply ships bringing in construction materials.
This explains why the Philippines has built 5 lighthouses in the KIG in 2018 and plans to build 5 more in 2019, as announced by National Security Adviser Hermogenes Esperon Jr. Meanwhile, despite delays, the military continues building a beaching ramp to kickstart repairs on Pag-asa's runway.
The Sandy Cay agreement
One important agreement not reached during a Duterte-Xi meeting was a "consensus" on Sandy Cay.
Sandy Cay is a string of sandbars only 3 nautical miles away from Pag-asa Island. It only became permanently visible above the water surface in 2017 when deposits from China's illegal dredging in nearby Subi Reef elevated it.
Sometime in August 2017, the Philippine military undertook a plan to build a "shelter" on Sandy Cay. The plan was proposed during a National Task Force on the West Philippine Sea meeting and approved by Duterte.
China somehow got wind of the plan and sent an armada of Chinese Coast Guard, Navy, and maritime militia as a show of force. Sources said there would have been a high possibility of an armed confrontation were it not for then-Philippine foreign secretary Alan Peter Cayetano and his Chinese counterpart Wang Yi. The two ministers were said to be on the phone all day to sort out the mess.
In the end, Duterte called off the plan, saying the two countries agreed not to build any structure on new features.
"Why should I defend a sandbar and kill the Filipinos because of a sandbar?" Duterte said afterwards.
The agreement was to keep Sandy Cay unoccupied. The Philippines would take down the shelters and China promised not to occupy the sandbar.
Esperon likes to say the Philippines never lost an island to China during the Duterte presidency. But was Duterte's concession to China a loss of Sandy Cay?
There was, after all, a very good reason to establish Philippine presence in Sandy Cay. With its new elevation, Sandy Cay now generates its own 12-nautical-mile territorial waters. Subi Reef, an artificial island already heavily fortified by China, lies within those waters. So if China controls Sandy Cay, it could "legitimize" its claim over Subi Reef, according to Supreme Court Senior Associate Justice Antonio Carpio, a vocal critic of Duterte's approach to China.
Not only that, because Sandy Cay is so close to Pag-asa Island, Chinese control of it could also take away a third of Pag-asa's own territorial waters.
China wants to apply the Sandy Cay rule to Ayungin Shoal, but the Philippine side is resisting.
---
With Xi and Duterte able to hash out provisional arrangements on the West Philippine Sea during their bilateral meetings, can we expect another such deal during their upcoming dialogue?
Recent events show that even these agreements have not prevented Chinese harassment. The Pag-asa Island swarming, persistent monitoring of Chinese Coast Guard in Ayungin Shoal, and Chinese backlash over Philippine plans in Sandy Cay show the Asian power is willing to push the envelope.
The military has also reported cases of Chinese warships passing through Philippine territorial waters over the past few weeks and months without the required notification to the government.
Looming over the meeting is the still-unresolved June ramming by a Chinese vessel of a Filipino fishing boat and the abandonment of its crew to the elements. The Chinese government has sent an apology from the boat's owner but no punishment has so far been reported leveled against the Chinese crew, even after the Philippine government found them guilty of violating maritime laws.
Closely tied with Duterte's plan to raise the Hague ruling and West Philippine Sea flashpoints is his promise to extract economic gains from China.
This is why, apart from the bilateral meeting, the signing of deals and talks on joint oil and gas exploration are included in the visit.
The clock is ticking for Duterte, now on the last half of his presidency, to show Filipinos his China gamble was worth it. – Rappler.com