1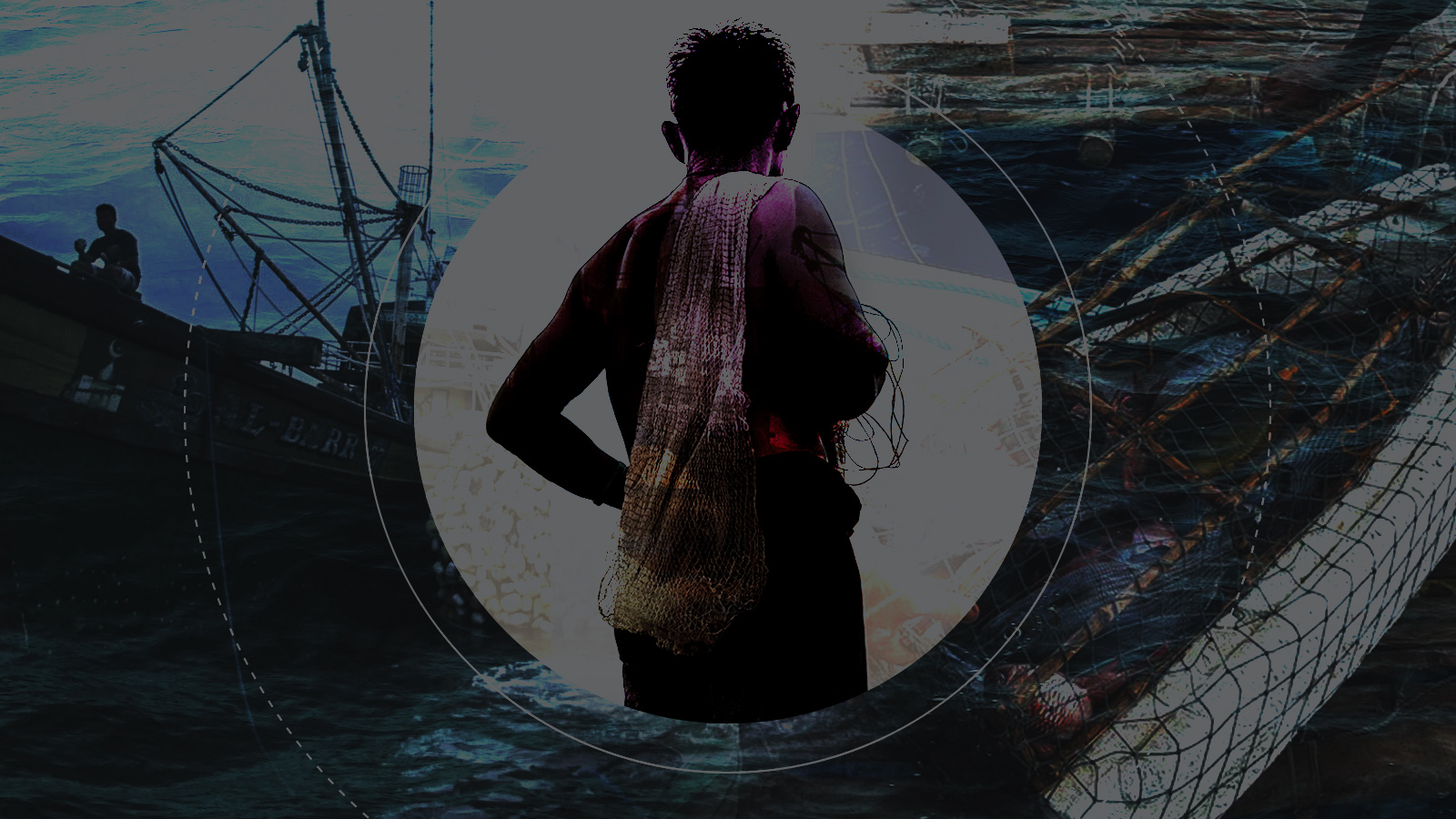 'Like a thief in your own territory'
desktop
Once before Filipino fishermen could make as many trips as they wanted to Scarborough Shoal and easily bring home 4 tons of fish each trip. Now they're lucky to haul in a third of what they used to.
---
MASINLOC, Zambales – On a good day, Jun* makes P500 driving a tricycle. Of that, P200 goes to fuel. Coming home to his family with P300 after an entire day plying the streets of Masinloc, Zambales, he feels less than himself.
It wasn't always like this. He didn't use to be so poor. He and his family have had good times. But misfortune came 7 years ago and now it has come to this.
"Kikitain mo lang P300, o? Pambili ng bigas saka ulam. Pambaon ng estudyante. Payag naman magbaon ng P25, P30. Kinabukasan, pasada na naman," Jun said, half complaining, half lamenting.
(You only make P300, see? To buy rice and meat. Money for the students. They make do with P25, P30. Then tomorrow, you drive again.)
Rent is P2,000 every month for the house that's little more than a shack. Then there's the loan he took to buy the tricycle. It's been months since his last payment and the creditor might come and take it. Then what?
"Para ano?" Jun asked. What's it all for? They're just living hand to mouth these days.
Truth is, tricycle driving is easy work for Jun, whose tall, sinewy frame, ruddy skin, wiry hair, and deeply lined face betray a man used to hard labor. He is capable of much, much more.
But the quiet seaside town offers few options for a 53-year-old husband and father of 4, who has had little education aside from a lifetime out at sea as a fisherman.
On land, Jun is a poor tricycle driver. But on water, he is the captain of a fishing company. He commands a troop of fellow fishermen as he steers their boat through an overnight voyage to Scarborough Shoal, also known as Panatag Shoal or Bajo de Masinloc.
The shoal
During summers before 2012, many of Masinloc's able-bodied men would be at sea for weeks, even months on end. Scores of outrigger boats, each manned by about a dozen fishing crew, would drop anchor inside the natural harbor formed by Scarborough Shoal.
The shoal has a 46-kilometer ridge that encloses a triangular area of about 150 square kilometers. In this lagoon roughly the size of Quezon City, the water is calm no matter the weather, and the catch is bountiful.
From January to May, Scarborough Shoal became a village of boats not just from Masinloc but also from other towns in Zambales, Pangasinan, Bataan, and even from the Visayas.
The fishermen could tell where any boat came from because each town built their vessels a certain way, and after years of sharing the vast shoal every summer, they had gotten to know one another.
And they looked out for one another. Every crew came well-stocked with fresh water, rice, bread, meat and vegetables, fuel, and a ton or two of ice to freeze their catch in. When their supplies ran low, they could count on their friends from neighboring boats to help them.
It took a lot to sustain a fishing enterprise, and to survive an entire season out at sea with no land in sight except for the shoal's ridge that appeared above the water's surface at low tide.
They had no means to contact home or the rest of the world except for a two-way radio transceiver for getting weather advisories from, or making distress calls to, the Philippine Coast Guard outposts back in Masinloc or Sta. Cruz, another fishing town of Zambales.
Essentially, the fishing crews were on their own, an isolated community 220 kilometers away from the nearest shore. Every boat was a fortress against scorching heat, howling wind, or torrential rain, depending on the weather. But as long as they were anchored in that lagoon, no tall wave could reach them, no matter how strong the summer storms got.
They were safe.
Destiny
Jun was 12 when he first joined his father, the captain of a fishing crew, on an expedition to Scarborough Shoal in 1978.
It was his own idea. It was summer and school was out, and like most boys in Masinloc, he wanted to know what it was like out there where their fathers and big brothers disappeared for many nights to bring back heavy boatloads of fish of every shape and color.
Whenever the men came home from the sea, many days of plenty lay ahead. Food was abundant, the women hummed wistful tunes in the kitchen, and chattered in the marketplace as they bought new wares for their homes, clothes for their children, maybe even toys and trinkets.
Fishing did not make the villagers of Masinloc rich, but it gave them enough to feel they weren't impoverished, although in truth, they still were.
Jun became an eager apprentice to his father every summer. The sea became less of a mystery as he beheld its vastness, learned to read the direction of the wind, whether it was warm or moist. He understood waves and currents, and learned how to steer a boat to ease the pressure on the hull and outriggers when the sea turned rough. He became familiar with the seasons and migrations of fish, and which method was best to catch certain kinds, whether by net, hand line, or spear.
When he reached second year high school, Jun found himself at a crossroads. He was the eldest child, and if he continued schooling, it would put a strain on his parents who had two other sons and a daughter to raise. If he quit school and joined the men at sea full time, he could help ease the family's burden and start saving up for his own future.
It was a no-brainer for him. Jun chose to become a fisherman.
It was a destiny he accepted without question or bitterness because he had grown up watching and doing it, and it did not seem bad at all.
The times were good and Jun did very well. There was so much fish to be caught in the shoal that a single week out there earned him as much as P17,000, and they stayed out for entire summers, only coming to shore every few weeks to unload their catch, restock, and refuel.
"Pinakamababa na 'yung dose mil isang linggo noon (P12,000 a week was already the lowest then)," Jun recalled, when a fishing company could haul in an average of 4 tons of fish from every expedition.
The money was good and there was enough to set aside for the wet season when they could not fish at Scarborough Shoal.
In 1996, Jun finally wed after falling in love with a woman named Inday.*
With Jun's earnings, the couple planned to build their own house. Their 4 children dreamed of a world outside Masinloc. Their eldest, a daughter, started taking a vocational course in hotel and restaurant services at a college in Dagupan City.
"Walang problema basta masipag ka lang pumalaot noon….Parang hindi mo naramdamang maghirap noon," Inday said of those times. (There were no problems as long as you went out to sea then….It's as if you didn't know what it was to be poor back then.)
BIG CATCH. Many fish in the sea? Yes, but where do you find them? They congregate in reefs and shoals, which is why Scarborough Shoal is vital to fishermen in northern Luzon who venture out to the West Philippine Sea. Rappler-sourced photo
Peril
But one day, in 2004, Jun's younger brother Danny* went out to sea and never returned.
He had gone to fish among the payaw, buoys shaped like oil barrels fitted with nettles and tree branches, which the fishermen leave out at sea for fish to congregate and breed in.
Fishermen go to the many payaw scattered all over the waters off Zambales and Pangasinan – the West Philippine Sea – when they are unable to go to Scarborough Shoal.
It's a long, perilous way from the shore to the shoal, and a fisherman on his own cannot afford the fuel and supplies it takes to go there to fish, not to mention a boat large and sturdy enough for the voyage, which can be quite turbulent even in summer.
It's fishing companies, often informal, that go to the shoal, and their main asset is the boat. Each costs one to two million pesos, and it's the company owner's main investment.
The owner then hires about a dozen fishermen as crew, one of them to be the captain who steers and looks after the boat. He needs to be a seasoned mariner, able to navigate under any weather condition and tell when a voyage is too risky.
The captain also manages the crew who will do the fishing once they arrive at the fishing grounds. They then deploy smaller "service" boats brought there onboard the main boat. There are usually 4 service boats perched on the outriggers of any large boat built for fishing at Scarborough Shoal.
When it's off season and the sea is too rough to sail all the way to the shoal, the fishermen keep to the payaw relatively nearer the shore, although it could still take half a day to get to them.
When the companies' big boats are docked, individual fishermen take their own small boats to sea for a meager catch just to get by until the next expedition, which could be months away.
Unlike the shoal, the open water leaves the fishermen vulnerable to sudden changes in the weather. Even a brief rainstorm can spell disaster for a man on a wooden banca.
A tall wave and a miscalculation could cause the boat to break or capsize. Left to the whims of the boundless sea, and with no means of calling for help, a man alone could only tread on water for so long before exhaustion – or a shark – gets to him.
No one knows what befell Danny, but the fishermen of Masinloc are used to losing a few of their comrades each year. They go out to sea never to be heard from again.
Jun now helps take care of Danny's children, and the family is helping his widow find employment abroad.
Standoff
Misfortune came to Masinloc in 2012 when, after weeks of a standoff between government ships of the Philippines and China, the Chinese drove Filipinos out of Scarborough Shoal and took possession of the lagoon.
It began in April, the height of the fishing season at the shoal, and Jun and many of the fishermen who made a living there witnessed it.
Jun remembers the big ships from China and the smaller ones from the Philippines. Although the fishermen had long shared the shoal with occasional Chinese and Vietnamese fishing boats, there never was tension of that sort before, involving government vessels.
That season, the fishermen went about their work as they kept away from the hulking ships in the lagoon, until the Philippine government issued a fishing ban in May and ordered them back to shore.
The standoff went on until June and the climate started to get blustery. The Philippine government's ships pulled out from the lagoon, but China's did not.
The fishing season at Scarborough Shoal was over.
SCARBOROUGH SHOAL. Seen in this photo is the 'mouth' of Scarborough Shoal where ships pass to enter the lagoon. Philippine Coast Guard file photo
Chinese water cannons
There is only one way through which fishing boats and ships can enter the lagoon of Scarborough Shoal, and that is through its "mouth" on its southeastern tip, a narrow channel that cuts through the ridge deep enough for vessels to pass.
Anywhere else around the shoal, the ridge forms a barrier on which boats and ships have run aground during high tide, when it hides just under the water's surface.
That was, in fact, how the shoal got its English name.
In 1748, the British East India Company's ship Scarborough, on its way from India to China, hit the rocks and was grounded there for a while.
In January 2013, the fishermen of Masinloc and the other towns of Zambales and Pangasinan started heading back to Scarborough Shoal for that year's fishing season.
After the 15-hour voyage, just as the water became less choppy as they approached the shoal, they saw the ominous presence they had been dreading since the previous summer.
The huge white ships of the China Coast Guard turned up at the horizon like sentries watching over the shoal.
When any of the fishing boats made for the mouth to enter the lagoon, one of the white ships would chase and overtake them, blocking their way.
Some of the more daring captains tried to skirt this white ship. The Filipinos' boats were smaller and more nimble, and with an expert maneuver, they thought they could outsmart the hulking China Coast Guard. But they did not expect the water cannons.
Like a stream from a hundred firehoses, the deluge from the Chinese coast guards' water cannons bore down on the Filipinos' wooden boats. Their hulls and outriggers creaked and shuddered from the sheer force.
The fishermen held on as their boats rocked and reeled, their bodies and all their things drenched and in disarray. They could sink. They could die. There was no choice but to turn back.
Yonder at the mouth of the shoal, another white ship stood guard. The lagoon was empty except for yet another white ship right in the middle.
On the horizon, a fourth China Coast Guard Ship could be seen prowling at the other end of the shoal. Besides the white ships, two giant blue trawlers hovered nearby, not moving, no telling what they were there for.
It took the Filipino fishermen 15 hours to get there. The Chinese coast guards? At the same speed, probably 5 days from Hainan, the fishermen said. Didn't that make it clear whose the shoal was?
And yet the reality was they could no longer access the shoal. It was lost to China.
PAYAW. These buoys have tree branches and nettles attached to them underneath the water's surface. Fishermen use them to attract fish. They also attract tired seabirds. Rappler-sourced photo
Payaw
Fishing among the payaw was nowhere near as good as in the shoal. But in the years after 2012, the men of Masinloc and the rest of the fishing towns had nowhere else to go.
They planted more payaw, noting each one's location through GPS.
Without their natural harbor and cornucopia in the middle of the sea, the Filipino fishermen have had to adjust to their new reality. Fishing expeditions became shorter and less frequent now that they were more vulnerable to bad weather.
From being at sea for entire weeks and months, which was more cost efficient for the companies, the fishermen could stay out 4 to 8 days only before the Philippine Coast Guard radioes them the next storm advisory, and they would have to head home.
Because the boats now have to roam among the payaw, which are leagues apart, the companies have had to spend more on fuel than when they could stay put at the shoal.
The catch was never the same. From 2012 to 2019, the volume of fish that could be hauled in from the waters off Zambales has declined by 80%, according to Leonardo Cuaresma, leader of the Federated Fisherfolk Association of Masinloc.
The fish market in Masinloc, once the province's seafood Mecca, has become sleepy, many of its stalls empty. One by one, the fishing companies foundered, the owners selling off their boats or giving up on their maintenance, letting them rot on the docks to be turned into scrap.
With fewer employers to hire them, the fishermen have had to make do with lower base pay (if any at all), smaller commissions from their smaller catch, and a lot more idle time.
Seasoned captains who've become legend among the fisherfolk for surviving many misadventures at sea have resorted to odd jobs, yet again to survive.
In 2014, Jun borrowed some money and bought a tricycle.
Arbitral award
On July 12, 2016, Masinloc and all other fishing towns facing the West Philippine Sea listened to the news from The Hague in the Netherlands, that the Philippines won its arbitration case against China.
China does not own the West Philippine Sea, the tribunal ruled, and the Philippines was entitled to 200 nautical miles as its exclusive economic zone where only Filipinos could fish.
More importantly, Scarborough Shoal does not belong to China. Although the tribunal could not rule on which country owns it, it did say the shoal is a traditional fishing ground of any nationality that has long depended on its bounty including, of course, Filipinos.
It means no one has the right to keep anybody out of Scarborough Shoal.
A few days later, news teams joined fishing crews on trips to Scarborough Shoal to see if anything had changed. They were met with Chinese coast guards shouting on bullhorns aboard motorboats deployed from their hulking white ships still anchored in and around the shoal.
"This is China Coast Guard performing law enforcement duty here. Leave this area immediately," they barked at the Filipino fishermen and journalists, all of it caught on camera.
As their government had said, the Chinese ignored the arbitral award. The Filipinos headed back to shore, their boats' fuel – and their hopes – wasted.
CHINA COAST GUARD. Two of the 'white ships' Filipino fishermen dread at Scarborough Shoal. The one nearer the boat patrols the periphery while the one farther out on the horizon is right inside the lagoon, making sure others stay away. Rappler-sourced photo
'As though you're a thief'
Then late in October of 2016 came a little reprieve.
President Rodrigo Duterte had just visited China and brought home a modus vivendi for the fishermen. They could go back to Scarborough Shoal to fish, the government said.
So they headed out, even if it was not the season. The weather was good enough, and they had been longing to return.
What was not clear in the government's announcement was where exactly in Scarborough Shoal they could go. To their relief, the white ships did not chase them away as they approached the vicinity of the shoal.
What a comfort it was to the fishermen to glide through those calm waters again, after a night and day bobbing and bouncing on choppy seas.
When they made for the shoal's mouth, however, one of the white ships started tailing them. They found another white ship stationed in the mouth, just like the last time they were there 4 years before.
The message was then clear. The Filipino fishermen could fish in the periphery of Scarborough Shoal, not inside the lagoon. Very well then, thought the fishermen, it was better than nothing. They took advantage of the calm, relatively shallow waters around the shoal, still a far cry from the harsh open sea.
Depending on the direction of the wind and the current, the shoal still served as a cover for the fishermen, though they were outside it. They just had to find the side of the shoal that faced away from the wind and the waves, and they were relatively safe until the direction changed.
That way, they were able to somewhat return to their old routine. The main boat anchored some distance from the ridge, the fishermen deployed the service boats to the shallows where they tied their nets to the rocks, leaving them about 8 hours to let fish get caught in them, then returning to "harvest" the catch and haul it back to the main boat to be stored in chests filled with crushed ice.
While waiting, some fishermen would take the small boats to deeper water, letting out a nylon line with hooks as they go – the kawil – to add to their catch.
Sometimes, when they felt that the Chinese coast guards were not looking, the fishermen would take a service boat to the edge of the shoal and carry it over the ridge into the lagoon.
For a few hours, they would take what they could catch in their old fishing haven, until the small boats were full and could take no more, or the Chinese coast guards noticed them and shooed them away.
The last time Jun was at Scarborough Shoal was in April 2019. The situation had not changed.
"Tinataboy kami doon sa loob, kahit maliit na bangka," Jun said. (We were being driven away from inside, even the small boats.)
"Gusto nila sa labas kami mangisda. Siyempre malalim na 'run sisiran. Mas mabuti sa loob, kayang-kaya namin sisirin 'yung mga 7 dipa. Eh dun sa labas, kailangan mo ng compressor."
(They want us to fish outside [the shoal]. Of course it's too deep to dive there. It's better inside [the lagoon], we can easily dive 7 meters in there. But outside, you need a compressor [for air].)
Partly in defiance and mostly out of necessity, the surviving fishing companies still venture out to Scarborough Shoal, and the seasoned captains like Jun still get hired to lead the expeditions.
Kept out of the lagoon, they could only stay for a few days. When once they could make as many trips as they wanted and easily bring home 4 tons of fish from each trip, now they have to sneak around the Chinese coast guards, and they're lucky if they could haul in a third of what they used to.
Jun finds the whole affair tiresome and insulting.
"Grabe, para kang magnanakaw eh." (Damn, it's as though you're a thief.)
"Sa atin naman 'yan talaga." (That's really ours.)
GRAY DAYS. Unable to enter Scarborough Shoal's lagoon, many fishing enterprises in Zambales and Pangasinan have downsized or gone out of business. Ships and boats spend more time in the docks than at sea. Rappler photo
'Barter'
In June 2018, a video of Chinese coast guards forcibly taking some of the fishermen's catch went viral after it was reported by GMA News. A similar incident was reported by CNN Philippines a year earlier.
Jun was outraged by the government's response.
"Sabi ni [Harry] Roque, 'Hindi naman pala kayo hinarass. Barter pala' ([Harry] Roque said, 'Oh, you were not harassed after all. It's barter),"Jun recalled the former presidential spokesman as saying when he learned that the Chinese coast guards would give the fishermen instant noodles and small items in exchange for their catch.
"Barter ba yun? Isang supot lang ng noodles 'tsaka softdrinks, tapos ang palit doon, dalawang banyerang isda? Hindi naman matatawag na barter 'yun di ba?"
(Is that barter? A bag of noodles and softdrinks in exchange for two tubs of fish? That can't be called barter, right?)
Two tubs of premium, fresh fish are worth P15,000, Jun said, while the stuff the Chinese coast guards would give in exchange did not even amount to P2,000.
'Should be worth a motorcycle, Jun chuckled ruefully, "Puta!" he swore. (Bitch!)
The media attention seems to have helped, Jun said. The last time he was at the shoal, the Chinese took only half a tub of fish from them.
"Nag-lie low," Inday mused, listening to her husband. (They lay low.)
Around that time, in April 2019, an ABS-CBN news crew filmed a documentary at the shoal, and they discovered the massive destruction inside the lagoon caused by Chinese poachers harvesting giant clams from the seabed.
Satellite images corroborated the report, revealing widespread scarring at the bottom of the lagoon.
The report again grabbed headlines and caused outrage among Filipinos. The Department of Foreign Affairs filed a diplomatic protest with China and said it would take legal action.
That was also when the Philippine Coast Guard stationed in Masinloc started warning the fishing companies against bringing news teams to the shoal.
Warning
"Yung lahat ng ating commercial fishing vessel ngayon na malalaki, ay binigyan na po sila lahat ng warning…. [Philippine] Coast Guard mismo ang siyang magba-ban sa kanila once na nagsama sila ng mga correspondent sa nasabing area," Leonardo Cuaresma of the Federated Fisherfolk of Masinloc told Rappler on August 16.
(All of our large commercial fishing vessels have been issued a warning, that if they bring correspondents there, the Philippine Coast Guard itself will ban them from the area.)
The Philippine Coast Guard (PCG) warned that media presence at the shoal could cause friction with China, Cuaresma added.
Rappler spoke with the owner of one of the companies that brought a news team to the shoal, who confirmed that they were fined P10,000 for "failure to log in and log out" with the PCG before heading out.
The owner, who spoke on condition of anonymity, said the boat captain understood that the news team that joined them had already secured permission for the trip, and so he did not need to "log in" or "log out" from the port with the PCG as he normally does.
That news team did get the PCG's permission but apparently, the captain still should have logged their movements with the local outpost. In any case, said the owner, it's been paid and settled.
But from then on, fishing crews were not to let newspeople or any non-fisherman onboard.
Rappler spoke with the PCG in Masinloc but they declined to speak on record. Captain Armando Balilo, PCG spokesperson, spoke with us at their national headquarters at the Port of Manila.
He explained that the Maritime Industry Authority (Marina) prohibits fishing vessels from conveying non-fisherfolk because they are not licensed to take on passengers, including news teams.
"Wala kaming pagbabawal na ginagawa sa mga media na pumupunta sa Bajo de Masinloc or sa other disputed territories. Ang sa amin lang, mayroon lang regulation yung Marina na pinatutupad na sa fishing boat, hindi dapat magsakay ng civilian o ng personnel outside of the crew."
(We have no prohibition for the media who go to Bajo de Masinloc or to other disputed territories. Our concern is, Marina has a regulation on fishing boats, that they must not take on civilians or personnel outside of the crew.)
"We have to enforce it," Balilo said.
Balilo denied a report that the PCG prohibits the fishermen themselves from bringing mobile phones to the shoal, adding that the PCG even asks the fishermen for copies of their photos and videos taken in the area.
That's because the PCG itself is still unable to constantly patrol Scarborough Shoal. They have yet to acquire vessels that can match the stamina of the Chinese white ships, and besides, China already has the positional advantage.
"Kahit kami, hindi kami makalapit nang ganoon na kalapit magmula nang umalis tayo doon. Ayaw rin namin namang gumawa ng anything na, you know, magkaroon ng provocation. Nag-iingat tayo," Balilo said, describing the situation ever since the standoff with China in 2012.
(Even we cannot get as close as we used to, ever since we pulled out from there. We also do not wish to do anything that, you know, could cause a provocation. We're being careful.)
Without the Philippine Coast Guard and with no chance to take newspeople to the shoal, Jun feels even more vulnerable to the Chinese vessels.
They know about their fellow fishermen from Mindoro, how a Chinese trawler rammed their boat Gem-Ver in the middle of the night at Recto Bank near Palawan, the 22 unsuspecting crew lucky to have lived to tell their tale.
Jun and the other fishermen in Zambales worry that it can be done to them at Scarborough Shoal, too.
"Eh kung ubusin nila kami doon? Mahigit bente kaming bangka doon. Kung talagang palubugin kami doon, wala na. Patay na kami lahat."
(What if they finish us off there? We're more than 20 boats there. If they really decide to sink us out there, that's it. We're all dead.)
THE FUTURE. Growing up by the sea around boats and ships, many of Masinloc's little boys could grow up to be fishermen like their fathers. But with Filipinos' limited access to Scarborough Shoal, the future looks bleak for what was once a thriving industry. Rappler photo
Tricycle driver
"Mahirap kasi 'pag 'yung sarili mong teritoryo ay may kaagaw ka," Inday said. (Because it's hard when you're competing with someone for your own territory.)
She sat across the small living room from Jun, who was looking out the window. Inday had apologized for the worn out curtain. They couldn't afford to replace it.
"Kasi kung halimbawang mawawala 'yan, maraming maghihirap," Inday said, referring to the shoal. (If by any chance we lose it, many will suffer.)
"Patay na 'yung pamilya," Jun chimed in. (The family is dead.)
"Ewan ko kung anong mangyayari sa mga ano, lalo pa't yung mga walang pinag-aralan, 'di makapasok ng ibang trabaho, katulad sa asawa ko. Sa dagat siya umaasa. O ngayon, nagta-tricycle na lang siya," Inday said, her tone more piercing than she must have realized.
(I don't know what will happen to them, especially those who are uneducated, they won't be able to take other jobs, just like my husband. He depends on the sea. Now look, he just drives a tricycle.)
Still by the window, Jun had fallen silent. Inday went on. It's her story, too.
Their eldest daughter, now 23, was 6 months away from finishing a vocational course when she had to drop out. The money just ran out. She is married now and no longer lives with Jun and Inday.
Their 22-year-old son also drives a loaned tricycle. He has done some fishing, too, but there is no urgency to learn it well. What for?
Their two youngest children, a girl and a boy, are in high school. With the way things are, sending them to college seems out of the question. But not very long ago, they could have dreamed of becoming professionals, as their sister did.
The children off to college? That was the plan. Inday let out a despondent sigh. She said she pities her husband and wants to work to help with everything.
"Wala pong income sa tricycle po," Inday said what Jun could not. (There's no income from the tricycle.)
Inday is now waiting to receive a call. Should be any day now. She is one document away from flying to Saudi Arabia, where she will work as a domestic helper.
"Namilit din po akong mangutang ng pang-apply ko po." Inday pulled strings to borrow money for her application, she said in a low voice.
At this, Jun got up from the couch by the window and walked out of the house, while a dog howled in the yard. – Rappler.com


*Jun and Inday requested not to publish their full names.
Rappler photos by Nappy Manegdeg, Adrian Portugal, and Anne Valmeo