2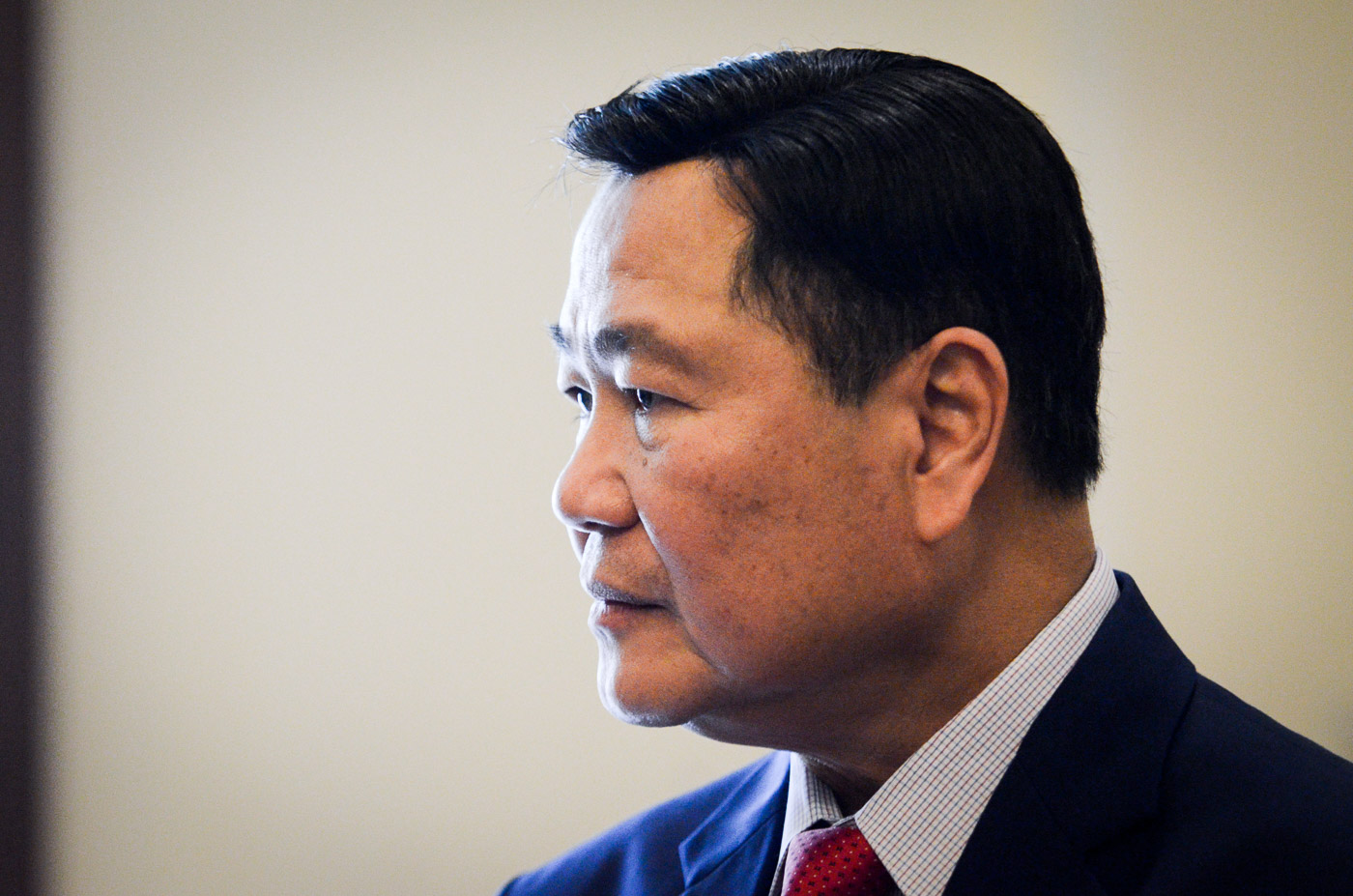 'The best chief justice we never had'
desktop
'If you consistently defend the Constitution, consistent in applying the law, then you earn the respect of everybody,' says the Justice who ends his 18-year-career with a losing vote
---
MANILA, Philippines – On Friday, October 18, Antonio Carpio is again the acting chief justice of the Supreme Court, a post he has assumed so often that people call him the longest serving acting chief justice.
But the chief justice, he never was.
"(He is) the best chief justice we never had, I agree with that more than a thousand percent," Associate Justice Marvic Leonen said of Carpio on CNN Philippines' The Source.
After 18 years, Senior Associate Justice Antonio Carpio will retire from the Supreme Court on October 26. He is acting chief beginning Friday upon the retirement of Chief Justice Lucas Bersamin.
'Stick to your principles'
In the chief justice selection in April 2010, Carpio was deemed frontrunner being the most senior justice of the Court then.
If ever, he would replace Reynato Puno who was retiring May 17 that year. Gloria Macapagal-Arroyo, president at the time, would appoint Puno's replacement.
But Carpio, the constitutionalist, believed that Arroyo should not be allowed to name the new chief justice because Section 15, Article VII of the Constitution prohibited appointments within two months of elections, or what are called midnight appointments. (In a ruling that year, the SC said midnight appointment ban does not cover the judiciary.)
So Carpio, sticking to principles, dropped himself out of that race.
He did this again 9 years later when Maria Lourdes Sereno was ousted as chief justice via a quo warranto mode, an unprecedented ruling that Carpio dissented against. This is because he believed the Constitution should be strictly followed in that impeachment is the only way to remove a justice of the Court.
"I have to be consistent with my position, that the quo warranto is not the proper way to remove a sitting member of the Court. So I don't want to benefit from the decision to which I disagreed," Carpio told ANC's Headstart in 2018.
Sticking to his principle is the main thing he learned in his 18 years in the Supreme Court, Carpio said.
"It taught me that you should stick to your principles and people will respect you for that," Carpio told Rappler in an interview on Friday.
The constitutionalist
Carpio said that there is nothing difficult with maintaining independence in the Court. Justices, he said, need only to do one thing: follow the Constitution and the law.
"The Constitution, as the fundamental law of the land, deserves the utmost respect and obedience of all the citizens of this nation," wrote Carpio in G.R No. 174153.
He continued: "No one can trivialize the Constitution by cavalierly amending or revising it in blatant violation of the clearly specified modes of amendment and revision laid down in the Constitution itself."
The year was 2006, and the case – called Lambino vs Comelec – would make a big mark not only on jurisprudence, but also on Carpio's career.
In that ponencia, Carpio ended the dream to extend Arroyo's term beyond the constitutional limit by rejecting the Arroyo-backed People's Initiative to change the form of government.
It was a loud "no" to Arroyo, the same president who appointed him to the High Court.
Rule of equity
"We are also a court of equity," Carpio said, explaining that in instances where the laws are inadequate, justices could be expected to interpret the Constitution in a way that the court could "dispense fairness."
"But only up to a certain point," he quickly made a caveat, "[because] if there is no law at all, we will just have to go to legislature to enact the law."
This was the principle at play in Carpio's ponencia that allowed the construction of Torre de Manila, a high-rise building that blocked the view of Jose Rizal's monument in Luneta, and which impassioned petitioners argued violated heritage and cultural rights.
A sensational case and one of the few that catapulted the Supreme Court out of its fortress in Padre Faura and to the national spotlight, Carpio was firm: Rizal may be photobombed, but no law makes that illegal.
"There is one fact that is crystal clear in this case. There is no law prohibiting the construction of the Torre de Manila due to its effect on the background 'view, vista, sightline, or setting' of the Rizal Monument," Carpio wrote.
'Do not play ball'
Collegiality is a value that the current Supreme Court puts a high premium on now.
While Carpio agrees, he said he defines collegiality as just according respect to justices who may have a different opinion.
For him, it is never to strike deals and bargains, it is not about meeting halfway and compromises.
"If you play ball, then they know you can be persuaded, you can be swayed, better just to stick to a position which you deem is correct regardless, they will respect you for that, everybody will respect you for that," said Carpio.
Bersamin said Carpio showed leadership that way.
"We may not have been on the same side of some issues, but you have never taken anything personally, you are the epitome of professionalism on the Court and it is hard for me to imagine how the deliberations in the Court will be like after your retirement," said Bersamin during his retirement ceremonies early October.

Legacy
Carpio will leave the Court with memorable concurring votes on decisions that impact fundamental rights.
On the issue of free speech, Carpio concurred in the decision that declared unconstitutional the government warnings against news organizations that published contents of the Hello Garci tape.
Carpio voted to shift the burden of proof to public officials who file libel complaints, saying that the "presumed malice rule is clearly repugnant to the Constitution."
On the issue of religious freedom, Carpio voted to strike down provisions of the Reproductive Health (RH) Law that dealt with religious convictions. He also concurred in the decision that allowed a parish church to display tarpaulins of candidates with labels of either Team Patay or Team Buhay (Team Death or Team Life) depending on their stance on the RH Law.
On holding erring officials accountable, Carpio fiercely dissented against the acquittal of Arroyo, the bail grant of Juan Ponce Enrile, and the hero's burial of Ferdinand Marcos.
Just recently, he managed to turn his dissenting opinion into a ponencia that kept alive the plunder charge against former senator Jinggoy Estrada.
In his final days in the Supreme Court, Carpio came out with a ponencia siding with power consumers – he ordered the Energy Regulatory Commission (ERC) to review Meralco's unbundled rates with the aim of lowering electricity fees.
But it was short of the valedictory decision people had expected. Carpio is member-in-charge of the petitions that are seeking to declare Duterte's war on drugs unconstitutional.
With Carpio setting the tempo, the SC ordered the public release of war on drugs documents. Petitioner group Center for International Law (CenterLaw) later called these documents "rubbish," bolstering their case that the police operations – thousands of them bloody – were not documented, and therefore, illegal.
And just before the en banc took a break, Carpio's last vote was a losing vote. He and Associate Justice Benjamin Caguioa wanted to dismiss Bongbong Marcos' electoral protest against Vice President Leni Robredo, but they were overruled.
"Members of the court will look up to someone who is unwavering in adherence to the rule of law, it will take time but the other members will see that this particular justice has been very consistent, and that's where you earn the respect of other justices, if you consistently defend the Constitution, consistent in applying the law, then you earn the respect of everybody," Carpio said.
"You have enough legacy to last the rest of your lifetime and beyond," Bersamin told Carpio.
Persevere
Carpio did not finish his law degree on time.
A frat brawl at the University of the Philippines (UP) delayed his graduation by a year, in 1975. Marcos declared martial law three years earlier, in 1972.
"It was useless to be a lawyer then," Carpio reportedly said at the time, according to a Newsbreak profile of him.
But he would go on to establish the influential Carpio Villaraza, referred to in political and legal circles as "The Firm."
He would become presidential legal counsel to former president Fidel Ramos, and through links of The Firm, would score Arroyo's first Supreme Court appointment.
His life and career before the Supreme Court was a battle in itself, but Carpio said it was the High Court that taught him his biggest lesson – perseverance.
Carpio said that when he wrote the decision that upheld the constitutionality of the Baselines Law, he knew that the Philippines, if it tried hard enough, could fight for the West Philippine Sea against China in the legal arena.
"I've learned to pursue advocacies with more dedication, because if you want your advocacy to bear fruit, you have to press on and continue, despite all the odds," said Carpio.
This advocacy has, in more ways than one, also cost him the chief justiceship because he clashed with President Rodrigo Duterte on China policies.
"What is more important for the nation is that we preserve our sovereignty and sovereign rights because if we lose these, we lose that forever. That's far more important than any position," Carpio told CNN.
Bringing China to international court was a "moonshot," Carpio said.
But the Philippines scored that historic win over China in the international tribunal, and Carpio is showing no signs of backing down from either Duterte or the superpower country.
"I plan to continue my advocacy on the West Philippine Sea. That will be my main work," Carpio said.
And to the Court he's leaving behind, Carpio's parting words: "The court should remain independent, it should fiercely protect its independence, and the public should help the Court protect its independence." – Rappler.com
Photo of Justice Antonio Carpio by LeAnne Jazul/Rappler