1
Newspaper front pages during the 1986 People Power Revolution

MANILA, Philippines – Philippine media played a big role during the People Power Revolution in 1986.
The country's newspapers chronicled the events that transpired from February 22 to 25 which ended the 21-year rule of then dictator Ferdinand Marcos.
On the anniversary of the uprising, Rappler looks back at how the front pages of Filipino newspapers – the Philippine Daily Inquirer, Bulletin Today (now Manila Bulletin), and the Manila Times – looked like throughout the 4-day "bloodless" revolution that ultimately led to the toppling of the dictator.
Note: Swipe left or right on the photos to navigate.
FEBRUARY 22, 1986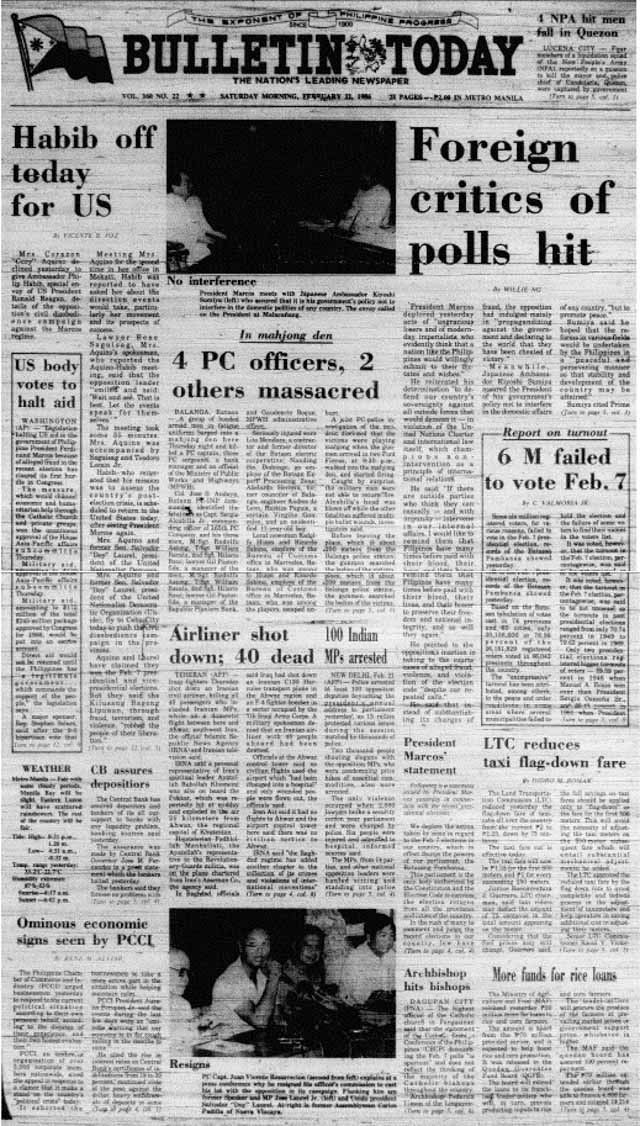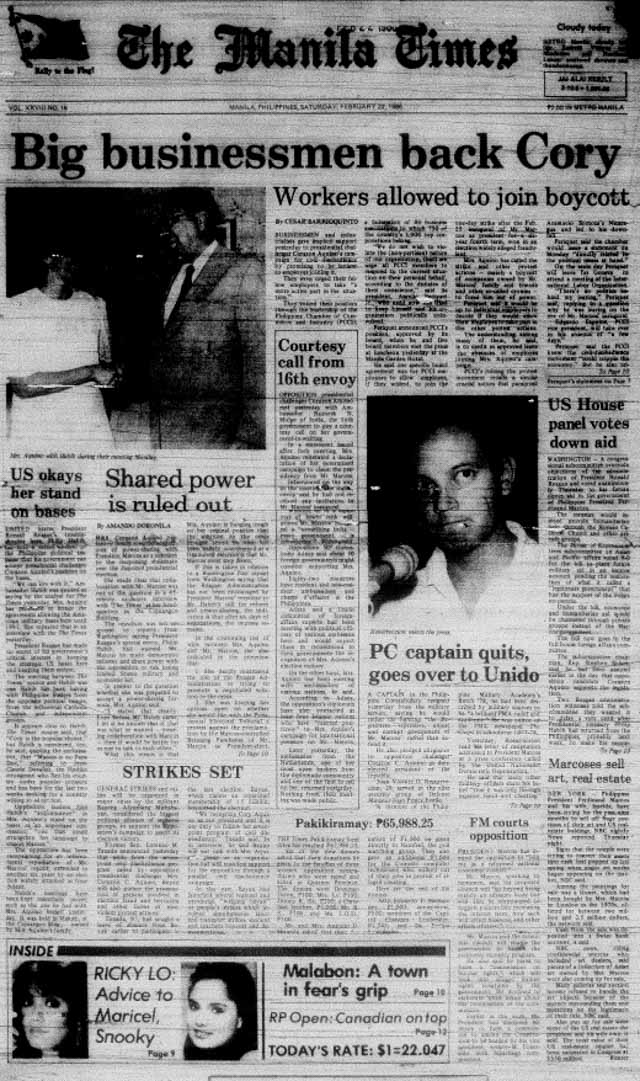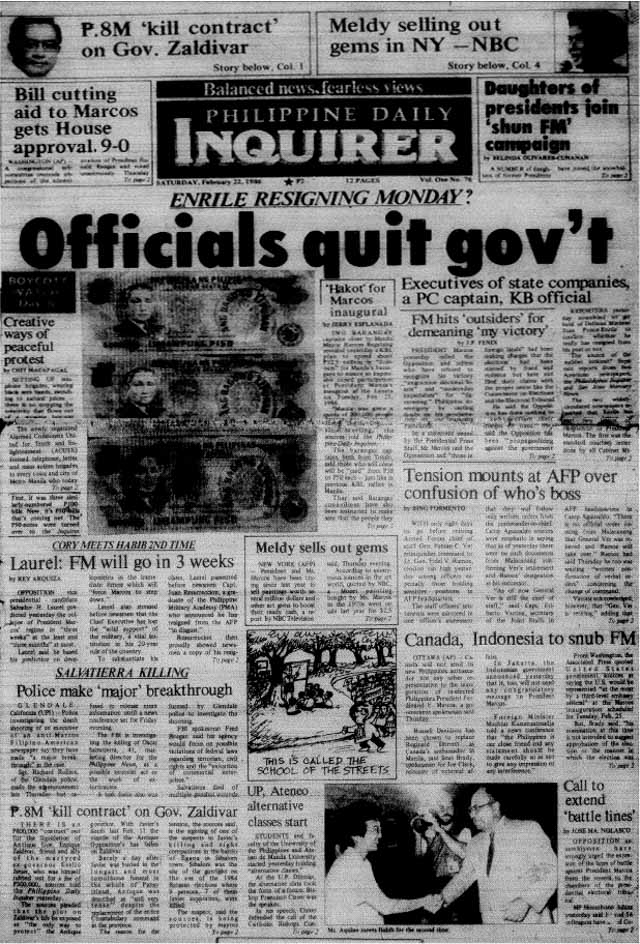 HIGHLIGHTS
Then president Ferdinand Marcos met with the US ambassador to the Philippines at the time Stephen Bosworth and White House envoy Philip Habib who was sent by then US president Ronald Reagan. Habib, before leaving Malacañang, said that "Cory won the election and deserves our support. Marcos is finished, and we ought to offer him asylum."
Former Armed Forces of the Philippines (AFP) Vice Chief General Fidel V. Ramos and then defense secretary Juan Ponce Enrile announced they had withdrawn their support for Marcos.
Former Manila Archbishop Jaime Cardinal Sin, over Radio Veritas, asked Filipinos to leave their homes and support Enrile and Ramos.
Before the day ended, Marcos assured the nation that everything was under control and called on Enrile and Ramos "to stop this stupidity and surrender." Enrile, over Radio Veritas, rebutted by saying, "Enough is enough."
FEBRUARY 23, 1986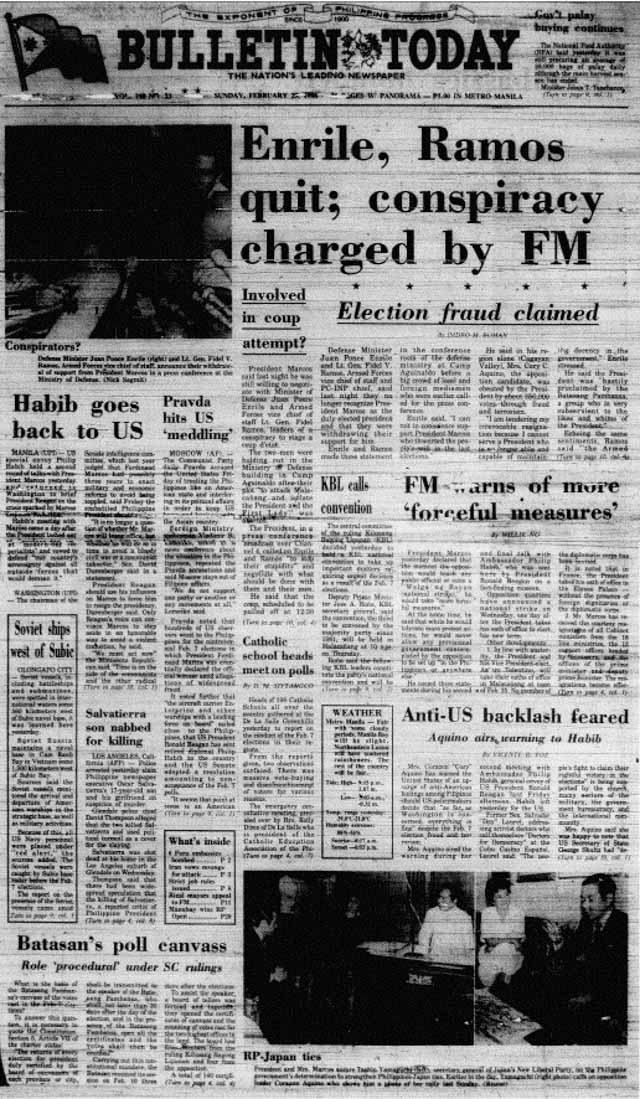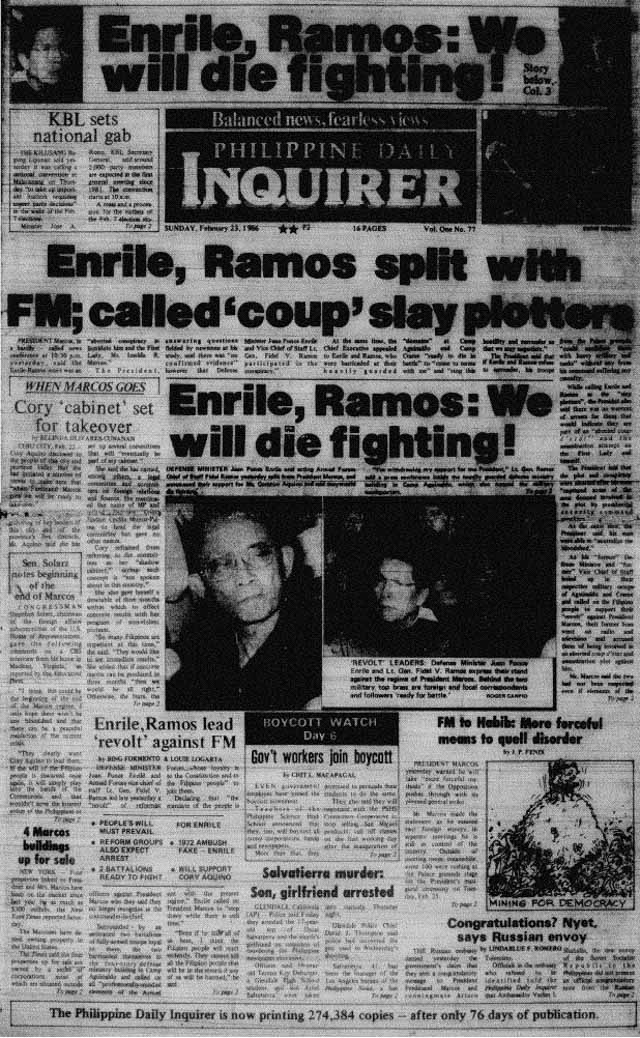 HIGHLIGHTS
Thousands of Filipinos responded to Cardinal Sin's appeal and started to flock and barricade rebel camps. They also brought food and other supplies to the soldiers.
Ramos called the event "the revolution of the people" as he faced the public for the first time outside Camp Crame along EDSA.
Then General Artemio Tadiar threatened to open fire at the crowd blocking his large marine contingent headed to the rebel camps. The people responded by singing "Bayan Ko" and even offered cigarettes and breads to the soldiers.
Marcos, rejecting Enrile's plea to stop tanks, offered him absolute pardon.
Marcos received a letter from Pope John Paull II, delivered by then Papal Nuncio Bruno Torpigliani, requesting a "peaceful resolution" to the ongoing crisis.
FEBRUARY 24, 1986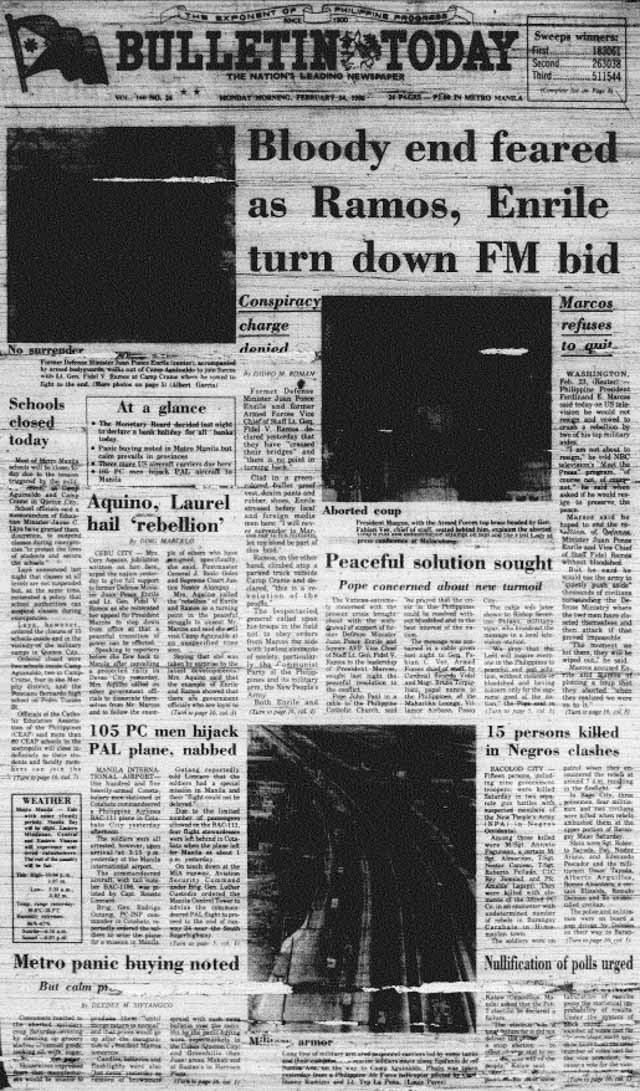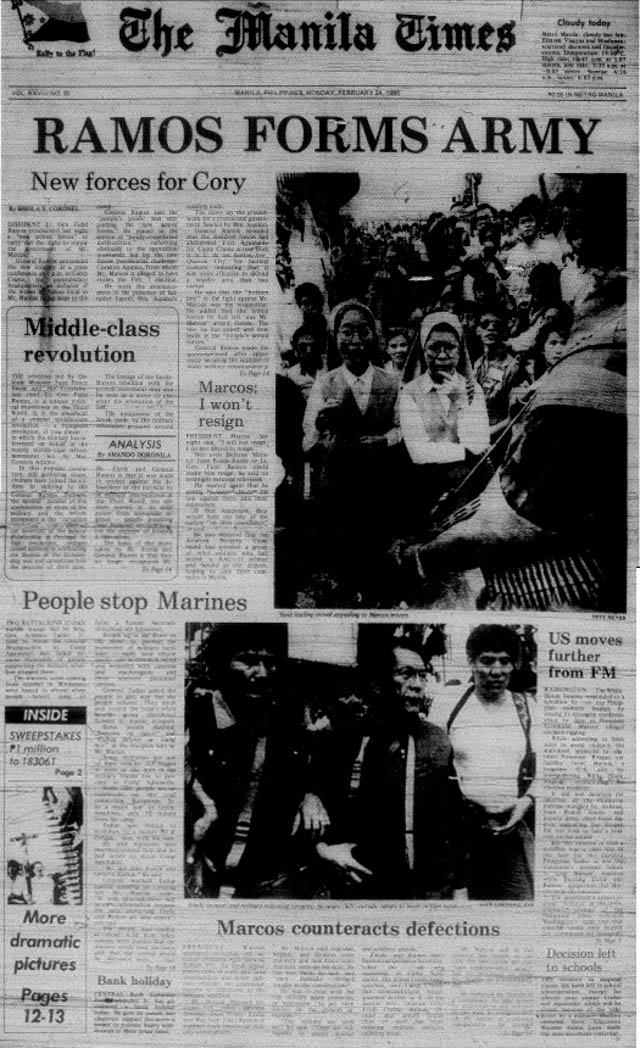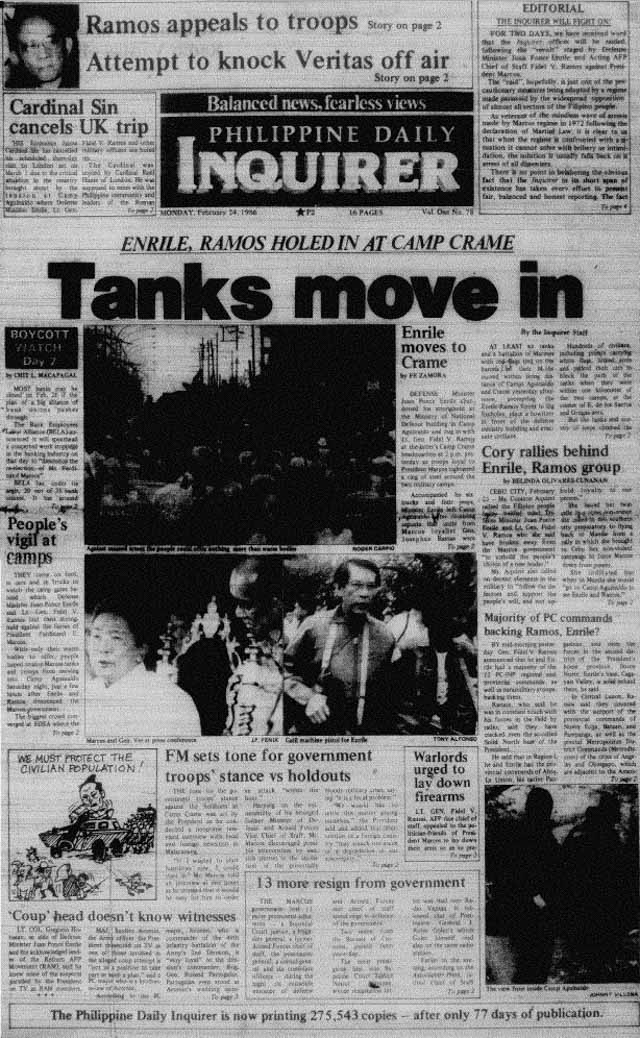 HIGHLIGHTS
More people converge at EDSA as nuns and priests led human barricades to block armored personnel carriers from entering Camp Crame.
Reagan issued a plea to Marcos to resign as the US endorsed Aquino's government.
Marcos appealed to loyalists to go to Mendiola to support him and his family.
FEBRUARY 25, 1986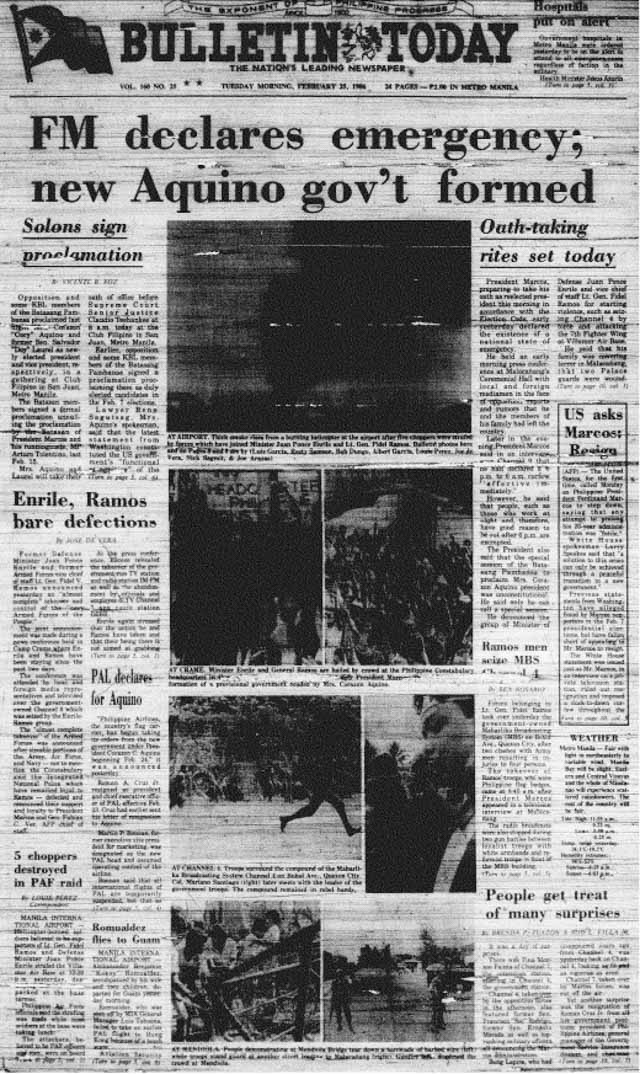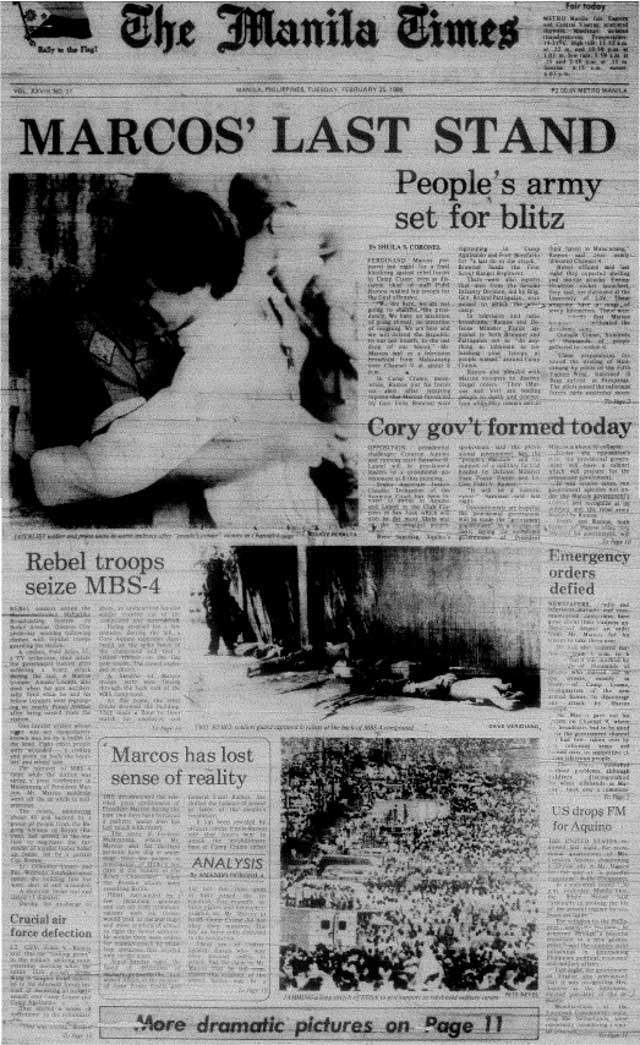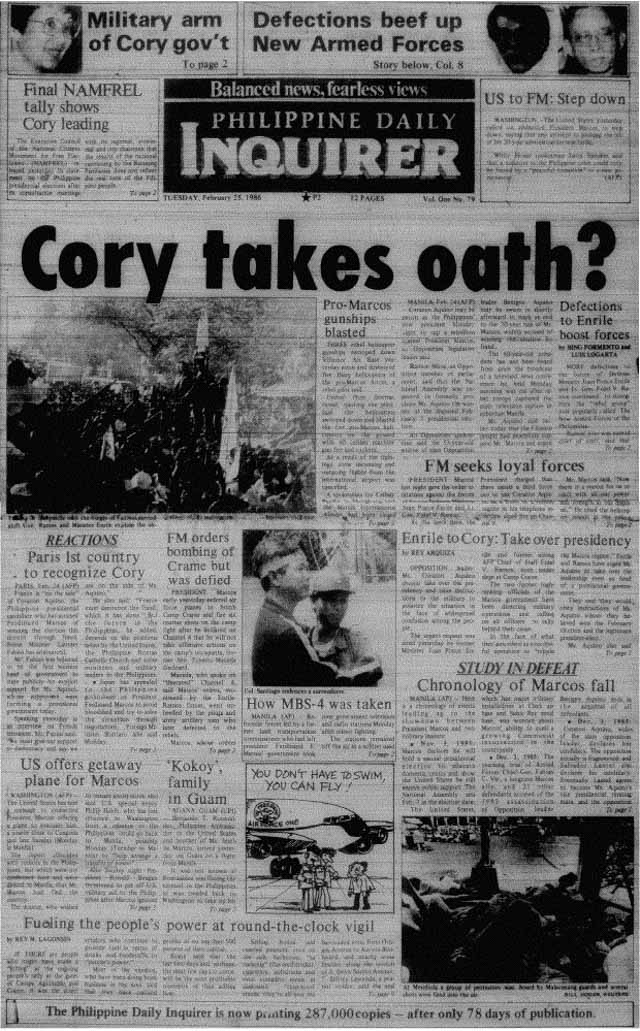 HIGHLIGHTS
Tension rose as two sides bared plans for presidential inaugurations.

Aquino took her oath as president before then senior associate justice Claudio Teehankee Sr at Club Filipino in Greenhills, San Juan. Former Senator Salvador Laurer was proclaimed vice president.

Marcos had his own inauguration in Malacañang with then chief justice Ramon Aquino. He later appeared before 2,500 people with his entire family.
The Marcoses and other government officials left Malacañang and were airlifted to Clark Air Base before taking off for Hawaii with the help of US authorities.
Upon hearing about Marcos' departure, crowds ransacked and looted the Palace.
FEBRUARY 26, 1986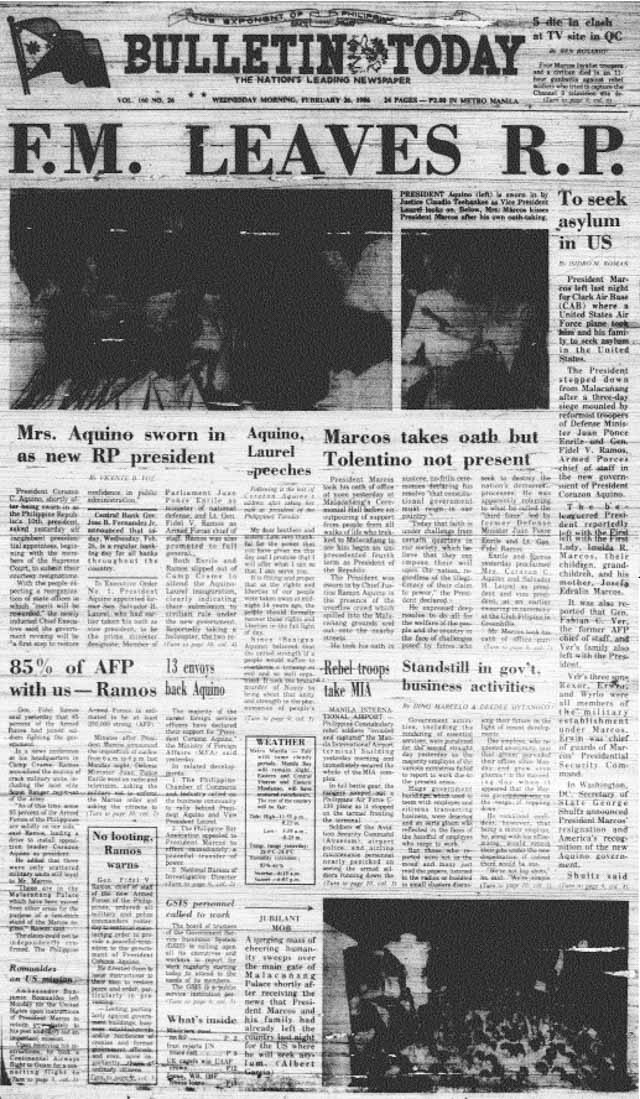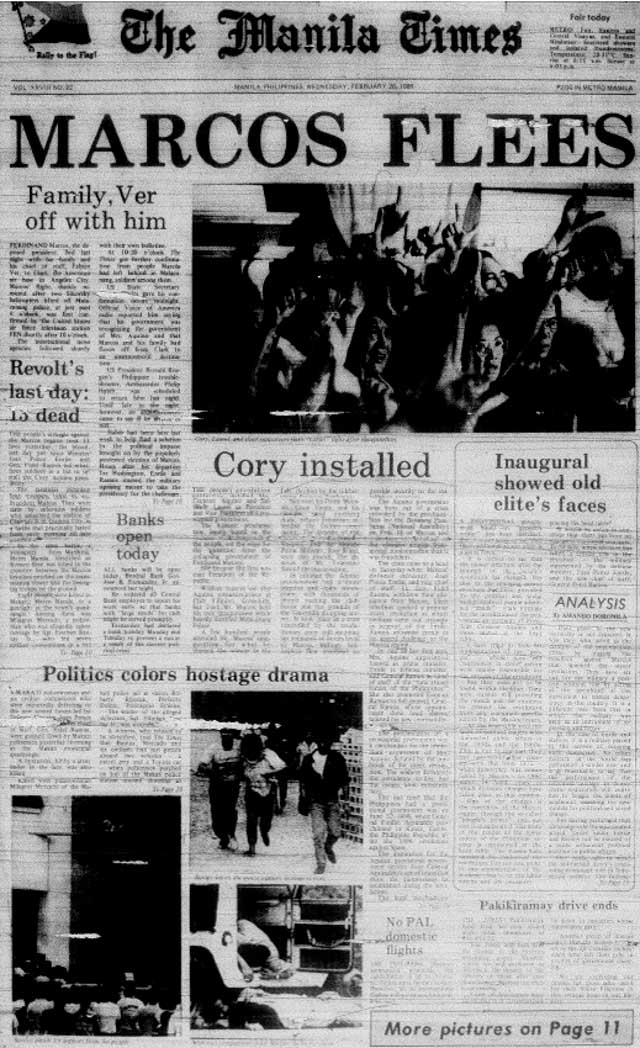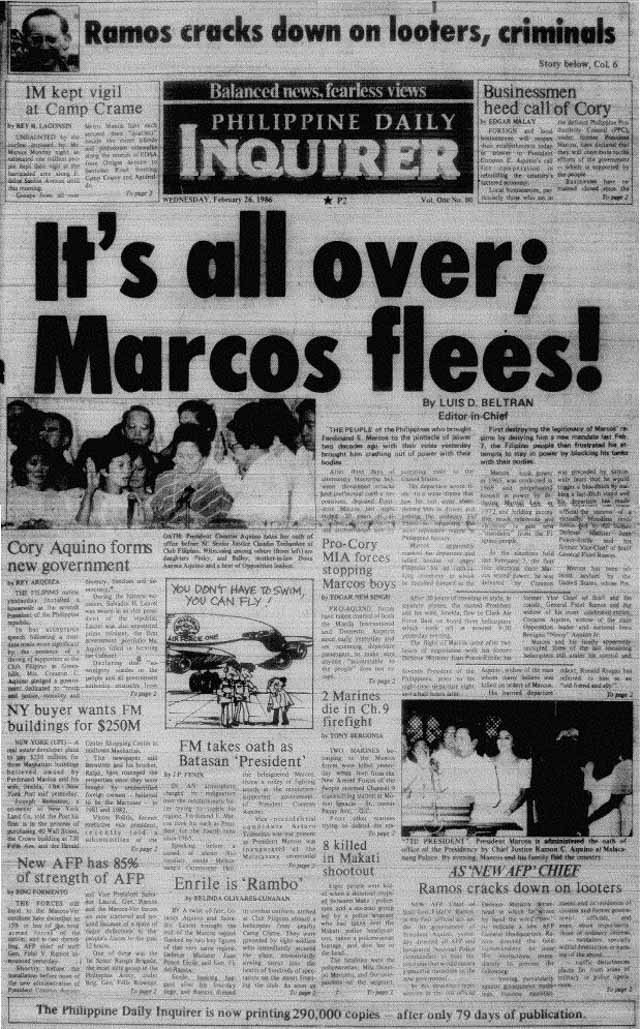 HIGHLIGHTS
The Marcos family and close allies arrived at Hickam Air Force Base. Their arrival marked the start of their exile in Hawaii until Ferdinand's death in 1989 and Imelda's return to the Philippines in 1991 to face charges of graft and tax evasion.
– Rappler.com
Sources: University of the Philippines' University Library and Bayan Ko! Images of the Philippine Revolt