1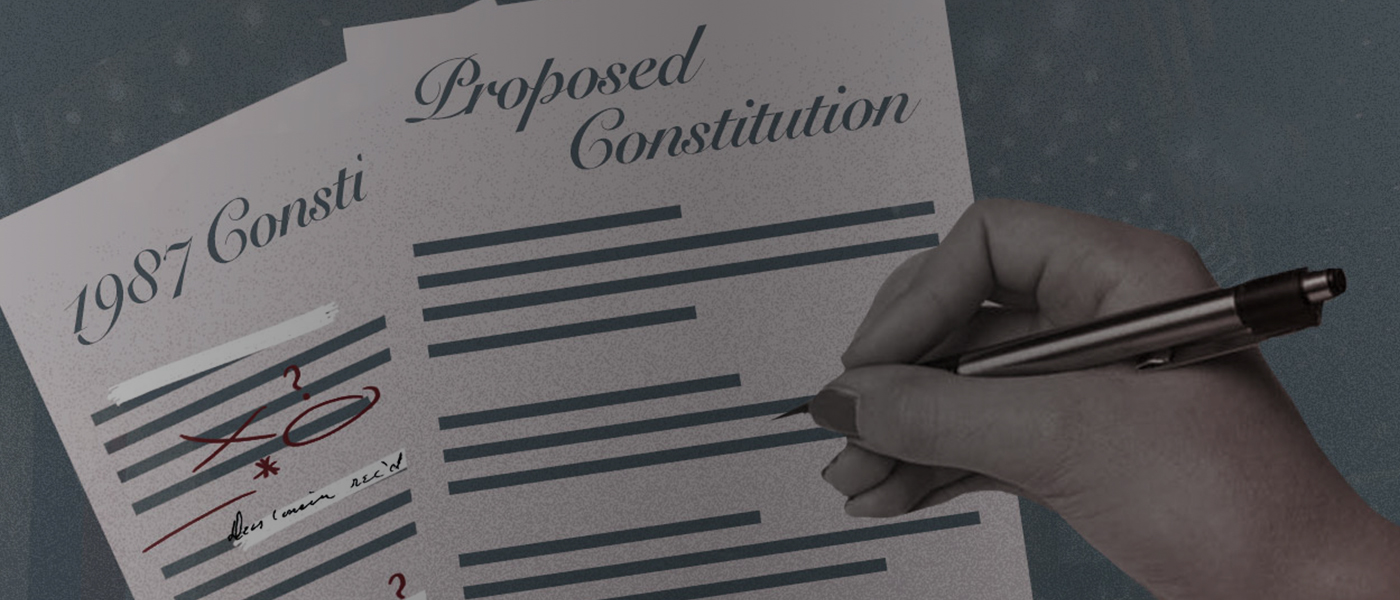 Changing the Constitution: What are being proposed so far
desktop
We track the proposed revisions to the 1987 Constitution, based on draft constitutions and proposed changes by the House of Representatives
---
MANILA, Philippines - More than 3 decades since its ratification, the 1987 Constitution seems poised for an overhaul.
Efforts are currently underway in Congress to revise the current Constitution, mainly to set up a federal form of government. (READ: Will federalism address PH woes? Pros and cons of making the shift)
Proposed revisions have been reflected in the following documents:
The House committee on constitutional amendments, split into 4 subcommittees, considered these inputs and presented summaries or salient features of its own proposals in mid-January 2018.
Meanwhile, President Rodrigo Duterte has set up a 19-member consultative body tasked to review the Constitution.
Here's a comparison of key proposed revisions to the 1987 Constitution so far, based on RBH 8, PDP-Laban's draft, and the House subcommittee summaries.
This serves only as a tracker of proposed changes, and should not be seen as the final version of a revised Constitution.
This page will be updated as further changes come in.
Not listed below are minor revisions, such as the addition of the word "Federal" (as in "Federal Congress" or "Federal Supreme Court," or variants of the phrase "Federal State and/or the Regions."
Phrases highlighted in light orange are the portions of the 1987 Constitution that are eyed for amendments, while those in yellow are new phrases or sections inserted in a draft charter. Texts in bold and italics are changes proposed by the House subcommittees, pending the release of a final version of the House's draft constitution.
So far, only the entirety of Article IV (or constitutional provisions on citizenship) is left untouched in all proposals.
Type of state
---
Law and order, anti-terrorism
---
Anti-dynasty law
---
New, revised principles, policies
The Senate
---
RBH 8 proposal: House of Representatives retained
---
PDP-Laban/House proposal: The Federal Assembly
---
Dismissal of PM, dissolution of Federal Assembly
---
Scope of Federal Congress laws
---
Number of signatures for initiative, referendum
The President on pardons, foreign loans
Other presidency-related amendments
The Prime Minister and the Cabinet
Limit the scope of judicial power
---
Justices' age of retirement
---
Income tax-exempt justices, judges
---
Regional Court of Appeals
---
Judicial and Bar Council
---
House proposal: Constitutional Court
CHR as constitutional commission
---
Commission members, functions
Development of political parties
Number of regions
---
Scope of regional laws
---
Regional Governor/Chief Minister
---
Regional/State Assembly
---
Sharing of taxes between national, regional govt's
---
Transition: Regional/State Commissions and Organic Acts
Sandiganbayan, Ombudsman
---
'Faster' impeachment process in the House
Foreign ownership rules
---
RBH 8: Bigger BSP Monetary Board
Articles merged, modified, transferred
Authority over police
Separate voting by Congress on future amendments
---
RBH 8: Number of signatures for people's initiative, excluded topics
Incumbent President, VP to stay until 2022
---
Interim legislative branch
---
Next Senate, local elections
---
RBH 8: MMDA dissolved
---
RBH 8: Shorter time to clear court dockets
---
RBH 8: No income tax for top federal officials, lawmakers
– Rappler.com