1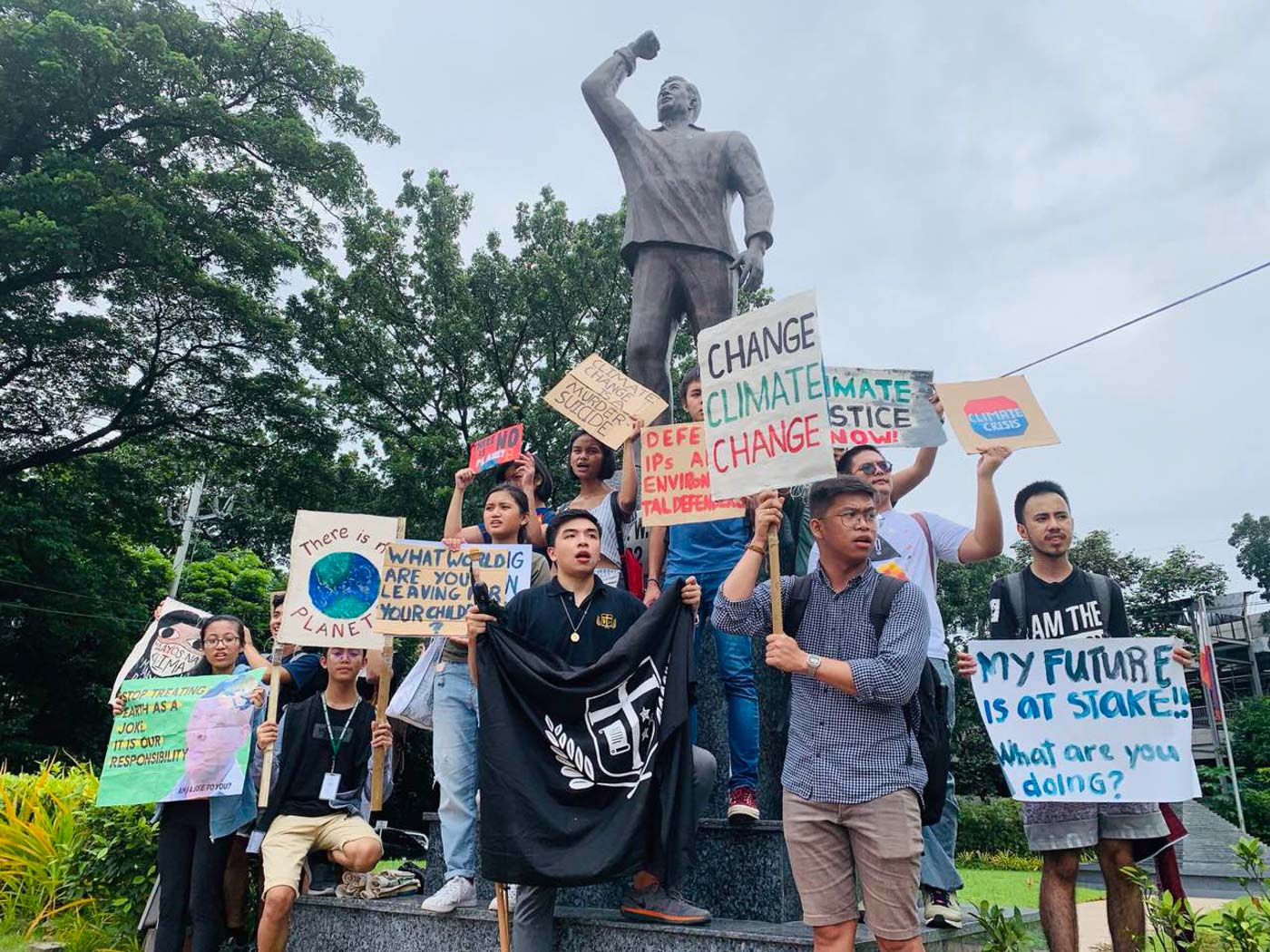 'Kapag may isa, maraming sumusunod': Leading a Philippine youth climate strike
desktop
Teen climate activist Greta Thunberg captured the world's attention with her solo protest and chilling speeches. Five Filipino activists tell their stories on how they gained courage in one of the countries most vulnerable to climate change.
---
MANILA, Philippines – On a rainy Monday morning, 28-year-old Joanna Sustento silently held a sign demanding climate justice outside a towering office building in Bonifacio Global City. She stood alone.
Sustento is a Tacloban native and a Super Typhoon Yolanda (Haiyan) survivor. She was 22 when she lost her parents, a brother, a sister-in-law, and a nephew to the storm in 2013.
On September 16, she called out to Shell, a giant fossil fuel company whose headquarters were in the building, to "own up to their responsibility for fueling climate change."
Even with security presence being heightened at the sight of a protestor on private property, Sustento stood her ground.
Shell was one of the companies under investigation by the Commission on Human Rights for its alleged contribution to climate change, resulting in human rights violations. It is also the top 9th producer of greenhouse gas emissions in the world, according to a Carbon Majors Report.
Around a year ago, the world witnessed a similar sight when 16-year-old Greta Thunberg cut class to lead a school strike outside the Swedish Parliament, compelling politicians to act on the climate crisis.
Thunberg's solo act inspired a global climate strike. Global youth-led climate movements were held from September 20 to 27.

Even with the Philippines contributing less than an average of 1% of total worldwide carbon emissions, the country is among the most vulnerable to the effects of climate change.
Young people have often been on the frontlines of these demonstrations. They have been known to give frank, brutal criticism to politicians and private companies they feel are not doing enough. (READ: What does it mean to go on strike for the climate?)
Youth Strike 4 Climate Philippines, our country's very own nationwide climate strike initiative, was created for people with the same cause as Sustento: to protest the climate crisis. It started with 4 mobilizers taking the initiative in their local communities in Manila, General Santos, Bacolod, and Pampanga in March. The media didn't take notice of them then.
After their first big mobilization in May, they joined the world's movement this September as the Philippine contingent.
With the recently concluded Global Week of Action, the team behind it tells their stories of humble beginnings and taking their future into their own hands.
Survivors and observers

Jefferson Estela, Youth 4 Strike's co-founder, recalled how his family survived Typhoon Ondoy a decade ago in a house just one street away from Marikina City. (Looking back: the records of Ondoy)
With his father away from home, the then-grade school student took on the role as man of the house. Staying for 24 hours on the roof of their home, looking at surrounding houses swallowed whole by floodwaters, he started to think that this was the end.
"I thought, mamamatay na kami, kasi marami na kaming kapitbahay na as in lubog na 'yung bahay. Di namin alam kung saan sila napunta, at 'yung iba namatay. Noong time na 'yun, sabi ko, bakit siya nangyayari? Anong meron? Parang hindi pa ako ready, kasi wala pa akong nagagawa for the environment," Estela added.
(I thought we were going to die, because we had many neighbors whose houses were submerged. We didn't know where they went, and some died. At the time I thought, why is this happening? I wasn't ready. I hadn't done anything for the environment.)
Ondoy inspired Estela to focus on environmental initiatives in high school, and he thought it was enough. Then Typhoon Yolanda came in 2013 displacing his relatives in Visayas, and all the fear returned.
"Akala namin tapos na 'yung Ondoy trauma namin, tapos biglang meron nang Yolanda. What more in the future (We thought our Ondoy trauma was over, but then Yolanda happened. What more in the future)?" he asked.
While Youth 4 Strike's senior high school coordinator Rendell Lateo didn't experience life-changing devastation, he grew up an observant kid in Camanava (Caloocan-Malabon-Navotas area).
"Na-observe ko dati noong maliit pa ako doon sa 'min, tuwing hapon, makikita mo sobrang daming paniking lumilipad. Tapos ngayon, wala ka nang makikitang lumilipad na ganoon. Mga bubuyog din sa 'min, marami noon lumilipad sa kalsada. Ngayon, makikita mo na lang kapag may flowering plants doon," he said.
(When I was little, I observed that there would be so many bats flying every afternoon in our area. Now, you would never see them there. There also used to be bees flying all around the streets of our area. Now you can only see them wherever there are flowering plants.)
Lateo is from an area near Isla Pulo, a small island off the coast of Navotas known to be home to some of the oldest mangrove trees in Metro Manila. Tale has it that it was once a white beach – now Lateo knows it as a wasteland of garbage and putrid smells.
"Since Manila Bay din 'yun, nakita ko talaga kung gaano kadumi 'yung basura. Grabe talaga siya. 'Di mo na mapag-swimmingan. Dati noong mga 2007, nakakapaglublob pa ako doon. Ngayon di na talaga," he said.
(Since it is also in Manila Bay, I really saw how dirty the garbage was. It's terrible. You can't swim there anymore. Around 2007, I could still take a dip. I couldn't do that anymore.)

When Andre Jacques Fallaria, Youth 4 Strike's social media manager, first started noticing changes in the environment, he would joke about it.
"Tingnan 'nyo, may kalbo! 'Yung bundok, kalbo na (Look, a baldy! The mountain has gone bald)!" he told his family while on vacation in Mindoro.
He discovered his talent for songwriting as he dedicated his very first song to the environment, and then began pursuing environmental research in high school. He then became passionate about science communication, which he understood to be the key to true climate action.
"Ang dami kasing mga Pilipino na hindi aware talaga sa climate change. Kaya kay Hillary Andales, na isang science communicator, natutunan ko na kailangan talagang maihatid ng mga scientists kung ano 'yung ibig sabihin ng climate change in a way na maintindihan siya ng publiko, kahit bata ka, kahit ikaw ay hindi nag-aral ng elementary, maiintindihan mo kung anong ibig sabihin ng climate change," he said.
(There are many Filipinos who aren't aware of climate change. I learned from Hillary Andales, a science communicator, that scientists really need to convey the meaning of climate change in a way that the public can understand, even if you're a kid, even if you didn't go to grade school, you'll understand what climate change means.)

Despite coming from a privileged background, Youth 4 Strike's education and research director, Sophia Caralde, understands that she shares responsibility for the effects of the climate crisis even if she doesn't directly feel its effects.
"'Yung lagi kong research paper noong college ay lagi sa environment and policy. Feeling ko doon 'yung hugot ko lagi na mayroon tayong mga environmental laws and policies, pero hindi siya nata-translate into the grassroots, na sila naman talaga 'yung may kailangan," she said.
(My research papers in college were always about environment and policy. I think that's where I got my drive; how we have environmental laws and policies but they aren't translated into the grassroots, to those who need it the most.)
Forming a collective
Caralde, Lateo, and Fallaria shared sentiments of wanting to do something with more impact amid their rising concern for the environment. When Estela's original team of 4 began calling for more volunteers, they stepped up.
Next thing they knew, international organizations began to contact them, asking if they would like to partner up and be amplified. Estela never expected that his small initiative would be part of an international movement, all inspired by Thunberg.

The feat was never easy. Some Filipino kids who join the cause aren't always supported by their parents, as rallying or striking sometimes comes with stigma in the country. Estela counts himself as one. (READ: Youth activism: More than just organized action)
"May isang nag-tweet na if may Greta Thunberg sa Philippines, na-redtag na siya or napatay na siya. 'Yung mga kabataan lumalaban for a long time alongside the farmers, the fisherfolks, urban poor, environmental defenders, and we are being red-tagged and killed. Pero di lang kasi 'yun 'yon," he said.
(I saw a tweet that if the Philippines had its own Greta Thunberg, she would have been red-tagged or killed by now. The youth have been fighting for a long time alongside the farmers, the fisherfolks, urban poor, environmental defenders, and we are being red-tagged and killed. But that's not the whole story.)
"Personally ako, I am being neglected by my parents. Di nila tanggap 'yung ginagawa ko for the environment. They even called me NPA. Whenever I go home, they always ask me kumusta yung pagbubundok. And for me, I'm used to it. Wala akong time for drama, kasi I'm trying to understand their perception on how I will do my role in society. Kasi 'yung pagkatuto ko, 'di same sa pagkatuto nila," he added.
(Personally, in my case, I am being neglected by my parents. They can't accept what I do for the environment. They even called me an NPA. Whenever I go home, they always ask me how it was in the mountains. And for me, I'm used to it. I don't have time for drama because I'm trying to understand their perception on how I will do my role in society. Because what I learned is not the same as what they did growing up.)
Beyond striking
Apart from the street protests, the group also takes part in communicating with NGOs, student leaders, grassroot communities, and legislators.
Kabataan Representative Sarah Elago has invited them to be a part of technical working groups in Congress committees, and to take part in hearings.
They are also looking forward to meeting with Senators Nancy Binay, Kiko Pangilinan, and Risa Hontiveros in the near future to push for measures that will address the climate change crisis.
As for the criticism they receive on social media – they've been told to stay in school or clean up the ocean themselves – they have resolved to stop replying to hateful comments and instead, let the people who support the movement respond.

The group believes that the public and private sectors should share the weight of responsibility in responding to the climate crisis.
"If the private corporations are not doing enough, and the government is also not going to tell them what to do or give regulations, they're going to continue doing the harm," said documentations head Roanne Garcia.
"Kaya lang naman tayo lumalapit sa government because they are serving the people. Sila talaga 'yung may kakayahang gawing accountable ang mga korporasyon because they are implementing the laws. If they are not going to be strict, siyempre itong mga korporasyon, puwede nilang i-manipulate on how they are going to do their business," added Estela.
(The reason why we plead to the government is because they serve the people. They have the ability to make the corporations accountable for their actions because they implement the laws. If they are not going to be strict, then these corporations will surely manipulate how they do business.)
Strength in numbers
Thunberg and Sustento gained attention by standing alone.
"Kahit mag-isa lang ako, may magagawa ako. Kahit ganito lang ako – I'm not connected to anyone influential, I don't have the money, but I have the will to do this not only for myself, but for my community. And ilang dekadang maraming Pilipinong nakikipaglaban sa climate change, hindi ito bago. Pero dahil sa kanila, nagkaroon ng inspirasyon ang ibang tao para sundin 'yung kanilang nasimulan," Sustento told reporters on the day of her protest.
(Even if I'm on my own, I can do something. Even if I'm like this – I'm not connected to anyone influential, I don't have the money, but I have the will to do this not only for myself, but for my community. And Filipinos have been fighting climate change for decades now; this isn't new. But because of them, others have gained inspiration to continue what they started.)

However, not everyone may have the courage to stand up alone, regardless of how concerned they are for the environment. Fallario expressed hope that in science communication, a common understanding can be better fostered.
"Balang araw, maiintindihan nila tayo kung bakit natin 'to ginagawa. Kasi kung hindi nila tayo maintindihan, ano na lang 'yung mangyayari 'di ba? Kaya gagawin natin ang lahat para maintindihan tayo. Kasi para din naman ito sa kinabukasan natin. Kung wala tayong gagawin, kailan?" he said.
(One day, they will understand why we're doing this. Because if they don't understand, who knows what could happen, right? So we would do all we can to be understood. After all, this is for our future. If we don't do anything now, when?)
"Do your research. If you aren't sure of the things you're doing, research. It's okay to be angry. It's okay to be confused. That's what research is for," said Garcia.
Lateo believes in starting small, like encouraging those who feel uncertain to take part in the movement of reducing carbon footprints and spreading information about the crisis. "Kapag may isang kumikilos, marami ring sumusunod (When someone moves, many others would also follow)," he said.
Caralde highlighted the importance of keeping the fire burning even during the challenges faced in adulthood, as it is easy to get caught up in the logistics of growing up.
"Message ko for young professionals. Kasi kung nasa college ka, mas madaling mag-take part sa rallies. Iba na responsibility ngayon: You have to pay your bills, give back to your parents, go to work. Ang daling malunod sa 'adulting' at makalimutan 'yung advocacy," she said.
"Huwag i-treat 'yung working for the environment as not as important as working for money. Equal siya. Kasi hindi ka naman mabubuhay with all your money kung wala ka nang environment, eh," she added.

(My message is for young professionals. When you're in college, it's easier to take part in rallies. As an adult, the responsibilities are different: You have to pay your bills, give back to your parents, and go to work. It's easy to drown in 'adulting' and lose sight of your advocacy…. Don't treat working for the environment as not as important as working for money. It's equal. You can't live with all your money if you won't have an environment.)

At the end of the day, the kids are mobilizing for the right to have a future. Estela said they assert their role in shaping their futures amid a Filipino culture of parents deciding what's best for their children.
"Parang ganoon kasi 'yung sistema ng bansa natin, na 'yung older people nagdi-dictate ng kung anong, kumbaga, sila yung major driver kung pano ishe-shape 'yung future for the next generation. So on our end, naiintindihan namin na we have a role sa pagshape ng future," said Estela.
(Our country's system is like that, where the older people dictate as major drivers on how the next generation's future is shaped. So on our end, we understand that we have our own role in shaping the future.)
"Ang movement, parang uling eh. Magkakasama sila. 'Pag magkakasama ang mga uling na 'yun, siyempre, lahat sila magbabaga. They will really ignite and do more instead of doing it alone," he added.
(The movement is like coal. Everyone is together. If all the pieces of coal stay together, all of them will light up. They will really ignite and do more instead of doing it alone.) – Rappler.com


TOP PHOTO: ALLIANCE. Youth Strike 4 Climate was joined by various organizations and student leaders on their September 20, 2019 protest. Photo courtesy of Bea Tulagan
2ND PHOTO: ALONE TOGETHER. Super Typhoon Yolanda survivor Joanna Sustento meets Greta Thunberg at the 2018 UN Climate Change Conference in Poland. Photo courtesy of Sustento
3RD PHOTO: FRONTLINES: Jefferson Estela speaks at the Youth Strike 4 Climate. Photo courtesy of Roanne Garcia
4TH PHOTO: EARTH CAN'T SPEAK. Photo courtesy of Roanne Garcia
5TH PHOTO: AMPLIFYING SCIENCE COMMUNICATION. Youth 4 Strike's social media manager Andre Jacques Fallaria at its first mobilization on May 24, 2019. Photo courtesy of Fallaria
6TH PHOTO: CHANGE CLIMATE CHANGE. Education and research director Sophia Caralde at the September 20, 2019 march. Photo courtesy of Caralde
7TH PHOTO: ON THE STREETS. Climate strikers mobilize as the NCR contingent along a street in Quezon City. Photo courtesy of Roanne Garcia
8TH PHOTO: RESPONSIBILITY. A striker dressed as Marvel character Spider-Man puts a play on his famous quote. Photo courtesy of Roanne Garcia
9TH PHOTO: UNWAVERING. Joanna Sustento holds her placard higher after security presence is heightened amid her solo protest. Photo by Michelle Abad/Rappler
10TH PHOTO: CALL TO GOVERNMENT. A striker calls on politicians to prioritize the climate crisis. Photo courtesy of Roanne Garcia