6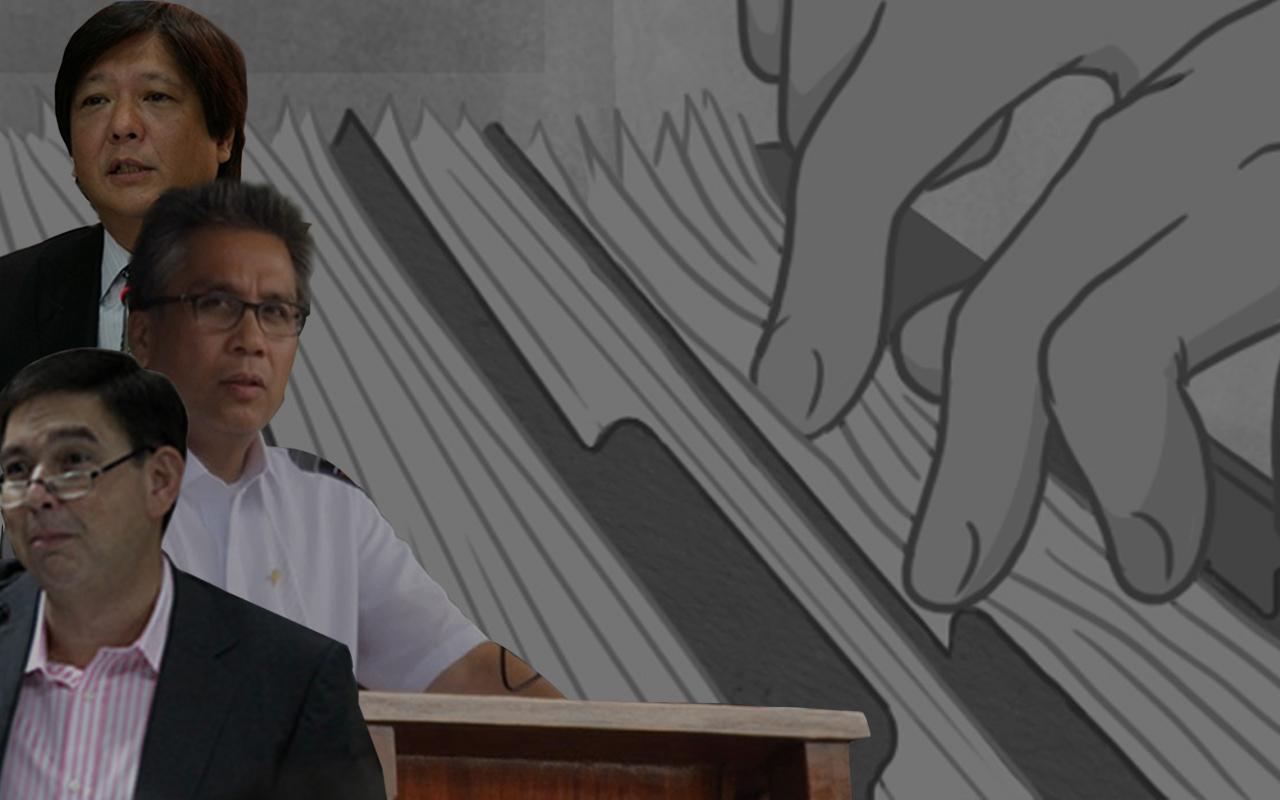 Fact-check on politicians' academic degrees
desktop
Rappler's fact-checking in 2015 reveals that claims by some politicians about their academic degrees were not totally accurate
---
MANILA, Philippines – Elected officials are expected to tell the truth and nothing but the truth. The things they say and claim, however earth-shattering or inconsequential they may be, will always be subject to public scrutiny and fact-checking.
In 2015, the honesty of two senators seeking posts in the 2016 elections was put to the test. We got information their claims about their educational attainment were doubtful so we checked them out.
Senator Ferdinand "Bongbong" Marcos Jr had claimed to have studied abroad during the presidency of his father and namesake, Ferdinand Marcos.
In his resumé, Marcos said he obtained a bachelor of arts degree in Philosophy, Politics and Economics from Oxford University (1975-1978) in the United Kingdom, then a master's degree in business administration (MBA) from the Wharton School of the University of Pennsylvania (1979-1981) in the United States.

Rappler's fact-checking revealed that his claims were not totally accurate. (READ: EXCLUSIVE: Did Bongbong Marcos lie about Oxford, Wharton?)
Marcos did study in Oxford, but his name does not appear on the school's roll of students who successfully earned degrees in 1978, as well as on the 1977-78 university calendar, which contains the names of all students sitting for final exams in each subject.

Travails of verifying alumni records of public officials
---
Meanwhile, at Wharton, Rappler's informed sources said that Marcos enrolled for the MBA program, but never graduated. The university's comprehensive alumni database supported that claim.
Shortly after the report's publication, Marcos responded by saying that his educational records at Oxford and Wharton are "accurate."
"I earned a diploma in political science at St Edmund Hall, Oxford University in England in 1978," he said. But we noted that a "diploma" is different from a bachelor's degree.
As for his Wharton stay, Marcos admitted he was "unable to complete" the masteral course he enrolled for because he was elected Ilocos Norte vice governor.

Admission and correction
Another senator whose academic credentials were checked by Rappler in 2015 was Ralph Recto.
His profile on the Senate website initially stated that he earned two master's degrees – in Public Administration from the University of the Philippines Diliman in 1991, and another in Strategic Business Economics from the University of Asia and the Pacific in 1994.

Recto wasn't able to complete either. (READ: EXCLUSIVE: No master's degrees for Ralph Recto)
In addition, Rappler discovered that what he claimed as his Bachelor of Science degree in Commerce obtained from the De La Salle University (DLSU) was inaccurate.
The senator admitted the errors, recalling that the last time he checked his bio-data was possibly when he was a congressman (1992-2001). Recto also said he was unable to submit a thesis to earn both degrees. He likewise corrected his undergraduate degree, saying he graduated from the College of St Benilde (CSB), which is a part of DLSU, in 1989, with a degree in BS Commerce.

Both Marcos and Recto have since updated their profiles on the Senate website to reflect more accurate credentials.
Marcos is running for vice president in the 2016 polls, while Recto is gunning for a fresh 6-year term as senator.
Roxas: Wharton graduate or not?
Later in the year, the accuracy of a 2016 presidential candidate's college degree was likewise questioned by one of his opponents in the race to the presidency.
In response to a statement made by former Interior and Local Government secretary Manuel "Mar" Roxas II that Davao City's track record in peace and order is a "myth", the city's long-time mayor, Rodrigo Duterte, fired back with a counter-claim.
---
"You claim to have graduated from Wharton School of Economics. That is a myth. You did not graduate [from] Wharton, Mr Roxas."

---
Duterte accused Roxas of lying about earning a degree from the prestigious Wharton School of the University of Pennsylvania (UPenn) in the United States. In his official website, Roxas said he graduated from Wharton with a Bachelor of Science in Economics degree in 1979.
"Wala doon sa listahan na ikaw naka-kumpleto ng 4 years or 5 years for a degree. Tanungin mo ang Wharton. Maybe um-enrol ka ng 3 months course, correspondence [course]. I would believe that," Duterte added.
(Your name is not on the list of those who studied for 4 or 5 years for a degree. Ask Wharton. Maybe you enrolled in a 3-month course, a correspondence [course]. I would believe that.)
He later insisted that Roxas can only claim to be a UPenn graduate, and not a Wharton graduate.
But an independent check by Rappler, even before the Duterte-Roxas word war began, revealed that Roxas was indeed awarded a BS Economics degree by Wharton. (READ: Wharton a 'myth?' Facts on Mar Roxas and his economics degree)
Unconvinced, some netizens pointed out that Roxas was a Wharton "undergraduate" as stated on the certification that Rappler obtained. They claimed it means Roxas did not graduate, but others are saying otherwise. What exactly does the term "undergraduate" mean?
The Wharton School later confirmed that Roxas is among their alumni.
Amid the ensuing verbal tussle – as well as a "slap bet", a fistfight, a gun duel, and a debate – former president Fidel V. Ramos offered some advice to the 2016 bets, including Roxas and Duterte.
"Act like a Philippine president who must be competitive nationally; meaning, you'll be compared to other Philippine presidents. But beyond that, the Philippine president must be world-class," Ramos said.
"Slapping, fighting, killing each other will not solve the problem." – Rappler.com