4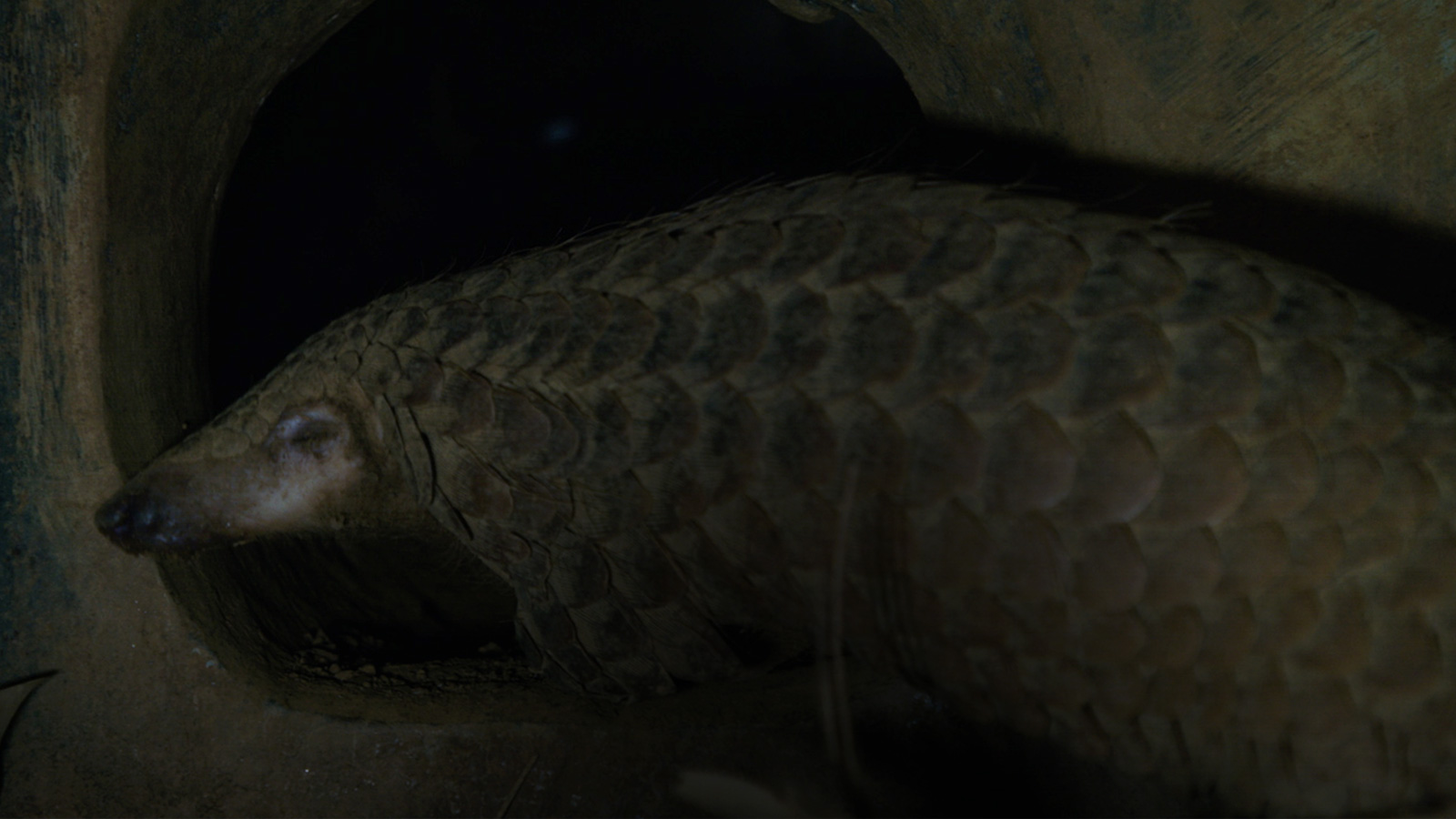 Trafficked to extinction: Malaysia and Thailand
desktop
Demand for pangolins has penetrated even into villages deep in the Malaysian jungle. Near the Malaysia-Thai border, meanwhile, professional smugglers are hired to send the goods across the border.
---
Malaysia: Rising demand reaches into rainforests, indigenous hunters say
In a simple bamboo hut in a small clearing among towering rainforest trees, we share a meal of forest squirrel and tapioca with our hosts. They are from the indigenous Temiar community, whose traditional land sits on the northern edges of Peninsular Malaysia's central forest spine. They are in high spirits, while we are aching with fatigue, because we have just spent half a day hunting and foraging with them.
When they showed us the squirrel that would later become our dinner, dead from a poisoned blowpipe dart, we were told not to laugh or joke. No reason was given, but it struck us as a sign of respect for the utility of the forest and its creatures.
Our conversations with indigenous communities confirm that the demand for pangolins has penetrated even into villages deep in the Malaysian jungle. "In the past, if we felt like eating pangolins, then we will go hunt for it," said one indigenous hunter. "It's not like we hunt and eat it all the time."


Among the Temiars, pangolins are said to ward off elephants, an ability they acquired from an incident in which a pangolin wrapped itself around an elephant's trunk and refused to let go, killing the elephant. Since then, the Temiars say, elephants avoid pangolins. Other indigenous groups are known to link the pangolin to the human fetus, as they believe it is a reincarnation of the human placenta.
The pangolin is an animal so rich in mythology that some villagers we spoke to tell of oral traditions that prohibit its hunting and eating. The hunters we spoke to say they have recently stopped hunting them, despite the loss in possible revenue, citing objections from village elders.
"When there are outsiders who want to buy it from us, that's when we hunt it and we sell it. If there are no buyers, we won't hunt it," said the hunter.

Although these communities mostly live off the forest and have only tenuous links to the mainstream cash economy, the pangolin trade is still influenced by market forces. Different buyers offer the hunters different prices, and it changes by season. Hunters simply try to sell to the highest bidder.
"In the past, prices were around 300 ringgit per kilogram," said the hunter. "Sometimes, up to 350 ringgit. Even up to 600 ringgit." That highest price is about $143.
"But now, it fetches around 100 ringgit per kilogram, maybe 150 or 50 ringgit per kilogram. If we hear the price is 50 ringgit per kilogram, we won't bother. But if we hear the price is 300 ringgit per kilogram, that's when we go hunting."
"This demand for pangolins from China first sucked up all the pangolins in China, so that it is now commercially extinct there," said Dr Chong Ju Lian, a lecturer at Universiti Terengganu Malaysia, who has been involved in pangolin research since 2009.
"Then around 2006 or 2007, we noticed a spike in pangolin seizures in Malaysia. There were a lot of news reports of pangolin smugglers being intercepted by authorities, and bear in mind that the majority of smuggling goes undetected."
She has found that the demand for pangolins has shifted to African countries, something she and other researchers foresaw when they successfully lobbied for all 8 pangolin species to be reclassified under Appendix I in the International Union of Conservation and Nature's (IUCN) trade list, a move that bars all commercial trade of pangolins.
"When there are outsiders who want to buy it from us, that's when we hunt it and we sell it. If there are no buyers, we won't hunt it."
"That's why we insisted on including the 4 African species in the reclassification, even though they were not considered critically endangered back then."
Based on her conversations with indigenous communities, Dr Chong said she thought that poaching has brought Malaysia's pangolin population to the brink of extinction.
"Some indigenous hunters say they have not seen a pangolin in 3 years," she said. "The middleman is still willing to buy, but pangolin hunting is just not as attractive now as it used to be, simply because it is so difficult to find one."
---
Malaysia-Thai border: Police officers turn to smuggling
Next to a roadside food stall, sparse nighttime traffic whizzes by. Everything is tinged orange by streetlight. We are in Malaysia, a 40-minute drive south of the Thai border.
The pangolin smuggler we are meeting undercover arrives with his daughter, a child no older than 6. It is a scene that is difficult to reconcile – she, dressed like a princess, complete with a tiara. He, a smuggler of pangolins and who knows what else.
"OK, let me explain," he said. "The goods come from Indonesia, and the towkays, they bid for the goods." He uses the colloquial term for buyer or "boss."
"Goods from Indonesia, it must be at least a ton. So, one ton of goods and the bidding starts. Price starts at 300 ringgit per kilogram. Okay, how much can you pay?" He motions towards one of us. "OK, this one wants to pay 310 ringgit." He motions to another one of us. "Now this one wants to pay 320 ringgit. And another one wants to pay 350 ringgit."
"So the one who offered 350 ringgit will get the goods." (The price he cites equals $84.)
Over 4 months, we spoke to several people involved in wildlife smuggling like this man, ranging from smugglers to middlemen to poachers. Some interviews were made undercover, in which we claimed to be traders. The interviews show that the underground pangolin trade has matured into an illegal, but open market. Competition is fierce, and market forces decide on prices. Innovation differentiates those at the top.
Overwhelming demand for pangolins is driving an illicit trade that often slips past local law enforcement. Sometimes the reason is corruption, as evidenced by this man before us, who is not only a smuggler, but also a policeman. He asked not to be identified.
We had met him earlier at a magistrate courthouse, where he was standing trial for possession of 81 live pangolins.
According to the policeman-smuggler, the pangolin market is so competitive that syndicates are double-crossing each other to gain an advantage.
"So the one who offered 350 ringgit gets the goods, but the others know that the goods are arriving," he said. "They might not know when exactly, but they know it is coming this week, or in 2, 3 days' time. So they are ready."
By "ready," he means they are ready to sabotage the trader who won the bid. According to him, that is how he got caught. Someone from a rival syndicate leaked information to wildlife enforcement officers.
"When the goods are available, they already have their target," he said. "In fact, I have sabotaged someone from their team before."
Sources close to ongoing investigations say that the market is price-driven, and the syndicate that pays the highest can dominate the market.
Investigations show that live pangolins from Indonesia typically enter by boat, landing along the coast of the Malacca Straits, before being transported northward by car across the Thai border.
There, growing demand has changed the nature of the trade. Customs officials have become more aware of the trade, forcing smugglers to become more sophisticated. Smugglers crossing the border used to hire lorries, but are now increasingly using less detectable passenger vehicles, said Somkiat Soontornpitakkool, director of the Wild Fauna and Flora Protection Division of the Department of National Parks, Wildlife and Plant Conservation in Thailand.
This is corroborated by the enforcement authorities in Malaysia, who have shown us photos of passenger cars being outfitted with special air conditioning vents channeling cool air into the boot of the car. This keeps pangolins alive longer during the smuggling run.


The smugglers want to keep the pangolins alive because they can fetch higher prices for the meat. Often, we're told, customers prefer to see the animal alive at restaurants. One restaurant chef we spoke to, who used to serve pangolins to tourists from China, said the usual practice was to slit the pangolin's throat in front of the customer, then use its blood in the cooking.
"The smuggling routes mainly lead to the provinces adjacent to the Mekong River in northeast Thailand – Nakorn Phanom, Mukdahan, and Nongkhai – before going to Laos, and then on to Vietnam and China," said Somkiat.
Near the border, professional smugglers are hired to send the goods across the border. Investigations show that members of the police and other enforcement authorities are involved. Since 2012, 3 Malaysian policemen have been arrested for smuggling pangolins, including one officer who was arrested twice. All 3 worked, or are still working, at the same police station, the Kedah state police headquarters.
We were shown evidence by a government source that links some 12 enforcement officers to the pangolin trade, suggesting that there is a wider network of corruption.
These officers range from traffic cops to high-level border control officers, and the majority are based in the northern state of Kedah, bordering Thailand.
"We are taking this seriously," says Kedah police chief Zainuddin Yaacob, when asked about evidence of corruption within his ranks.
"If [police officers] are charged or convicted, then we can take action by suspending them from duty. If they are convicted under criminal charges, then there is no option but to discharge them from service."
While most live pangolins passing through Malaysia now originate in Indonesia, syndicates also used to source them from Malaysian forests.
"In the past, I was moving a lot of stock, hundreds of baskets," boasted one pangolin trader. "I'm not lying to you, at least 3 tons a month, delivered right to my doorstep." The trader is a middleman who previously sourced pangolins from indigenous communities living in the forest. He claims to have left the trade after being caught in 2014.
"There is less stock in Malaysia now, so they rely on Indonesian stock," he said.
Over in Sabah, in East Malaysia, a smuggling syndicate has the distinction of being the only known syndicate to deliver processed frozen pangolins.
A raid in February 2019 in Kota Kinabalu, Sabah, at two premises run by the same syndicate led to the discovery of a total of 27.9 tons of descaled, gutted, frozen pangolins in huge freezers. A further 361 kilograms of pangolin scales made the seizure the largest pangolin seizure ever recorded.
The way in which the pangolins were being packaged makes it likely they were meant for export, probably to China, a source familiar with the ongoing investigation said.
And there are signs that this syndicate has been operating for years.
"While most live pangolins passing through Malaysia now originate in Indonesia, syndicates also used to source them from Malaysian forests."
In 2010, a Malaysian man was arrested on the coast of the southern Chinese port city of Zhuhai over the shipment of nearly 10 tons of frozen pangolins and pangolin scales on a fishing vessel. He was sentenced to life imprisonment, which was later reduced to 19 years due to good behavior. Four crew members of the ship, all of whom were Chinese nationals, were handed 5- to 10-year sentences.
Investigations showed that the man's mobile phone contained a set of trade-related coordinates, including one pinpointing a location off the coast of Sabah, near Sepanggar Port in Kota Kinabalu. It is the same port area where the record seizure took place in February 2019.
Interviews with the man's wife confirmed that he was involved in pangolin smuggling, and that he was based in Kota Kinabalu.
She insisted that her husband was not the mastermind behind the operation and that he was merely working for a syndicate helmed by a prominent businessman involved in the "frozen seafood business."
People familiar with the inquiry said that the police are still investigating whether the same syndicate was behind the 2010 and 2019 cases. (To be continued.) – Rappler.com
This is part of The Pangolin Reports' "Trafficked to Extinction," a global report investigating the illegal wildlife trade of pangolins across Asia, Africa and Europe.
TOP PHOTO: A pangolin rescued from traffickers in Vietnam recuperates at a rehabilitation center run by NGO Save Vietnam's Wildlife. Screenshot courtesy of Centre for Media and Development Initiatives.
More from this report: