11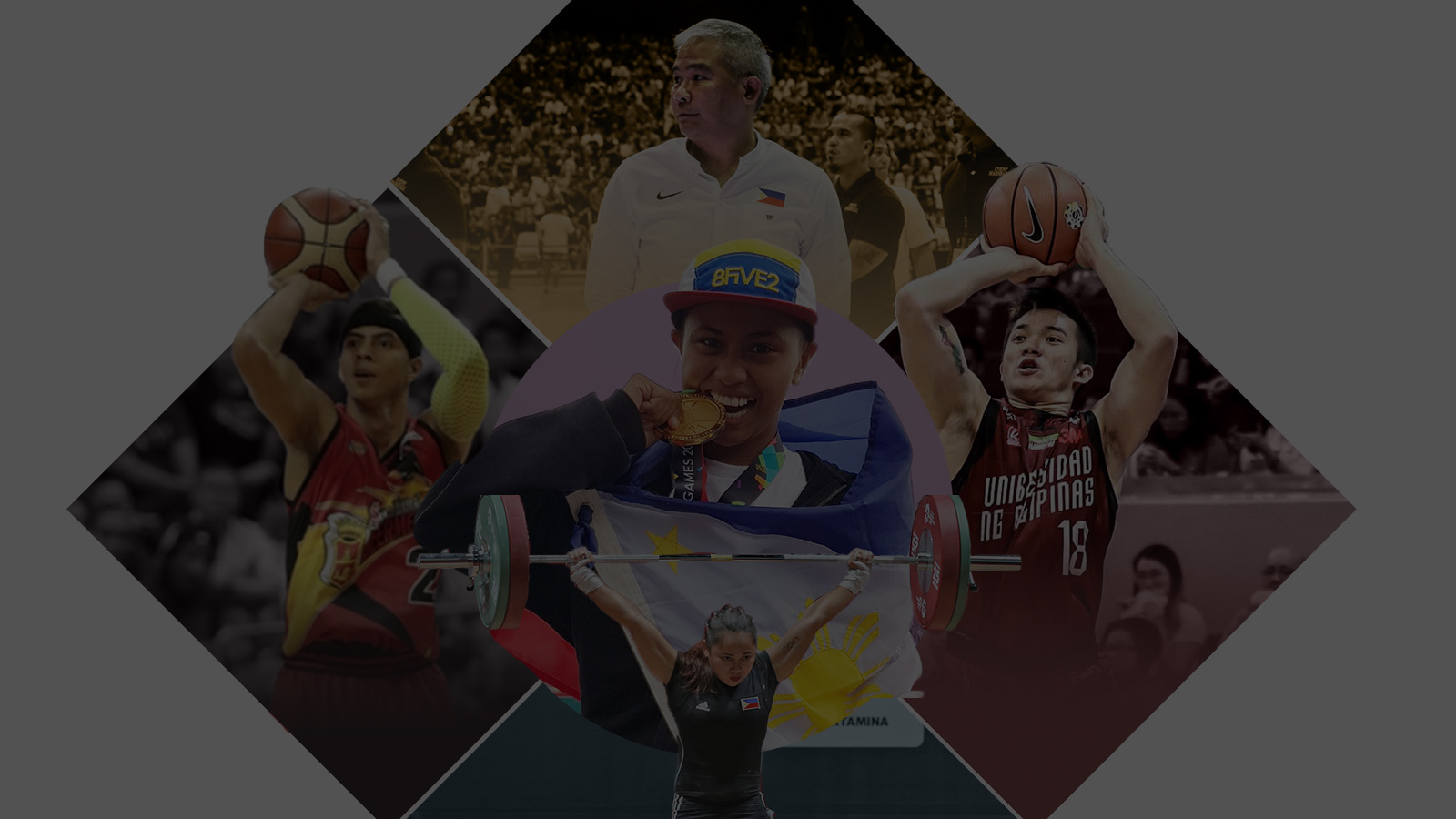 Top 10 quotes that stirred PH sports in 2018
desktop
From battle cries to controversial statements, let us look back at all the tea spilled by our Filipino sports personalities
---
MANILA, Philippines – In 2018, Philippine sports has taken us through glorious moments in the Asian Games, as well as many emotional highs from the collegiate championships to the international stage.
But of course, all these did not come drama-free as we revealed a lot of tea from Filipino sports personalities.
Rappler looks back at these moments that stirred our feelings, whether good or bad.
Chot Reyes

"Hit somebody, put someone on their ass."
Before the infamous FIBA brawl between the Philippines and Australia, former Gilas Pilipinas head coach Chot Reyes had some disturbing instructions that was caught on television during a timeout.
Although Reyes clarified that it was just his way of telling his players to be more physical and draw early fouls, the former Gilas coach was fined 10,000 Swiss francs (approx. P535,000) for "inciting unsportsmanlike behavior" and was suspended for one game.
Little did we all know that it was his last game with the Philippine men's basketball team in 2018.
Leo Austria

"And everybody, wala akong sinisino sa mga player ko, lahat sila nag-step up. And they are well-motivated. Any kind of motivation, no amount of motivation could motivate them if they are self-motivated."
In need of motivation for 2019? San Miguel Beermen head coach Leo Austria's words will give you that needed push (and some laughs, too).
The three-time PBA Coach of the Year said the quote during San Miguel's 134-109 Game 2 win over Barangay Ginebra in the 2018 PBA Commissioner's Cup finals.
Sadly, the Beermen failed to defend their title as they fell to the Gin Kings in 6 games.
Hidilyn Diaz

"I can't eat sugar and sweets. I miss eating cheesecake and drinking bubble tea with friends. It's hard."
When Olympic silver medalist Hidilyn Diaz bagged the gold medal in the 53kg weightlifting event of the 2018 Asian Games, she revealed the things she sacrificed, including her sweet cravings.
The famed weightlifter had to give up cheesecake and bubble tea to maintain a healthy diet which factored into her golden performance.
But Diaz will have to resist the temptation to indulge on her favorite sweets again as she and her team gear up for her 2019 Southeast Asian Games and Tokyo 2020 Olympic bid.
Tab Baldwin

"I think that we wanted Dave (Ildefonso) to rethink that decision or perhaps in hindsight, wonder why he made that decision."
Two-time UAAP champion coach Tab Baldwin of the Ateneo Blue Eagles proved once again that his selfless basketball system wins silverware, but he admitted that Dave Ildefonso was a player he highly coveted to fit in the champion team.
Ateneo's head tactician wanted the former Blue Eaglet to "rethink his decision" of joining his dad Danny and brother Shaun in National University, but later on apologized and clarified that he made the comment to "highlight the competitive nature of UAAP recruitment."
Dave, on the other hand, stood firm on his decision to stay with the NU Bulldogs – who eventually placed 7th in the Season 81 standings.
Paul Desiderio

"Laging sinasabi ng teammates ko, 'Atin 'to,' kahit 'di na ako nagsasabi kaya sobrang happy ko."

Every UAAP fan would know that Paul Desiderio is the face of "Atin 'To" – a motivational quote from the 2017 season that turned into University of the Philippines' battle cry.
After breaking barriers – clinching the UAAP Final Four and Finals berths – in his final year in the UAAP, Desiderio hopes that he has left a legacy in the Fighting Maroons with his turnaround story.
Desiderio may not have graduated as a champion, but he endured painful cellar-dwelling seasons which all paid off with a refreshing winning culture that head coach Bo Perasol has brought to UP.
Topex Robinson

"Kid didn't do anything wrong. Could've been a better finals. I mean, no guarantee that we're gonna win, but you want your best player in the game."
Lyceum head coach Topex Robinson did not mince words when he expressed his disappointment at the NCAA for suspending Pirates star CJ Perez in Game 1 of the finals because he failed to inform the league that he is joining the 2018 PBA Draft.
Robinson ripped the league for not being consistent in enforcing its rules as the Perpetual Atlas players, who were caught for playing in outside leagues, only got away with a "stern warning."
The suspension disqualified Perez from all individual awards – including the Mythical Five race.
But because of his comments, Robinson will face sanctions from the league.
Troy Rike

"The elbow in the free throw or going after someone's knees, there's no need for that. Be physical and look me in the eye."
National University's Troy Rike was one of the players who were vocal about dirty tactics in UAAP basketball.
Even if the UAAP handed numerous game suspensions – even to big names like Ateneo's Thirdy Ravena, FEU's Arvin Tolentino, and UP's Javi Gomez de Liaño – Rike cited instances where players got away with cheap shots.
His statements in the press conference and on social media sparked debates on the physicality of Philippine basketball.
Yeng Guiao

"I thought it was a no-win situation, I thought that we were just setting ourselves up to fail. But I was wrong, I was dead wrong."
After the Philippine men's basketball team exceeded all expectations with a fifth-place finish in the Asian Games, head coach Yeng Guiao admitted that he was happy that the results proved him wrong.
The Nationals had to deal with roster changes and even a momentary pullout from the Asiad because of the infamous FIBA brawl's aftermath.
This led to the NLEX Road Warriors mentor being appointed as interim Gilas head coach and getting a hastily-formed national team composed mostly of the Rain or Shine core.
But with the eventual inclusion of Filipino-American NBA player Jordan Clarkson of the Cleveland Cavaliers, Guiao's team got a huge boost and almost stunned Asian powerhouse China.
Margielyn Didal

"Proud ako na ako 'yung first Filipina na magre-raise ng Philippine flag through skateboarding at nagkaroon ng gold medal."
Nineteen-year-old skater Margielyn Didal won the hearts of Filipinos when she bagged the inaugural 2018 Asian Games skateboarding gold medal with a powerful story to share.
With a gold medal dangling around her neck, the Cebuana hopes that this could end the negative stereotype on skateboarders and pave way for local governments to support the country's skate scene.
Didal was one of the 4 Asian Games gold medalists and even made it to TIME magazine's list of the world's most influential teens in 2018.
Arwind Santos

"What went wrong? Medyo ano eh, may mga shadow eh. Parang may mga shadow 'yung mga players kanina eh. Parang 'yung lima nagiging walo. Parang ganoon eh."
Arwind Santos did not hold back in expressing his thoughts on the officiating of the San Miguel Beermen's PBA Philippine Cup semifinals Game 3 loss to Barangay Ginebra.
But his controversial statement did not sit well with the PBA as the San Miguel forward was fined P25,000 for his comments.
The Beermen eventually toppled the Gin Kings in 5 games and cruised to their fourth straight Philippine Cup title over the Magnolia Hotshots. – Rappler.com