12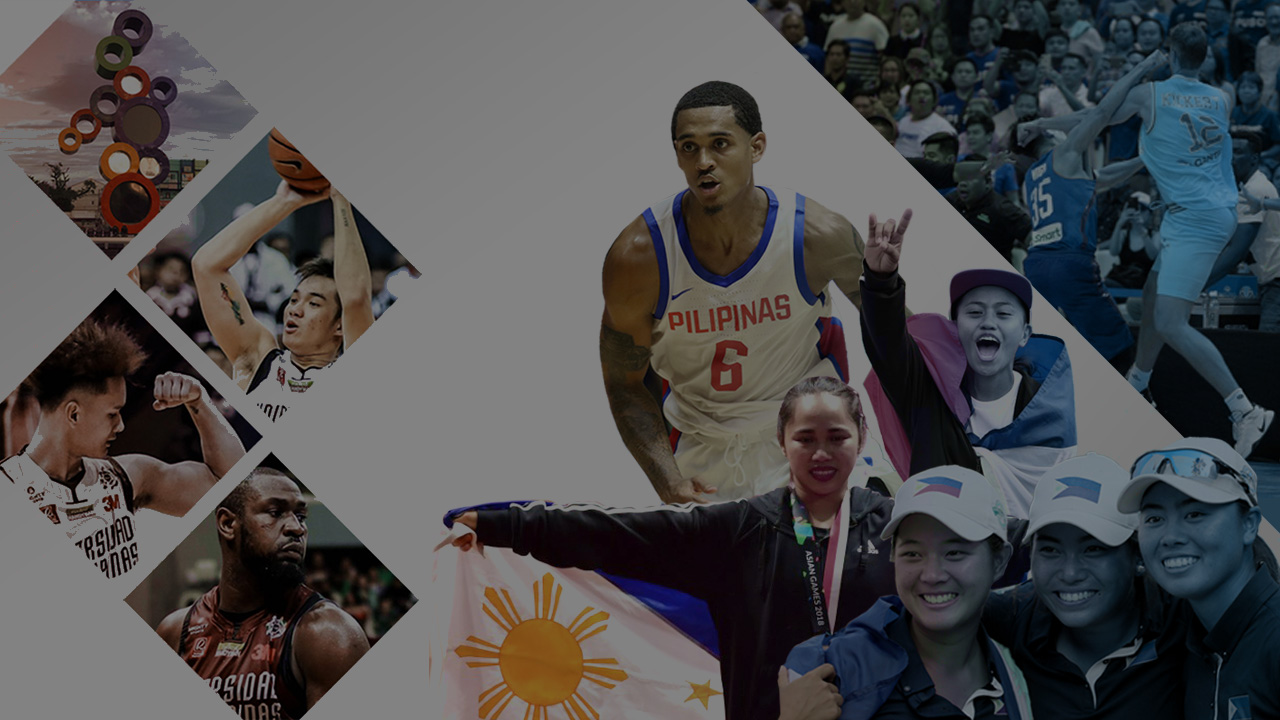 10 striking sports moments on social media in 2018
desktop
From the shocking 'basketbrawl' to the inclusion of esports as a medal event in the 2019 Southeast Asian Games, here's a roundup of the most interacted sports events on Rappler's social media accounts this year
---

MANILA, Philippines – It has been another year of roller coaster ride of emotions for Philippine sports.
In 2018, we've seen a wide variety of sporting news and events – both locally and in the international scene – that dominated our social media feeds at some point in the year. But like always, not all of these top news are worthy of Filipinos' usual "Pinoy Pride" mantra.
From gold-medal hauls and historic wins to controversial brawls and designs, we look back at some of the remarkable sports moments on social media this year, based on Rappler's most engaged posts and stories:
Girl power in Asian Games 2018

Five women from 3 different sports took the spotlight in the 2018 Asian Games after sweeping the country's gold-medal haul. (WATCH: PH golden girls rule 2018 Asian Games)
Olympic silver medalist Hidilyn Diaz captured the Philippines' first gold medal in the Asiad after dominating the women's weighlifting 53 kg category.
A few days later, Yuka Saso, Bianca Pagdanganan, and Lois Kaye Go delivered a golden performance in the women's golf events. Saso and Pagdanganan also secured the gold and bronze in the individual golf event, respectively.
Cebuana teen Margielyn Didal ruled the women's skateboarding street event to bring home the fourth gold for the Philippines in the quadrennial meet. Thirteen out of the Philippines' 21 medals in this multi-sport event came from Filipina athletes.
A couple of months after clinching the Asian Games gold, Didal was included in TIME's 25 Most Influential Teens of 2018. 'Stranger Things' star Millie Bobby Brown and football teen sensation Kylian Mbappe were also part of the list.
(ALSO READ: Margielyn Didal: From street kid to Asian street skate champ)
UP Fighting Maroons in UAAP Season 81 Playoffs

Nowhere to go but UP. What a season it has been for the UP Fighting Maroons, and most of us are surely excited to see more from this squad next year.
After 21 dreadful years, the Fighting Maroons secured a spot in the highly coveted Final Four of the UAAP Season 81 men's basketball tournament. Suddenly, all eyes were on the former cellar-dwellers entering the playoffs.
Two weeks later, another historic feat was celebrated.
UP returned to the UAAP Finals for the first time in 32 years, following an epic upset of the Adamson Soaring Falcons in the Final Four.
The team eventually lost to the defending champion Ateneo Blue Eagles but surely won hearts and new fans – at least on social media.
Gilas Pilipinas: 'Basketbrawl' and Jordan Clarkson

From a ballgame to a fistfight real quick.
Just when everyone thought it would be a regular game between the Philippines and Australia in the first round of the 2019 FIBA World Cup Asian Qualifier, things suddenly got ugly as the Gilas Pilipinas and Australia Boomers duel ended up in a bench-clearing brawl in July. (READ: Brawl that shocked the world)
Shortly after the incident, several members of the national men's basketball team posted on social their thoughts and messages for the fans, including Japeth Aguilar and Terrence Romeo.
The Philippines lost the game by default after 9 players got ejected and the last 3 fouled out. (ALSO READ: 2018: Gilas Pilipinas' wild ride)

Moving on from that embarrasing incident, Filipino basketball fans were delighted with the news that Filipino-American NBA player Jordan Clarkson was finally cleared by the NBA to suit up for the Philippine men's basketball team.
The news came as a surprise for most fans since it has earlier been announced that Clarkson was not allowed to join the Philippine team.
Rappler's breaking news about this development generated over 11,000 shares on Facebook.
Clarkson saw action at the 2018 Asian Games and led the Philippines to its best Asiad men's basketball finish in 16 years. (READ: The Jordan Effect)
Even if it was just a "special one-time exception," netizens were still hopeful that it won't be the last time they will see Clarkson play for the Philippines in international tournaments.
Huge wins in international sports
In 2018, we also witnessed several sports personalities smashing records and nabbing historic wins. Athletes also worth mentioning include 28-year-old Meggie Ochoa for winning a gold medal in the women's -49kg division of the 2018 JJIF Championships in Sweden. Ochoa is the Philippines' first world champion in the Ju-Jitsu International Federation.
Another is Philippine Azkals goalkeeper Neil Etheridge, who became the first Southeast Asian to play in the Premier League after Cardiff City gained promotion in the football league. In his debut, he also made the first penalty save of the 2018-2019 season.
(ALSO READ: Neil Etheridge: A Premier League dream comes true)
Moving on with this list, here are some of the most engaged historic sports victories in the global scene from Rappler's social media accounts:

Despite calls for retirement, Filipino boxing legend Manny Pacquiao proved why he is not ready to hang the gloves just yet.
Pacquiao clinched a resounding TKO win against Argentina's Lucas Matthysse to snatch the WBA regular welterweight title in July. This was his first knockout victory in 9 years, following his loss against Australian Jeff Horn in 2017.
In January 2019, Pacquiao is set to fight former world welterweight champion Adrien Broner in Las Vegas.

Social media users and sports fans celebrated online after the Philippine Azkals finally advanced to the 2019 UAE Asian Cup.
In their 2-1 win in March against Tajikistan, the Filipinos also witnessed the magical 50th international goal of team captain Phil Younghusband, which sealed the victory for the Philippine men's football team.
90'- THE MAGIC 50TH INTERNATIONAL GOAL OF PHIL YOUNGHUSBAND! Azkals are now up 2-1. #Azkals #ACQ2019 pic.twitter.com/Kv7evPLAcU

— Rappler Sports (@RapplerSports) March 27, 2018

In gymnastics, 18-year-old Carlos Yulo brought home the country's first-ever medal in a world championship after winning bronze in the men's floor final of the 2018 World Artistic Gymnastics Championships held in Doha, Qatar in November.
He is also the first Filipino to qualify to an all-around final in a world championship.
Taking stands against bullying and racism

Just a few days before Christmas, a viral video took over social media but not for good reasons.
In December, news broke about a bullying incident involving an Ateneo Junior High School student who is also a young taekwondo jin.
Philippine taekwondo Olympian and Makati Representative Monsour del Rosario did not mince words when he called out the student and his parents, saying that the kid "is a FAILED representation of our beautiful sport."
In another case of speaking up on global issues, Cameroonian and two-time UAAP Most Valuable Player Ben Mbala aired his thoughts about an earlier announcement that the NCAA will ban foreign players starting in 2020.
Mbala argued that foreign students in collegiate sports can help local players improve their skills and abilities.
SEA Games 2019: Esport medal events and controversial logo

Gamers rejoiced when it was announced that esport will now be a medal event at the 2019 Southeast Asian Games hosted by the Philippines. When it was first revealed that hit game 'Mobile Legends: Bang Bang' will be one of the events included, players were quick to share the announcement and expressed their interest in representing the country.
Rappler's callout about the story is one of our highest interacted posts for the year.
This is the first time for esports to be an official medal event sanctioned by the International Olympic Committee. Less than a month later, 4 other games were shortlisted for the inaugural esports tournament.
Meanwhile, the official logo for the event generated mostly negative reactions from social media users since it was launched in August.
Some artists who weren't pleased with what they saw came up with their own designs and offered their works as an alternative to the one released by the government.

2019 SEA Games logo

Foreign Secretary Alan Peter Cayetano earlier said that the logo was a "work in progress," but in November, it was confirmed that the Philippine SEA Games Organizing Committee stuck with the ring-like logo when it was unveiled at the Bayanihan Park in Angeles City, Pampanga.
Just like when the news first broke, netizens went back to social media to air their disbelief with the government's decision to use the original design for the logo.
Official SEAG 2019 logo - Curated tweets by RapplerSports
What are your favorite sports moments for this year? Let us know in the comments or create your own list on X! – Rappler.com