3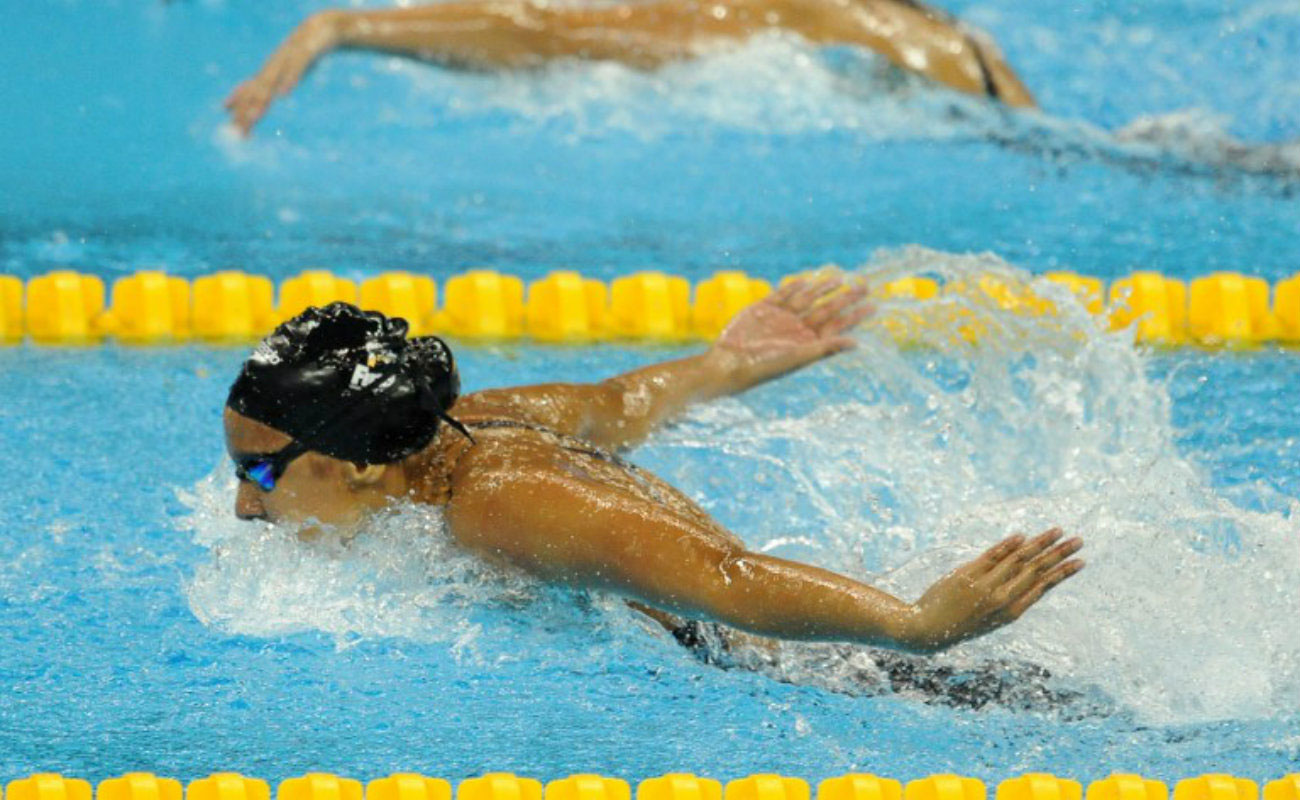 Rio 2016: Jasmine Alkhaldi
desktop
At age 3, a fall into a swimming pool nearly killed her. Jasmine Alkhaldi conquered her fears and now looks to conquer the competition at the 2016 Olympics
---
"I love the water."
The water that 23-year old Filipina swimmer Jasmine Alkhaldi talks about is of the swimming pool kind. Yet ironically, a swimming pool was nearly the death of her. Truth be told, it gave meaning to her life.
"I was 3 years old and sort of ambled into a swimming pool not knowing the danger," she fondly recalls. The toddler fell in and nearly drowned were it not for quick reacting folks.
Her parents' response? "They made me take swimming lessons," she laughs. "'Go conquer your fear,' they said."
Twenty years later, Alkhaldi is competing in her second Olympics in Rio De Janeiro, Brazil. Previously, she represented the Philippines in two Southeast Asian Games swimming competitions and swam away with 8 bronze medals. Furthermore, her swimming got her an athletic scholarship to the University of Hawaii where she gave a good account of herself.
In her 4 years swimming for the Rainbow Wahine, Alkhaldi came away with so many honors and even led her school to its first ever Mountain Pacific Sports Federation Championship (MPSF) across any sport and any gender.
Not bad for someone who tumbled into a pool.
Alkhaldi was born and raised in Paranaque, Manila to a Saudi Arabian father, Mohammed Alkhaldi, and a Filipino mother, Susan Paler. The middle of 3 siblings (she has an elder sister, Sarah Alkhaldi Tan, and a younger brother, Fahad Alkhaldi), Jasmine found her calling in sports at an early age.
"No one really pushed me to do sports. I just really love the water and was very competitive from a very young age. Both my parents don't compete in any sports," she relates of her journey to the pool. "It is only my younger brother who pursued swimming together with myself."

Jasmine went to International Christian Academy in Paranaque then transferred to TRACE College for high school. It was while she swimming for her club as well as for the junior national teams that Christel Simms, a Filipino-American who represented the country during the 2008 Beijing Olympics heard of Jasmine. Simms, who also went to the University of Hawaii told her coach, Victor Wales, about Alkhaldi and he personally came over to scout and recruit Jasmine for the Rainbow Wahine.
"My first international swim meet when I was 11 years old and that was in Japan. I continued training hard and competing and made my first ever SEA Games at the age of 16," relates Alkhaldi. "Then two years later, I was awarded a college scholarship at the University of Hawaii."
Over in Hawaii, Jasmine not only made waves as an athlete but also as a student taking up International Business who was eventually named MPSF All-Academic-American. "I think I am just as proud of that alongside anything I have won," she beams.
During the London Games, Alkhaldi finished 34th in a field of 50 in the 100-meter freestyle event. "The Olympics is a massive step up from college competition and the SEA Games. I was overwhelmed and starry-eyed too in meeting (American swimmers) Ryan Lochte and Michael Phelps. I also had my picture take with Kevin Durant and LeBron James."
"It was my first Olympic experience in London but not my first time to represent the country. It was truly a surreal moment, to be able to be there with the best of the best and to know that you have accomplished something great, that not a lot of people get to experience it just mind blowing. But it is an accomplishment to swim in London."
The London Games didn't end in a fairy tale way for Alkhaldi but she took away positives like the confidence she gained.

Alkhaldi, in her final year at Hawaii, was named to compete in the US NCAA swimming and diving tournament. In American collegiate competition, one doesn't just get a slot in the NCAA — one has to swim and earn it. She finished 34th in a field of 61.
And now her attention is turned to Rio where a little older and more experienced, she hopes to give a better account of herself.
"This time around I am coming in with experience," says Jasmine. "It is still a surreal moment to make the Olympics a second time around but I know that I am a much different person now. I have grown in the last couple of years as an athlete and as a person, physically and mentally. I believe that my performance here can justify that and for me to be able to see how far I have come from the last Olympic Games four years ago."
Alkhaldi will see competition during the 100m Freestyle heats gets underway on Wednesday, August 10, at 1pm (12 midnight in the Philippines). Should she advance, the semifinals will be held later that day with the finals to be swam the following day.
"All I can do is give it my best and hope to do better," she says of her chances. "It's a thrill to be back. But now I know how to deal with an event of this magnitude."
"There are so many things that motivate me. My family, coaches, teammates but as of now my biggest motivation is myself. To be able to go to the Olympics for the second time and be able to do the best I can and show a lot of improvement this time around is what keeps me going.
"I have rekindled my love and passion for swimming in the last couple of years with the help of my coach (also at the University of Hawaii), Jennifer Buffin, and that is also another thing that keeps me going even when sometimes it gets hard. For me to be able to surpass my best is what pushes me. I love working hard and I love swimming fast - I enjoy pushing myself everyday to be the best I can."
After the Olympics, Alkhaldi will look to finish her studies at the University of Hawaii where she looks to earn a second degree, a double major in Business Administration in Marketing and Management.
After that?
"I don't have any set plans after college, I will take it day by day."
Maybe she'll spend some time in the pool to reflect on it. After all it has been a vital part of her journey. – Rappler.com