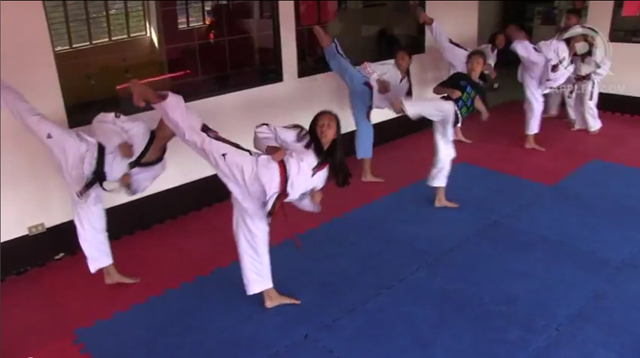 PERFECT PRACTICE MAKES PERFECT. The CAR Takewondo team trains hard in their Baguio gym.
DAGUPAN CITY, Philippines - With a member of the first Filipino team that copped the poomsae world championship looking on, jins from the Cordillera Administrative Region made sure that they will shine bright.
The CAR bets won 3 of the 4 gold medals in the team events and 3 more in the individual categories of the 2012 Palarong Pambansa taekwondo, poomsae competitions at the Divine Word Academy here.
With former world champion Rani Ortega on hand, the Baguio-based jins of coach Arnold Oglayon toppled competition as they raked in first place in the secondary boys and girls and elementary boys divisions and second place in the elementary girls category.
"Disiplina lang at proper training (Just discipline and proper training)," Oglayon said when asked about the secrets of his team's success. "Gusto ko lang yung makikinig sila sa akin (All I ask is they listen to me)."
His wards sure listened to him as they garnered the most awards in the poomsae event for the 4th straight year.
Rappler had covered the CAR team when they were still in practice.
Ortega, who was also part of the Philippine team that grabbed the silver medal in the Asian Championships in Vietnam just last week, was impressed by what she saw.
"I see them making big improvements," she told Rappler. "That's why we are inspired to continue to go to regions to teach instructors and propagate poomsae in the country."
In the elementary level, the boys team of CAR scored 22.7 points to edge CALABARZON (22.5) and CARAGA (21.5). National Capital Region topped the girls contest with 22.7 points even as CAR (22.4) and Cagayan Valley (20.9) placed second and third.
CAR swept the high school contests as its boys team posted 21.9 points followed by Cotabato Region (20.2) and Northern Mindanao (20.2) while its girls squad topped it with 22.8 points and beat Northern Mindanao (20.9) and CARAGA (20.6)
It was a domination marked by, according to Oglayon, CAR's show of hard work and determination that paved the way for their success.
And with tomorrow's kyorugi or sparring competitions a few hours away, Oglayon remains optimistic that though his star players are in Vietnam representing the country in the Asian Championships, the rest of his grizzled CAR crew will deliver the goods once more.
INDIVIDUAL WINNERS
ELEMENTARY BOYS A
1st - Jose Luis Salinas (CALABARZON)
2nd - Vladimir Garcia (NCR)
3rd - Eiron Biscocho (CAR)
ELEMENTARY BOYS B
1st - Gian Carlo Gutierrez (NCR)
2nd - Josh Rafols (Region VI)
3rd - Luigi Wong (CAR)
ELEMENTARY GIRLS A
1st - Zyka Santiago (Region II)
2nd - Gabrielle Tidoy (Region X)
3rd - Krizelle Yadao (CAR)
ELEMENTARY GIRLS B
1st - Jade Carno (Region II)
2nd - Akila Boloto (Region X)
3rd - Moffee Musico (CARAGA)
SECONDARY BOYS A
1st - Tristan Dale Cayago (CAR)
2nd - Rencel Arioche (NCR)
3rd - Joshua Infeliz (Region V)
SECONDARY BOYS B
1st - John Astrologio (CAR)
2nd - Ralph Jasaleno (Region V)
3rd - Reje Librondo (Region XII)
SECONDARY GIRLS A
1st - Angelica Joyce Gaw (CAR)
2nd - Maria Thelma Caoile (Region I)
3rd - Iona Kae Salvacion (Region X)
SECONDARY GIRLS B
1st - Erika Domingo (NCR)
2nd - Jeremy Parpan (Region IV-A)
3rd - Ana Monica Tan (Region X)
- Rappler.com