2
Postponing the barangay and SK elections – again
Published 8:30 PM, September 26, 2019
Updated 8:30 PM, September 26, 2019
By the looks of it, not holding the barangay and Sangguniang Kabataan elections (BSKE) as scheduled in May 2020 is a done deal.
Both taking their cue from President Rodrigo Duterte – who asked Congress for this in his 2019 State of the Nation Address – the House of Representatives and the Senate, through their respective suffrage committees, have approved the bills seeking for the postponement of the village-based polls.
The only thing they need to agree on is when to schedule the elections again: December 2022 (Senate's preferred date) or May 2023 (the House's pick)?
The executive and most of those in the legislature are giving us at least 3 reasons why they want the BSKE postponed: to save money, to be fair to the incumbents by letting them stay longer in their posts, and to put less pressure on the Commission on Elections (Comelec), which is preparing for one election after another.
I agree with how the watchdog National Citizens' Movement for Free Elections (Namfrel) has demolished those arguments. You want the government to save money? Run after the corrupt, tighten the tax collection, fix the traffic problem – we lose tens, even hundreds, of billions of pesos because of them. Unfair to replace the current officials? They knew, when they ran for their posts in 2018, they'd be serving for only two years. The Comelec will be spread too thinly? Well, year in and year out, the poll body prepares for elections – that's what it does – until lawmakers mess up its calendar and leave election workers to improvise and, in the process, sometimes make miscalculations.
The issues with the proposed rescheduling of the polls go beyond money and logistics. To me, the most important matter it points to is this administration's seeming lack of appreciation, if not lack of respect, for how crucial it is to ordinary citizens that their village is managed well. Or that the public life and values of their young people are shaped well. This, if ever, is going to be the 3rd BSKE postponement under the Duterte administration – the most number under any president since the village and SK polls were first synchronized 17 years ago.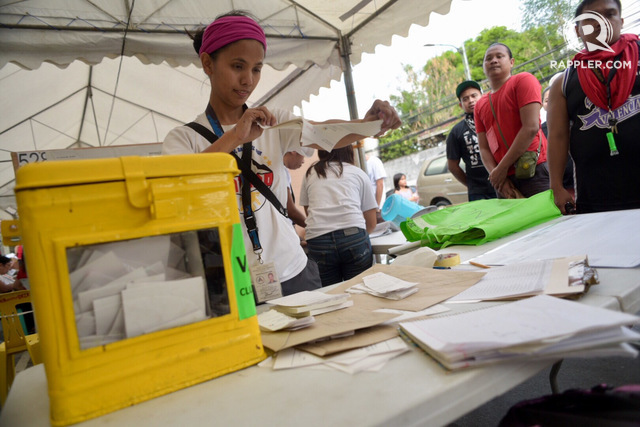 We always say that the local governments are the administration units closest to the people. They are where all the decisions made by officials directly and immediately affect taxpayers and residents. And of all the local government units, it's the smallest – the most intimate, so to speak – that's involved in a person's daily comings and goings.
The lamppost in your part of the street is busted, making it hard for watchmen to see intruders breaking into your house? Barangay. The garbage collection contractor assigned by city hall has been making irregular rounds? Barangay. You need a certification that you are a resident so you can get a senior citizens' ID or a solo parents' ID from the social welfare office? Barangay. The interior department wants to put (or not to put) "drug-free" stickers on houses in your neighborhood? Barangay. A slaughterhouse is being built in the residential part of your community? Barangay. Introduce sports, social, and cultural activities to keep the teenagers from vices? Barangay SK council. Helping out in clean-up drives or relief distribution during disasters? SK council. Doing waste segregation info drive? SK council.
I am aware that, in many of our 42,045 barangays, elected officials might seem to be incompetent – we all have our share of frustration with them. That's precisely the reason why holding elections, with regularity, provides voters with a mechanism to democratically replace them and choose whom their communities can work with better. (READ: Funds and power: 5 things we entrust the barangay officials we elect)
But when national government officials and lawmakers, talking only among themselves, just decide to mess up with that regularity, they also mess up with our right and opportunity to change or keep our village and youth leaders within a particular cycle. It's like how parents, convinced that they know everything and they know better, decide to change their children's schedules, without having really asked how that "simple," "little," uncertain delay might impact on their children's daily needs and struggles.
Regularity. Choice. If law and policy makers only understood the sense of empowerment that these two things give a citizen, a voter, they'd think twice about playing slot machines with the scheduling and rescheduling of village-based elections.
Besides, every delay – especially, capricious in nature – represents a waste of public funds that could've been spent on services. When the Duterte administration was dilly-dallying on whether to postpone the October 2017 BSKE elections, lawyer Emil Marañon III said lawmakers had to make up their minds because as of August 2017, the Comelec had already spent P500 million preparing for the October polls. By early October, the poll body had spent P700 million, and the new date was set for May 2018, prompting him to ask: "After having spent an estimated P700 million for the preparations, what is the practical value of moving the elections, at the last minute, to 7 months after?"
We've never learned, and so we're asking that question again.
***
Until next Wednesday! Email me your thoughts at miriamgracego@rappler.com. If you want to help Rappler pursue in-depth reports on specific sectors and issues, you can donate to our investigative fund here. You can check out the conversations I engage in on Twitter @miriamgracego and follow the stories I share on Facebook.
Have you heard of Rappler's for-members-only video content? Get exclusive access to cartoons, animations, time-lapses, newsroom tours, and Live Jam sound checks here.