2
Hazing? What hazing?
Published 8:00 PM, October 01, 2019
Updated 8:51 PM, October 01, 2019
There are news stories that upset newsrooms enough to keep chasing them with the adrenaline of a victim out to seek justice. But there are news stories that do more than that. They wound our hearts and then paralyze our nerves, pushing us to a dark corner where we get to question our own humanity.
The killing of Philippine Military Academy (PMA) cadet Darwin Dormitorio is one of those stories. What happened to this young man on his freshman year in an institution that has produced a president, senators, congressmen, governors, and mayors, will remain to be on the news agenda this week and in the coming ones – on top of a pending vice-presidential electoral protest, a transport strike, a probe into "ninja" cops, and a whistle-blower's exposé against the tweeting American president, among others.
In their Facebook echo chambers, PMA graduates have taken turns in defending the academy from what they have described as unfair attacks against the institution over the "mistakes" of a few boys. I saw one post of a civilian lawyer shared by a former chief of staff on his Facebook wall, appealing for sobriety and warning the public against falling for the "leftist or liberal progressive trap" of using this incident to drag the military down and wave that "fascist" slogan.
Dormitorio's death, wrote another PMA alum, was not caused by hazing, because hazing is banned in the academy. I agree. And you will agree with me, too, I think, after you read the updated report of the Baguio City police on Dormitorio's harrowing days before he died in the wee hours of September 18.
The 20-year-old cadet, son of a PMA graduate, was not hazed. He was tortured to death. Recommended read: Pakinggan ang taghoy ng mga magulang.
To describe the days preceding Dormitorio's death as simply hazing is to redefine what we know to be torture and what we know to be killing. It is to lock us into this meandering debate on the necessity of such ritual or tradition. It is to assuage our collective guilt over our tolerance of torture and murder –whether at home or in the guise of any war – which teaches young cadets to cross the line or turn a blind eye in the name of a bigger cause.
MUST REMEMBER

It bears to keep in mind the killings of young men in the name of brotherhood or a cause. Here are some stories.

'Atio was killed by criminals from Aegis Juris frat'
'Brotherhood' kills young dreams
Grade 7 student from Laguna killed inside school
16-year-old boy gunned down
Dormitorio was tortured. And killed. By men wanting to be protectors of the state and its citizens. In a country numbed by the blood spilled daily on its streets. In an academy that now has its alumni crying as if it is their institution that's under siege here.
What tribal thinking. We are all under siege, all on trial over this kid's death and over his classmates' and schoolmates' participation in the everyday steps that led him to his last vomit.

Because an attack on one is an attack on all.

That line should offer PMAyers perspective, and force the rest of us to reflect on the combination of internal and external factors that made Dormitorio suffer.

SHINE THE LIGHT
I borrowed that line from Maria Ressa's keynote address at the 11th Global Investigative Journalism Conference in Hamburg, Germany, last Saturday, September 28. Recommended read: 'An attack on one is an attack on all'

The keynote was the highlight of the 5-day conference that brought together around 1,800 journalists from 130 countries – the biggest investigative journalism conference so far. It was followed by the Global Shining Light awards for the best investigative stories produced in countries under threat. Rappler's investigative team that produced the 7-part "Murder in Manila" series won the grand prize (large outlets category).

Rappler's co-winner is the #GuptaLeaks, a collaborative series that exposed how a family's patronage network led to state capture in South Africa and prompted an inquiry.

In the small outlets category, the first prize went to Peru's IDL-Reporteros led by veteran investigative journalist Gustavo Gorriti, whom I was fortunate to meet prior to the awards night during a panel on "When autocrats attack." The IDL-Reporteros series uncovered the transnational corruption network dubbed "Operations Car Wash" and the corruption of Peru's courts. See full list of winners here.

The awards are for compelling investigative work by journalists under threat. That there were 12 finalists from a pool of 291 nominations is the ultimate proof that journalism persists even – or especially – in the face of attacks.
The Philippines is not alone in battling social media attacks against journalists. Peru's reporters and editors, for example, are subjected to the same daily harassment online. Mr Gorriti said journalists should fight back, but "fight intelligently."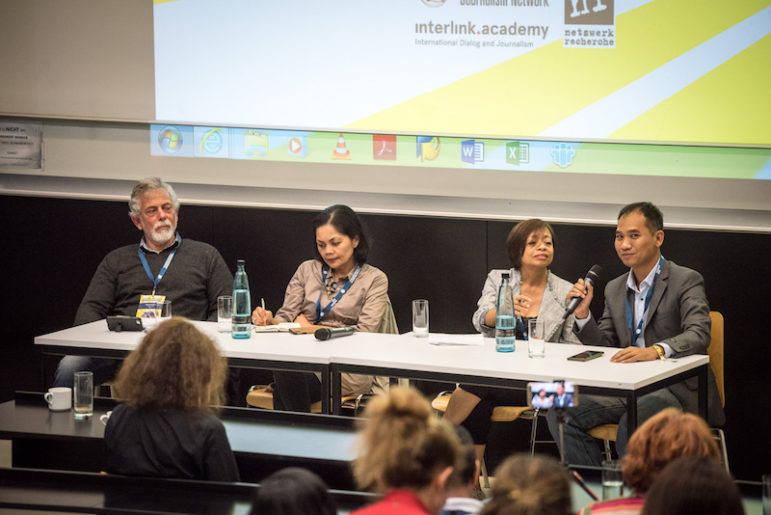 OTHER KEY EVENTS/ACTIVITIES THIS WEEK
Tuesday. The Supreme Court met for its regular en banc session, and reportedly on the agenda was the electoral dispute filed by defeated vice-presidential bet Bongbong Marcos against Vice President Leni Robredo. Here's a cheat sheet on the dispute.
The Senate began its probe into the so-called ninja cops who have been helping drug dealers. A supposed list of these cops was disclosed in a closed-door session with Baguio Mayor and former police general Benjamin Magalong last week, but which senators said Senator Richard Gordon may release to the public. The retiring Philippine National Police chief was put in hot water today. Read all about it here. Watch the hearing via this link.
China turns 70 years old. Hong Kong commemorates it with protests while Taiwan shrugs it off.
Wednesday. It's been a year since the murder of Saudi journalist Jamal Khashoggi at the embassy of Saudi Arabia in Istanbul. Recommended read: UN expert blasts Saudi prince over Kashoggi defense
We begin to keep track of the first 100 days of key metro mayors.
For those old enough like me, we have a LIVE JAM with Side A in the Rappler newsroom.
Saturday. Pope announces new cardinals.
Sunday. There are elections in Tunisia, Kosovo, Portugal.

Have a meaningful week ahead! For comments, email me at glenda.gloria@rappler.com. – Rappler.com