2
Between governance and romance
Published 9:00 AM, August 29, 2019
Updated 5:48 PM, May 02, 2020
If the young, first-term mayor of Pasig City were a journalist, I would have hired him. He knows what story to take away from an interview.
Last week, when he was interviewed in a talk show about his first 45 days in office, he was visibly surprised that the first question thrown at him was how many girlfriends he had had. He politely navigated the romance-related followup questions, but, still visibly uncomfortable, he tried to change the topic by joking that he was "tumatanggap po ng aplikante."
The next thing you knew, it was news in a number of sites: Vico Sotto has not had a girlfriend since birth; Vico Sotto is accepting applicants for a girlfriend; Vico Sotto explains why he's still single; Vico Sotto lists qualifications for future girlfriend. At least one news organization even made what we call an "instaquote" out of it, announcing in a huge square graphic meant to stand out on social media feeds that Vico Sotto was hoping he'd get married before 40.
One thing led to another, and you saw ladies jokingly posting application letters on social media, citing their backgrounds and interests that put them on the "same wavelength" as the 30-year-old local chief executive. Some of them got tons of likes, hearts, and LOL emojis, long threads of comments, and a number of re-shares, of course.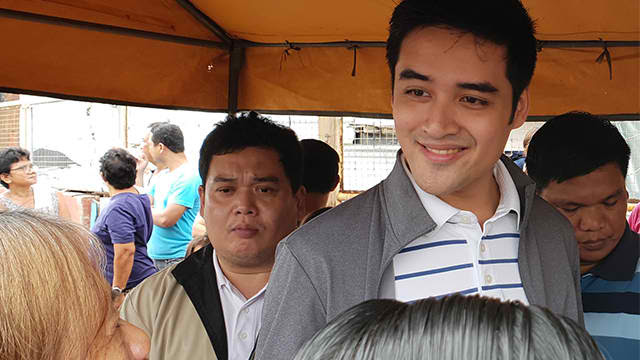 I didn't find any news reports on the parts of the TV interview that tackled governance issues (many of them had been reported on by Rappler in the earlier weeks).
For example, Mayor Sotto said one aspect of his work that he was proud of was the "housekeeping." He said he knew that observers would find news about putting city hall in order "hindi sexy" (not sexy), but cited the importance of building databases to inform policy decisions, and establishing "key performance indicators" (yes, he actually used the phrase) against which to measure everyone's performance and the programs' targets.
Sotto also said he was "open" to staying for 3 consecutive terms as long as "gusto pa ako ng mga tao" (the people still want me), but definitely not beyond 9 years. Even in his first term, his principle when introducing policies and programs is that they should be sustainable even after he steps down. They have to be something solid enough to be turned over to his successor, he said.
The big miss on the part of the media was not lost on the young mayor. Last Sunday, August 25, he tweeted: his love life (or the lack of it) was "definitely not newsworthy" and that, "If we want better governance, we should stop treating our government officials like showbiz personalities."


I made this joke during an interview to change the topic.

It is definitely not newsworthy. If i knew it would get this much attention i just wouldnt have answered.

If we want better governance, we should stop treating our government officials like showbiz personalities. pic.twitter.com/IA6OpEYc6M

— Vico Sotto (@VicoSotto) August 25, 2019
In other words: governance before romance. Even better, governance and governance – romance only becomes newsworthy when the partner of the elected or appointed official starts meddling with governance.

Don't get me wrong. Journalists are human – Rappler staff members find joy in trolling each other about non-existent love lives – but we can draw the line between making jokes on our personal accounts about romantic interests and producing news reports about public figures' private lives.
A classic example I give journalism students about knowing what's public and private in an official's relationships is the investigative report produced for the Philippine Center for Investigative Journalism by now-Rappler seniors. Rosemarie Arenas, a former romantic partner of then-newly-elected president Fidel Ramos, was reported to be lobbying for appointments of certain people and hosting Cabinet meetings at her residence.
Former president Joseph Estrada's many mistresses and other families were public knowledge, but they would not have been the subject of investigative reports if they didn't build mansions and lead luxurious lifestyles beyond the president's legal and declared means.
When a few young mayors were elected last May, we monitored readers' interest in the identity and interests of their spouses. You can trust us, though, that we won't stick our noses into their businesses until and unless they start getting involved in governance or peddling influence.
I am posting here again the call I made in my August 21 newsletter: can you tell us about the mayors and governors in your localities who are introducing reforms and embracing innovation? We have to shine the spotlight on their leadership as well.
Meanwhile, here are some of our reports on policy issues in Pasig City:
Until next Wednesday! Email me your thoughts at miriamgracego@rappler.com. If you want to help Rappler pursue in-depth reports on specific sectors and issues, you can donate to our investigative fund here. You can check out the conversations I engage in on Twitter @miriamgracego and follow the stories I share on Facebook.
***
Have you heard of Rappler's for-members-only video content? Get exclusive access to cartoons, animations, time-lapses, newsroom tours, and Live Jam sound checks here.