3
Who's destroying Bong Revilla?
Published 4:37 PM, December 13, 2018
Updated 5:18 PM, December 21, 2019
It's been less than a week since former senator Ramon "Bong" Revilla Jr got home after 4 years and 5 months of detention in that specially-furnished part of Camp Crame's custodial center.
A special division of the anti-graft court Sandiganbayan, voting 3-2, acquitted him of plundering P14.5 million of his Senate office's Priority Development Assistance Fund in the form of kickbacks from fake beneficiaries and ghost projects. Only his former Senate chief of staff and the conduit to the fake non-government organizations were declared guilty of the scheme. (READ: Cambe, Napoles could not have plundered millions without Revilla – dissenter)
Since then, not a single day has passed without a statement or social media post from the Revilla camp – the man himself, relatives, supporters, party mates, operators for his senatorial campaign, and friends of people who work for him – reiterating his innocence. In one instance Bong was even quoted as saying he's praying for those who wronged him. (UPDATE: Revilla held a press conference on December 13, to say that, once elected to the Senate again, he'd run after his alleged false accusers.)
What former chief justice Maria Lourdes Sereno calls a "legal abomination," Bong Revilla calls proof that he didn't steal a single centavo from public coffers. It's stronger in Filipino: "Wala akong ninakaw ni sentimo mula sa taumbayan." (READ: Revilla concealed unexplained wealth, liable for graft – dissenting justice)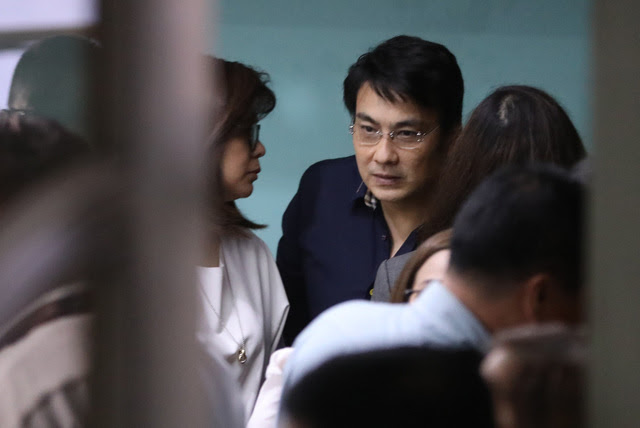 But the Revillas are not as magnanimous as their published statements make them appear to be.
This happened on Friday, December 7, the night of Bong's release: journalists had followed him from Camp Crame to his home province of Cavite. Like everybody else, our reporter Rambo Talabong had been posting live updates and breaking stories on the developments.
Amid the "thanksgiving" mood – and in their territory – Revilla's son Jolo, who's running for reelection as vice governor, found out that Rambo was from Rappler.
Jolo, after a few seconds of silence, told our reporter: "Rappler? Alam naman natin na kayo 'yung nagpapagiba sa amin eh." (We all know you're the one doing a demolition job on us.)
He called his father's attention: "Dad, Rappler o, Rappler!" (There's a Rappler here!)
Bong Revilla: "Nasa'n?" (Where?)
He looked at the reporter, smirked, and said, "Wala 'yan eh, wala 'yan!" (They're nothing.)
Then entered the wife, Bacoor Mayor Lani Mercado, "Hello, Rappler!" That came with a mocking tone, by the way.
Unlike his hosts, Rambo didn't lose his head. He politely said he was there to cover the happenings and to report their side of the story. We knew that was the fair and responsible thing to do, even while in Quezon City, it was the duty of the court reporters – ours and other news outlets' – to dissect the court decision and the dissent for how the pieces of evidence and testimonies were weighed.
Jolo again: "Kayo 'yung nagpapalabas ng nakakasira sa amin." (You're the ones who publish things that destroy our family.)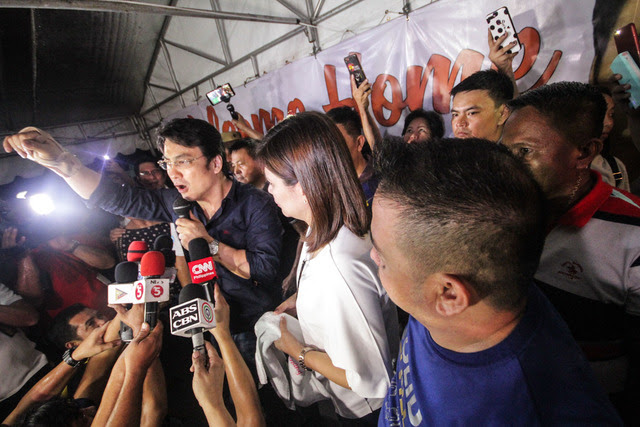 Blaming the bearer of news is always the lame and lazy way to look at the issues – or to deny any reality that's not to a person's liking.
Rappler – and most other legitimate media organizations – don't do "projects" or invent things we publish. We report on what documents show, what patterns indicate, how independently verifiable anecdotes fill in the gaps and strengthen a story. God, we find satisfaction sitting through lengthy hearings, checking the backgrounds of witnesses, and going over piles of transcripts.
We do what our job calls us to do, and what we know redounds to the public's benefit (unlike, shall we say, a vice governor who has the time to make movies when he should be presiding over the board of a province that needs sensible local laws to cope with rapid urbanization and development).
Many weeks before the ruling was made on the Revilla plunder case, we knew they had singled out Rappler. Bong Revilla himself had asked Sandiganbayan reporters, "Sino rito 'yung Rappler?" (Who among you is the Rappler reporter?)
We are Rappler. These are some of our special reports on the Revillas over the years. And we stand by every single one of them:
– Rappler.com