2
Quo what, again?
Published 7:59 PM, February 12, 2020
Updated 4:10 PM, April 10, 2020
Quo warranto. That sounds all too familiar, doesn't it? Remember it was used as what seemed like a brilliant legal strategy then by the SolGen, short for Solicitor-General, Jose Calida. His target: Maria Lourdes Sereno, previously appointed chief justice by former president Noynoy Aquino.
In a masterstroke, she was deleted from the rolls of the High Court after her appointment was adjudged illegal ab initio or void from the very beginning. The basis for it was her failure to submit the requisite Statement of Assets, Liabilities, and Net Worth or SALN.
In May 2018, the Supreme Court voted 8-6 in favor of Calida's petition, admittedly a creative way of quickly ousting Sereno from office and skirting the more circuitous impeachment process, which – according to the justices who dissented – was the only way to unseat an impeachable officer like the chief justice. I recall Associate Justice Mariano del Castillo tagging Calida's legal gymnastics as a form of "constitutional adventurism."
Fast-forward to 2020 and Calida is latching on to his quo warranto strategy again, this time aiming at TV network ABS-CBN, already marked and prejudged as a public enemy by no less than President Rodrigo Duterte.
I still see it as a form of constitutional adventurism – this time not threatening the independence of a constitutional office, but testing the limits of constitutional guarantees of a free press.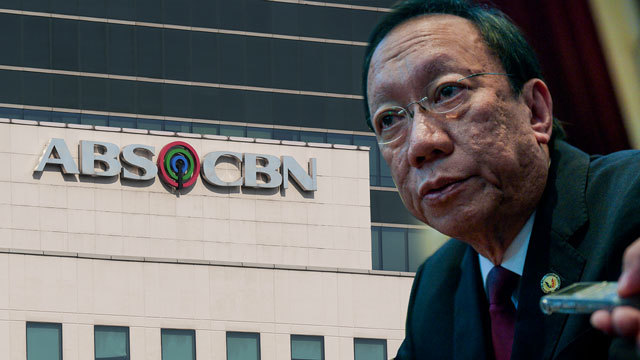 Foreign ownership
In essence, in Calida's petition, the network is accused of "unlawfully exercising its franchise, by allegedly offering paid broadcast without government approval, and by allegedly allowing foreign ownership." He cites a provision in the Rules of Court that says a quo warranto petition can be filed even against "an association which acts as a corporation within the Philippines without being legally incorporated or without lawful authority so to act."
Similar to his approach to the Sereno case, he questions the legality of the franchise grant from the very start because of that now-famous financial instrument called Philippine Depositary Receipts (PDR) that, to him, are part of an "elaborately crafted corporate veil" that allows foreign ownership in mass media – in contravention of constitutional prohibitions.
But c'mon, the franchise was granted 25 years ago and it's about to expire this March. This administration has been in power for close to 4 years and it's only now that they saw alleged foreign ownership via PDRs – it took that long? I wonder, too, whether this would have been belatedly raised as an issue if Chinese, instead of Singaporean investors, among others, were part of the deal. And Calida claims his action is not political? Give me a break.
Justice reporter Lian Buan explains the key legal issues in her latest piece: EXPLAINER: Legal points in Calida's quo warranto vs ABS-CBN. Affectionately called "Justice Buan" in the newsroom, Lian cites other sticking points such as the so-called abuse or misuse by ABS-CBN of its franchise when it sold sub-products like the Kapamilya Box Office channel which, Calida said, is tantamount to "broadcasting for a fee" – a violation of its legislative franchise and with no approval at that from the National Telecommunications Commission. The network contests these claims and we look forward to more illumination from them on this issue.
Press freedom issues
But the more fundamental issue here really is the quo warranto petition that rests on the PDRs argument. This has wide-ranging implications on Philippine media and press freedom because of the following:
PDRs are a way of beefing up capital for capital-intensive operations not only of telecommunication companies, but more importantly, of media companies in an increasingly competitive and globalized environment. They had gotten the green light before from the Securities Exchange Commission and/or the Philippine Stock Exchange so when media companies resort to PDRs, why are they suddenly unconstitutional? Because the administration in power is threatened by critical reportage and refuses to be accountable for excesses?
Only broadcast companies require franchises or licenses to operate because of limited airwave frequencies. Online media (like Rappler) and newspapers (like the Philippine Daily Inquirer) do not need such licenses and can publish freely on their own. Creative squeeze play via convoluted legal issues (PDRs again, tax evasion, libel, media access, and add to the list, quo warranto petitions) subvert this freedom.
When constitutionally-guaranteed freedoms or powers granted by the Constitution clash (press freedom and powers of the Executive, for example), how will the Supreme Court decide? Will it take care to make sure despotism is curbed by preserving watchdog powers of the media? Or will it grant the Executive unbridled power?
Meanwhile, here are other big stories you shouldn't miss, along with accompanying Newsbreak reports that provide context and perspective to breaking news.
In case you missed my newsletter last week on the novel coronavirus, you can still read it here: Outbreak.
Let me know what you think via chay.hofilena@rappler.com. Support free and fearless journalism – specifically our investigative reports through our crowd-funding campaign. Listen to our Newsbreak: Beyond the Stories podcast on Spotify or Apple anchored by researcher-writer Jodesz Gavilan.


Newsbreak is where you'll find Rappler's investigative, in-depth, and data- and research-based reports. Be updated on the latest stories by liking Newsbreak on Facebook and following @newsbreakph on Twitter.