2
PH-US break-up on Valentine's week
Published 3:00 PM, February 14, 2020
Updated 8:40 AM, February 18, 2020
I have a confession to make. I'm ambivalent about the termination of the Visiting Forces Agreement. As a student who marched and rallied for the non-renewal of the United States bases agreement in 1991, I should be rejoicing. But I'm not.
Blame it on the complexity of present-day geopolitics. When the bases agreement was abrogated, China was nowhere in the picture, except as a theoretical influence in radical political thought in political science class or teach-ins. Or blame it on the lenses through which I see today, where nothing is black and white, and where there are no perfect ideologies or systems, just man-made constructs easily exploited by madmen.
I've learned through years of being part of newsrooms that report on the Asia-Pacific that nothing is as it seems to be – especially in the region. A good journalist – and a good activist – questions everything. That includes long-held beliefs about the Big Brother and a thousand flowers blooming.
On the one hand, I've seen how the Chinese virtually claimed all of the South China Sea as their own. I've seen their militia and coastguard transform into modern Vikings on metal ships that ram rickety wooden boats of hand-to-mouth Filipino fishermen struggling to make a living off that contested sea.
On the other hand, being the longtime ally and former colony of the United States, our existence as a people was shaped – and warped – by decades of unequal treaties, exploitation, stunted identity, and colonial mentality. The US was a domineering master, and later the manipulative ally, in a love-hate bromance fully perceived by a woke but fragmented Filipino intelligentsia.
Colonization and capitalism became neo-capitalism, which gave way to globalization and cultural imperialism. The only thing that does not grow old is the story of power itself: the strong will conquer and the weak will suffer.
Back to the here and now. JC Gotinga comprehensively explains the impact of the VFA termination on our military in his analysis piece, What will happen to PH military if the VFA is terminated?

If you're wondering what the Americans lose – they lose training like this: US troops in PH learn how to trap, eat snakes for survival. They also lose a major foothold in the South China Sea from where they could watch over the Chinese.
All the technical details are in JC's story, but I would resort to a little oversimplification by comparing it to an LDR (long-distance relationship). It would not be impossible, but very difficult to continue the training, assistance, and interoperability (military-speak for compatibility). It would be – to appropriate millennial speak – too complicated.
Meantime, another wannabe lover is waiting in the wings – unfamiliar, arrogant, and cocky. More importantly, it has come bearing loans and incompatible military hardware as gifts. Would a super virus stop it in its quest for global domination? I doubt it. Would the Philippines under Rodrigo Duterte discard a bad, over-the-hill lover for an abusive one? I don't doubt it.

Oh, did I mention this is a Valentine's Day piece?

Recommended read:
Military members disagree with VFA termination – senior officers
VFA termination a 'national tragedy,' says Del Rosario
PH-U.S. military operations could 'disappear' if VFA scrapped – U.S. official
---
Recommended for your Valentine's Day viewing:
---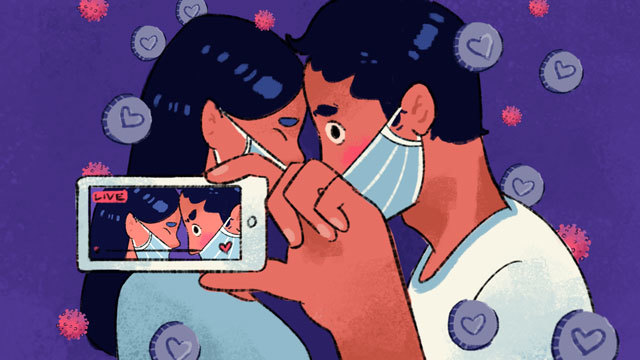 Feb-ibig
Ngayong linggong ito muling ipapaalala sa ating mahal ang magmahal, na magastos ang manifestation ng pag-ibig, lalo iyong may ebidensyang kailangang mai-share sa social media.
---